Yoast SEO 10.0: Meet the new SEO analysis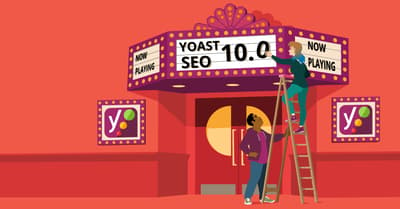 It's been in production for many months, capped off with two months of beta testing, and now it's finally here: Yoast SEO 10.0! Yoast SEO 10.0 features a new SEO analysis, based on thorough research and fine-tuned with your feedback. More than 100.000 people helped us test this release to make it our best yet. Thanks, everyone! Please welcome to the stage: Yoast SEO 10.0 and its state-of-the-art SEO analysis.
Why change the SEO analysis?
SEO is never done. SEO changes constantly. While the basics keep fairly static, a lot of the playing field is different from years ago. We've learned a lot over the years about SEO in general, the importance of language, information extraction, and content analysis, among other things. One thing we learned, was that we should put more effort into researching our recommendations. Turned out we could improve communication about why we do what we do. That's one of the things we wanted to fix in our new SEO analysis.
Almost a year of research went into Yoast SEO 10.0. We turned every nook and cranny of the SEO analysis upside down and inside out. We combined the insights of many SEO experts, linguists, developers and content specialists with research and common sense to come up with a set of improvements. All this lead to this moment, the release of a new SEO analysis in Yoast SEO 10.0. As of today, optimizing your content with Yoast SEO 10.0 is a lot more realistic.
What changed in Yoast SEO 10.0?
There were so many findings that we spread the development of features. One of the main focus points was improving the way we analyze and handle languages. Yoast SEO had to get smarter. These were no easy fixes, so these were developed separately by our team of linguists. That's why we launched parts of the new SEO analysis earlier, like keyword distribution, word form and synonym support in Yoast SEO 9.0. The bulk of the changes coming from this project, however, are in this release, Yoast SEO 10.0.
Here are some of the changes you'll notice once you start optimizing content with the new SEO analysis:
New assessment:
A new single H1 assessment: The single H1 assessment checks whether the body of the text contains an H1 at any position other than the very beginning.
Changes to the SEO assessments:
Gone from the SEO analysis:
We've deprecated the assessments that check the length of your URL and whether your URL contains stopwords.
The rest of the assessments of the SEO analysis remain unchanged. You can find all the different checks in Yoast SEO on the assessment overview page.
New Premium feature: Stale cornerstone content filter
Yoast SEO Premium users also get a new feature: the stale cornerstone content filter. We already offered the possibility to mark your most important posts as cornerstone content, but we're adding a feature that helps you keep that content fresh. The stale cornerstone content filter helps you keep these updated. It gives you a notification in the WordPress post overview once a cornerstone content article hasn't been updated in over six months. Here's how you can use the stale cornerstone content filter.
People love the new SEO analysis
We've been beta testing the new SEO analysis with you, our valued user. Many of you gave us very detailed feedback on their experiences with the new SEO analysis. Of course, there are always improvements to be made, but in general, users are positive about the new SEO analysis. Here are a few of the reactions we got, republished with permission:
Yoast has continued to improve the way they help content producers like myself achieve better SEO with respect to our articles and reviews. I've grown to trust their prowess in staying up to date with changes in best practices as it relates to Google and other search engines. As a result, my SEO writing has improved, and I tend to trust their opinions when it comes to subtle shifts in content and formatting recommendations. Their newest SEO analysis changes are no exception.

Clint DeBoer, Lakeland, USA
I thought the previous version was good in that it improved the way I wrote and presented my webpages and blogs. However, in my opinion, the new version is more user-friendly and produces better results. I rate it 5 stars.

Jurie Fourie, Pretoria, South Africa
I think Yoast SEO analysis is an awesome tool that has helped improve my online writing immensely. I can't imagine doing what I love to do without the help of Yoast's SEO analysis. Yes, it's a pain in the behind at times. But at the end of the day, SEO analysis is that omnipresent, yet silent content editor and writing coach we all need. Thank you Yoast for building such an outstanding product.

Rod Thomas, Lake Forest, USA
Yoast is constantly analyzing their processes to help me optimize my content. I like that they don't waste my time with unnecessary analysis. Everything is on point and relevant.

Keith Lauby, Gainesville, USA
I think especially the live marking of text areas is a really good thing. For instance for transition words or keyword distribution, the analysis a tremendously helpful. When I change something, I see the effect it has in real time with no save or refresh necessary. It's demanding but fun to work with Yoast!

Jacqueline Pohl, Berlin, Germany
It was a great tool before, now it feels more polished and more helpful.

Julia Kaldenhoff, Versailles, France
Keeping the SEO analysis updated
You might think we'd rest on our laurels for a bit after all this hard work, but that's very far from the truth. Part of the why of this project was to fully update the SEO analysis and to make it easier to keep it up to date. SEO is never done, so we're never done improving the best SEO plugin out there! We keep researching, testing and tinkering until the end of our days. And, of course, there are a couple of search engines we closely follow that sometimes like to shake things up. We're ready for that!
How did this come about?
Want to know more about the background of this project? We've made a documentary about the process, which you can view below. Or you can read Marieke's behind the scenes post — she was the project's lead.
Update now!
That's Yoast SEO 10.0 for you. We've revamped the SEO analysis and made it more relevant and helpful for you. We've enriched the feedback you get, so you can improve your content in a more natural, realistic way. Enjoy this new release! As always, we're open to feedback and we'll continue to fine-tune our releases based on user feedback.
We'd like to thank all participants in our beta test and, of course, you, for using Yoast SEO!
Coming up next!
Event

December 09, 2023

Team Yoast is at Attending, Organizing, Sponsoring WordCamp Ahmedabad 2023! Click through to see who will be there, what we will do, and more!

See where you can find us next »

SEO webinar

12 December 2023

Learn how to start your SEO journey the right way with our free webinar. Get practical tips and answers to all your questions in the live Q&A!

All Yoast SEO webinars »