A bit of a scandal involving hospitals and the noindex tag, a postponed deadline for your Core Web Vitals and a whole new editing experience in WordPress. Our SEO experts Joost de Valk and Jono Alderson discussed the latest SEO news in April 2021 in our monthly webinar. If you've missed it, or simply want to refresh your memory, I'll talk you through the highlights of this webinar. Or you can simply (re)watch the webinar yourself, right here!
Watch the April 2021 SEO news webinar
In this post, you can read all about the SEO news that Joost de Valk and Jono Alderson discussed during our latest SEO news webinar. If you'd rather (re)watch the webinar, you can find the video right here. And don't forget to register for the next edition of our SEO news webinar on the 25th of May, 2021!
Google news
This month, Google updated their product reviews algorithm and made some changes in Google Search Console. There was also news around the Core Web Vitals that were set to become a ranking factor in a few week's time.
A new product reviews update
Two weeks ago, Google launched a new product reviews algorithm update. Now, Google does a lot of algorithm updates every year. But this one got a bit of attention and came with some documentation. Guidelines that talk about the improvements they've made to surface good reviews of products. What's great about this is that these guidelines tell you what you can work on to rank with your products.
Even if your website doesn't have any ratings or reviews, it's worth diving into this as it talks quite broadly about what kind of content Google wants to reward in the search results. Simply put, it all comes down to the quality, authenticity and depth of research you're showing on your site. But the examples they give can be used to apply to your site in general, so make sure to check it out when you have the time.
This new update seems to have hit quite a few affiliate sites hard. As these sites often collect and review products in a rather simplistic way, Google doesn't see them as more valuable than say an Amazon listing page. What they really want is in-depth reviews. So, many affiliate sites saw quite a drop in traffic overnight. If you have a similar website, you may need to rethink your business plan. Google will always try to link an online user directly to the right solution, without any middleman.
Improvements in Google Search Console
Google Search Console added improved filtering and comparison on Performance reports. With these additions, Google Search Console is getting better at helping you understand the performance and issues on your site. Beforehand, if you wanted to dive into the data you had to export this raw data and run it through another tool. Now you can use Google Search Console to construct more complex queries and filter your data.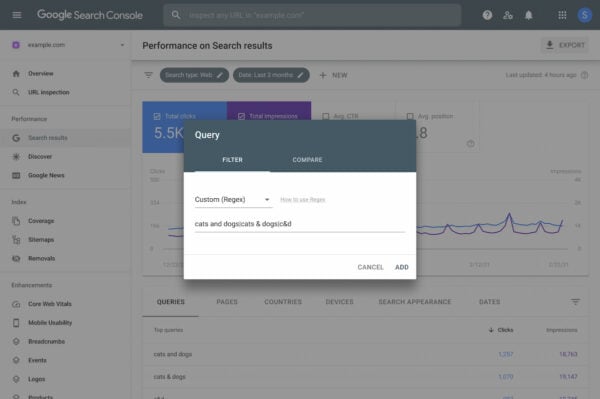 There was a bit of a divide in the SEO world about this news. Some SEOs are excited about this addition of regex (filtering), but it is pretty hard to use when don't know it yet. Because these improvements can really help you understand the performance of your site and spot issues, we would recommend looking into this. And learning a bit of regex to unlock some of the power of this filtering. There are lots of online tutorials that can help you with this.
More time for your Core Web Vitals
Let's talk about Google's Core Web Vitals, as there was quite a bit of news around them. First of all, Google updated their FAQ page on Core Web Vitals & Page Experience. Why this is good to know? The Core Web Vitals are the first step in a long roadmap of ongoing changes that will impact your rankings. And there is a lot of discussion and confusion about how all the different bits will work. This updates FAQ page solves a lot of the questions people have. It helps us understand how Google measures this sort of information. If you're not sure what the Core Web Vitals are, check out our webinar on Google's algorithm update.
This update of the FAQ page is also an indication that Google realizes how hard this upcoming ranking factor is. Which brings us to our next piece of news. Although Google has given us a year's notice on Core Web Vitals becoming a ranking factor in May, they've decided to postpone this. Perhaps they've noticed that lots of business owners had other priorities due to the pandemic. But it comes down to this: lots of people simply haven't worked on the speed of their site enough. Google doesn't seem to be in a hurry with this. But the fact remains that this update is coming and you should definitely work on these metrics.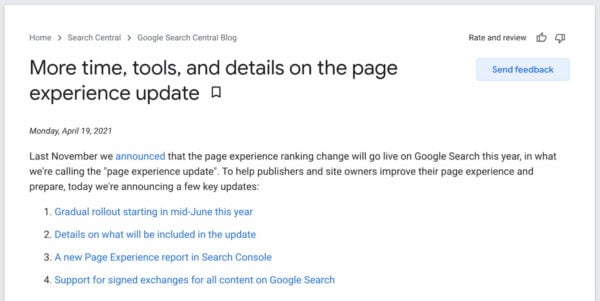 Hide health prices from Google is barred by regulators
So, we've got some SEO news in April that actually made it into the mainstream news. A few hospitals in the US hid their health prices from web searches and this is now barred by regulators. Health providers are legally required to show their prices online, but these hospitals hid their price pages from Google by using a no-index tag. This tag tells Google not to crawl a certain page so it doesn't end up in the search results.
Now it's been decided that it's illegal (in the US) to hide health-related price information from Google. The health providers explained that they had been hiding these pages to better the user journey of their site visitors. They wanted people to land on another page that helps them understand their pricing before see the actual pricing. Be cautious with this, in any field, as this is not the way users want to find the information they're looking for. You don't want to force your users through a funnel that is not in their best interest. You will lose people to your competitor who does give away their pricing right away.
Other SEO news
Three vital click-based signals for SEO
Cyrus Shepard, who is very well-known in the SEO industry, wrote an article on 3 vital click-based signals for SEO. This helps you find your way in all of the ways to optimize for SEO. Essentially, he mentions three signals to focus on: first, long and last clicks.
Getting more clicks doesn't just get you more site visitors, it's also a signal to Google that your page is a good fit for that search query. But that's not all, because you also want people to stay on your site for a while. You want them to read and digest your content. When they leave right away, Google can see this as a sign that your page isn't giving users what they're looking for. Lastly, you want to be the last click. This means that people don't go back to the results and click on another page to find their answer. Being the last click tells Google that your page has given a user the information they were looking for. Give it a read, as this article can help you make sense of what SEO is all about.
Guide to the perfect product page for SEO
Another great article that came out this month is by Paddy Moogan, an SEO veteran. His article on perfecting on-page SEO for ecommerce product pages – a cheatsheet offers you a good framework for your product pages. He's added a wireframe with all the different elements and discusses them all in this post. What's great about this piece, is that he provides some real-world examples that can help you understand and relay the importance of perfecting these pages for SEO. It's a great resource for people with an online store.
Social news
Pew Research Center has done research into social media use in the US this year. What's fascinating about it is that they say that social media use in the US has plateaued. Considering the current pandemic this is quite an interesting result. Another interesting finding is that YouTube has grown a lot this year.
As SEO's it can be tempting to focus solely on search engines and spend no time on social media or video. Especially video can be a complex format that takes time to figure out. We need to jump on this wagon as the data is telling us that this is where people are spending their time. Where they're starting their customer journey. But, we should not focus all of our energy and time on YouTube alone because social media use changes. We simply need to be more flexible in this regard and do our own research into what our audience is using and what possibilities social media has to offer us.
WordPress news
Full Site Editing: partly a go for WordPress 5.8
The next release that's coming up for WordPress is WordPress 5.8 and this release will come with a partial implementation of Full Site Editing. When you're a user of a Full Site Editing supported theme, this will allow you to give it a try. Full Site Editing is basically a page builder that is built into WordPress itself. It will still need some to grow up, but it's starting to look very good and feels like something that can pave the way for some really big changes. To give you an idea, Full Site Editing is like the next step in simplifying how people design and fill their pages. Similar to how the block editor (formerly known as Gutenberg) works you will use blocks to create your page and have it look exactly the way you want. It will become a much more fluent experience.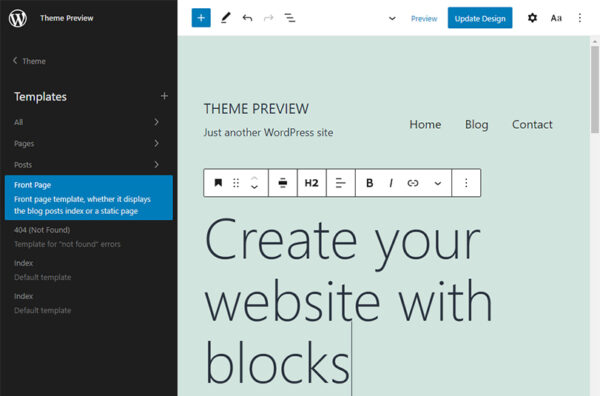 Some of our colleagues are actually working on this. We're very excited about all the possibilities this will give WordPress users. And the effects it will have on page performance and site speed, with things like only loading the CSS of the elements that are actually on the page. This kind of thing may sound simple enough, but it's actually pretty hard to do in most systems. All these kinds of tweaks will really help you optimize your site for users and Google. And if you've tried the block editor at the start and weren't a big fan, go and try it out again. It has become so much better than when it was first launched.
JetPack Boost
In other WordPress-related news: JetPack launched JetPak Boost. Essentially, JetPak Boost gives you a couple of features that help you speed up your site. This is great and it would be even better if this eventually makes it into WordPress core so that we can make WordPress faster for everyone. A good example of this is the critical CSS technique they're introducing. You can see this as a kind of lazy-loading for CSS, where the web page only loads the CSS of elements you're seeing right away. CSS of parts like the footer or something else down the page doesn't get loaded right away and this helps speed up your pages.
Yoast news
Latest releases
Our latest release of Yoast SEO 16.1 comes with a lot of fixes and enhancements that make the plugin perform better. Together with this latest release of Yoast SEO, we also updated our News SEO and video plugin. With its latest release, News SEO now appears in the post editor's sidebar in Gutenberg and we've improved the user experience quite a bit. We've also been working on our Video SEO plugin in lots of different ways to help you rank with your videos even better.
Webinars
This month, we've held two webinars that allowed us to go deeper into more specific subjects with someone who knows all about it. Last week, our video expert Phil Nottingham told us all about Video SEO: how to boost traffic to your site. You can watch this webinar, during which Phil will talk you through the reasons to get started with video and how to optimize your videos.
A week before that, our expert in site speed Jono Alderson did a webinar on Google's algorithm update. Watch this webinar to get an idea of why site speed matters so much for SEO, what Core Web Vitals are and what you can do to work on your site speed.
Podcasts
We've also done a few podcasts in the last couple of weeks. Just yesterday, our podcast with Kevin Indig (director of SEO at Shopify) came out. In this podcast on SEO at Shopify and eCommerce, he provides you with practical tips and tells you all about SEO, eCommerce platforms and webshop optimization.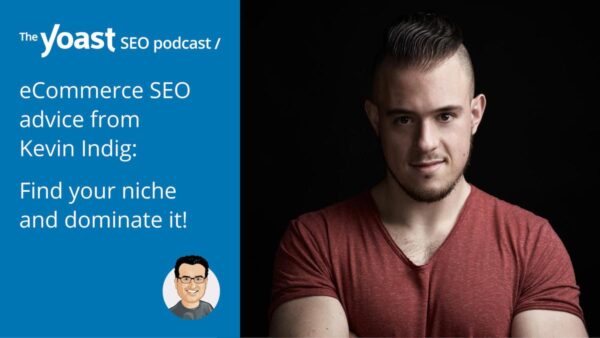 Before that, we did a podcast with our very own video expert Phil Nottingham. In this podcasts on improving your online video strategy, Phil talks about how to pick the right video strategy for your business. If you want to do more with video and you're not quite sure where to start, this it the podcast for you!
That's all the SEO news in April 2021
Well, maybe not all the news, but it is most of what Joost and Jono discussed during this month's webinar. They also had lots of interesting questions to answer, so if you're interested make sure to watch the webinar. You can find the video at the top of this post. If you'd rather be present for the next webinar in which they discuss the monthly news in SEO and WordPress, we'd love to see you at our SEO news webinar on the 25th of May, 2021. It's free of charge and also gives you the opportunity to ask them any question you'd like. So make sure to register now!
Read more: SEO news in March 2021: A rise in Google's zero-click searches »
SEO News webinar series
Coming up next!
Event

September 27 - 28, 2023

Team Yoast is Sponsoring WordPress Accessibility Day 2023, click through to see if we'll be there, who will be there and more!

See where you can find us next »

SEO webinar

26 September 2023

Get expert analysis on the latest SEO and WordPress news with Carolyn Shelby and Alex Moss. Join our upcoming webinar! 📺️

All Yoast SEO webinars »