Yoast SEO 16.1 & News SEO 12.7: enhancements and fixes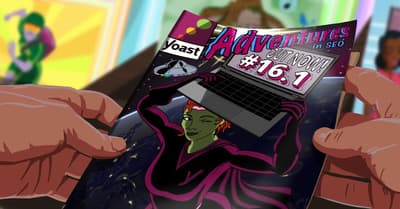 Today, we'd like to welcome another release: Yoast SEO 16.1. In this release, you'll find a list of fixes and enhancements. That's not all, as we're also releasing News SEO 12.7. News SEO now comes with an improved user experience and a new spot in the WordPress sidebar. Read on!
Enhancements
Yoast SEO 16.1 comes with several enhancements that make the plugin perform better. Besides, we updated some parts to align the plugin with changes in the Google search results pages. Let's start with that one.
In Yoast SEO 16.1, we've updated the Google preview in two places. We've now changed the order of the snippet parts if you are in desktop mode. Now, the order mirrors Google's once again. For the second change to the Google preview, we removed keyphrase highlighting in the mobile meta description to reflect new Google behavior.
We've been improving the indexing processes of Yoast SEO. Back in Yoast SEO 14.0, we launched our new way of indexing your SEO data to offer you, among other things, enhanced performance in the plugin. Over the past releases, we steadily improved to process to make it more stable and even faster. In Yoast SEO 16.1, we continue with the improvements. We've optimized the queries used for fetching unindexed objects, while a community patch from Ovidiu Liuta helped us improve the post indexing performance.
Schema enhancements
If you have set your OpenGraph or Twitter images, we'll now use these as the main image in the Schema structured data. The thinking behind this change is that the social image is meant for a sharing context and is thus most suitable for the main image.
Also, we've added contentUrl to the Schema image output to more precisely say what the URL is. Finally, we improved the loading of the organization and person logo by storing them in the autoloaded options.
Fixes
As always, we did a round of bug hunting for Yoast SEO 16.1. In this release, we fixed a couple of bugs for installations running Yoast SEO on PHP 8.0. We've fixed a bug that happened on multisite installations, where enabling/disabling auto-updates for Yoast SEO would not automatically enable/disable auto-updates for Yoast SEO Premium and other Yoast add-ons. Finally, we fixed a bug where the breadcrumbs didn't update properly when you edited a post via the quick edit.
News SEO 12.7
News organizations — or anyone publishing timely content — and working to improve their news SEO will enjoy our latest update of the News SEO add-on. We rewrote the meta box in React to make it appear in the post editor's sidebar for this release. As you know, the sidebar is where it's at in Gutenberg. Now, you can easily include or exclude posts you are working on in your news sitemap. You can also quickly add your stock tickers if that is something your use on your site. Of course, this new version of News SEO also works in our Elementor integration.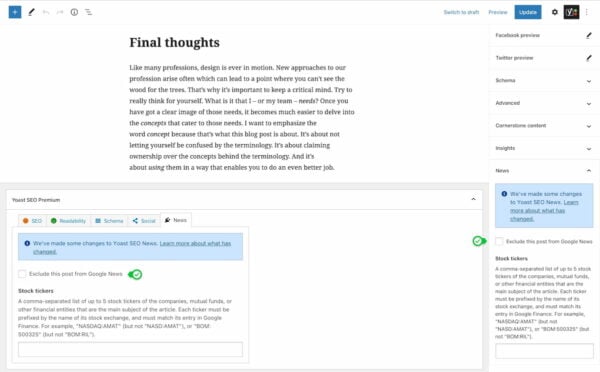 Other enhancements include merging two sitemap options into one: you can now select Exclude this post from Google News, and we'll noindex it for you. We've chosen to remove the news genre settings as these are not used by Google anymore. Finally, we've set the WordPress tested up to version 5.7 and the minimum supported WordPress version to 5.6
Update now to Yoast SEO 16.1
Yoast SEO 16.1 is out today! It features several enhancements and fixes that make the plugin chug along nicely. Also, we've released a new update for our News SEO add-on that comes with a slimmed-down interface and a nice new spot in the sidebar. We hope you enjoy it!
Coming up next!
Event

September 27 - 28, 2023

Team Yoast is Sponsoring WordPress Accessibility Day 2023, click through to see if we'll be there, who will be there and more!

See where you can find us next »

SEO webinar

21 September 2023

Learn how to start your SEO journey the right way with our free webinar. Get practical tips and answers to all your questions in the live Q&A!

All Yoast SEO webinars »