16 sweet reasons to love Yoast SEO!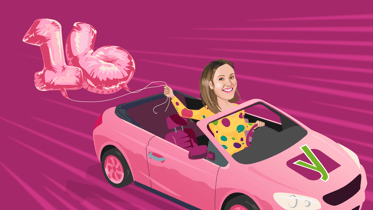 SEO should be for everyone. Everyone -big or small- should have a fair chance in the search engines. That's why we build software for everyone at Yoast. With WordPress, everybody can build a website and publish their ideas. Add our plugin, and you'll also be able to outrank your competition. In this post, I'll give you 16 sweet reasons to love Yoast SEO. Sixteen ways in which our plugin helps your site outrank the competition.
16 sweet reasons to love Yoast SEO
Yoast SEO went through a lot of releases and added features that can help you in a lot of different ways. And I'm very excited to share them with you! So let's take a look at sixteen ways in which Yoast SEO helps you outrank your competitions. Watch this video in which I explain all of the 16 reasons to love Yoast SEO or scroll down to read all about them in the post below.
1. Schema implementation
The first reason to love Yoast SEO is our Schema implementation. With our Schema implementation, we make sure that individual pieces of Schema are connected to each other. Using Yoast SEO will make sure that Google, Pinterest, and other platforms all know exactly what your page is about because you'll be adding Schema in the right way.
2. Schema blocks
Reason number two to love Yoast SEO has to do with Schema as well. Yoast SEO contains some wonderful structured data blocks, and we're planning to release some new ones soon. If you want to get rich results for your How-to or FAQ pages, all you need to do is use the Yoast SEO How-to block or FAQ block. In the block editor, you can easily set up your How-to or FAQ page, and we'll make sure the Schema is set up correctly.
3. Redirect manager
The third reason to love Yoast SEO is our redirect manager. Redirects are a very important part of your SEO, especially if your site gets bigger. Some content needs to be deleted, but you don't want visitors to land on those awful 404 not found pages. Even more important, you don't want Google to get stuck on those 404 pages because Google hates them! Our redirect manager helps you set up your redirects easily and efficiently. You can't do without it!
4. SEO analysis
A really important reason to love Yoast SEO is our SEO analysis. Yoast SEO is famous for the green bullets. Our bullets help you optimize your text for the search engines by filling out your focus keyword. It tells you what you can still improve on. Maybe you should use that focus keyword a little bit more often. Or, maybe you should mention it in your meta description or in your headings. Our SEO analysis will make sure to make your copy findable!
5. Text link counter
A fifth reason to love Yoast SEO is the text link counter. The text link counter allows you to quickly check how many internal links your post has. It's a quick and easy way to figure out whether or not your most important pages also have the most internal linking pointing towards them.
6. Social previews
And the 6th reason to love Yoast SEO is social previews. What will your post or page look like on Facebook and Twitter? The social previews allow you to check out what your result will look like on both Facebook and Twitter. Seeing your social posts through the eyes of your readers makes sharing your blogs on social a lot easier!
7. Readability analysis
The readability analysis is a very good reason to absolutely adore Yoast SEO. We analyze whether or not your text is nice and easy to read. Are you using enough transition words, are your sentences nice and short and are you not overdoing it on the passive voice? We'll give you feedback on how to improve your text to make sure that your audience and Google are able to quickly grasp the meaning of your text!
8. Internal linking
And what about our internal linking functionality? Yoast SEO offers suggestions for internal links while you are writing a post. That'll make it that much easier to set up a strong internal linking strategy. If your site is getting bigger, it is of great importance to set up a good and contextual internal linking structure. The way you internally link pages on your site gives Google information on where the most important content on your website can be found!
9. Yoast SEO academy
Reason number 9 to love Yoast SEO is Yoast SEO academy. Yoast SEO academy contains a lot of free courses for everyone who uses the free version of Yoast SEO. And if you go premium, you'll get access to our Yoast SEO Premium academy. This gives you access to lots and lots of courses about so many fields in SEO: local SEO, multilingual SEO, structured data, SEO copywriting. The courses in Yoast SEO academy help you become an SEO expert yourself.
10. Semrush integration
11. No duplicate content with canonical URLs
The eleventh reason to love Yoast SEO is that it will help you solve all of your duplicate content issues. Google hates duplicate content. Duplicate content confuses Google. It does not know which of the duplicates it should show in the search engines. With a canonical URL, you can easily tell Google which of the pages is the original content and which of the pages Google should show in the search engines.
12. Nofollow links
And of course, Yoast SEO allows you to indicate which links Google shouldn't follow. Another must-have for everyone who's serious about SEO and another reason to love Yoast SEO. You don't want Google to follow all your links, so sometimes you need to tell Google to not follow a link. Our plugin allows you to immediately mark your links as nofollow or sponsored if you want to and you can do that in the editor, while you're writing!
13. In the background – the technical stuff!
Did you know that Yoast SEO takes care of a lot of technical stuff in the background? Yoast SEO does a lot of things without you having to do anything! That's a great reason to love Yoast SEO as well. It really doesn't matter whether you know about robots.txt, .htaccess files, clean permalink URLs or sitemaps. Yoast SEO will just take care of all these technical SEO things!
14. Our awesome support team
Reason number fourteen to love Yoast SEO is our awesome support team! For our premium customers, we offer 24/7 email access to our awesome support team. They'll help you with all the issues you may have, for instance with installing our plugin. Also, they'll answer your questions on how to best use our plugin! They're the very best!
15. Word forms
The fifteenth reason to love Yoast SEO is the word form recognition in our SEO analysis. As Google is able to recognize different word forms as plurals and past tenses, we made sure our plugin is able to do that too. Building software that is able to recognize word forms in many different languages is pretty difficult. We're really proud of the many languages we are able to support. Our word form recognition automatically takes plurals and other word forms into account. This makes optimizing your text for the search engines much easier and much more natural. And that'll help with your ranking!
16. Google previews
We made it to our sixteenth and final sweet reason to love Yoast SEO: Google previews. You want to check out what your search snippet will look like in the search results, right? That's why you need those Google previews! The Google preview will show you what your search snippet will look like and will enable you to make it stand out from all these other snippets!
16 sweet reasons….and more
As we're celebrating the 16.0 release, I gave you 16 sweet reasons to love Yoast SEO. To be honest, I could easily come up with 16 more reasons. I love our Indexables and I love our stale content filter, I love the cornerstone content analysis and I love the Zapier integration. Yoast SEO contains so many features… perhaps you'll discover new reasons to love Yoast SEO every time you use it.
Buy Yoast SEO Premium now!
Unlock powerful features and much more for your WordPress site with the Yoast SEO Premium plugin!
Read more: Yoast SEO 16.0: sweet sixteen! »
Coming up next!
Event

December 09, 2023

Team Yoast is at Attending, Organizing, Sponsoring WordCamp Ahmedabad 2023! Click through to see who will be there, what we will do, and more!

See where you can find us next »

SEO webinar

12 December 2023

Learn how to start your SEO journey the right way with our free webinar. Get practical tips and answers to all your questions in the live Q&A!

All Yoast SEO webinars »