Yoast SEO 7.4: Enhanced image support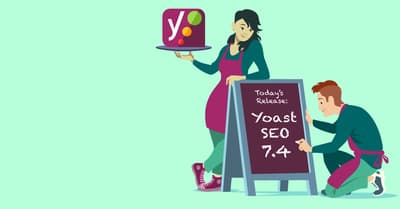 Please welcome to the stage: Yoast SEO 7.4! In this release, we've squashed a number of bugs and focused on enhancing the way Yoast SEO works with Open Graph images. We also made some other enhancements that improve the way the plugin functions. Happy updating!
Improved handling of images
Images are very important for several reasons: not only do your readers love to see them while reading your post, but they are indispensable if you want to do well in image search — which is becoming more important by the day. Image SEO, therefore, is a thing. There's another reason images are important: social images can attract a great deal of traffic to your site or social media profile. Luckily, Yoast SEO can help you up your social image game.
For some years, you have been able to preview how your social posts will look when shared with Yoast SEO Premium. Most social media platforms use the OpenGraph protocol to determine what should be shown and how. In Yoast SEO 7.4, we've made some improvements to how the plugin handles OpenGraph images. For starters, we now add Open Graph image dimension-meta tags to more images. We also exclude images in Open Graph meta tags that are larger than 2MB as we want to keep everything running smoothly. Yoast SEO can now also append the image alt tag to the OpenGraph output, using the meta tag og:image:alt. Last but not least, we've added caching for images in posts to reduce load time. We're diving deeper into how different platforms use OpenGraph to handle images and we're hoping to do more with images in the future.
If you want to really dive into this and learn more about the choices we made and why we made them you should definitely read this long read on Open Graph tags by Jono!
Dropping support for PHP 5.2
 In Yoast SEO 7.3, we're now showing a message warning you about dropping support for the ancient PHP 5.2 in an upcoming version. As you might know, anything before PHP 7.0 is quickly running towards end-of-life. There are, however, still a lot of people and hosting companies that use ancient software to power their servers. Please upgrade your servers if possible! Here's how Joost put it some time ago:
"The why is three-pronged: security, speed, and future-proofing. PHP 5.2 hasn't been updated for years and has serious issues. PHP 7 is lightning fast, up to 400% faster than 5.2. You might even regard this as a green move; you can use 50% fewer servers to get the same results from PHP 7. Last but not least, developers can finally use all the modern technologies to bring WordPress to the next level."
Other improvements and fixes
To more rigorously determine if posts and pages are viewable and accessible, we've added the is_post_type_viewable WordPress function to improve support for the wpseo_accessible_post_types filters. Among other things, we've fixed some bugs that kept some database tables from being removed when you deleted a sub-site from a multisite environment. To cap it off, we've fixed a bug where deleting multiple posts could cause performance issues. Thanks to Abolfazl Moeini for finding and fixing that.
Please update
As always, our advice is to update to the newest release of Yoast SEO so you can get the latest and greatest. In Yoast SEO 7.4, we've improved how we handle OpenGraph images and added several other enhancements that make the plugin better. Thanks for using Yoast SEO!
Read more: Why every website needs Yoast SEO »
Coming up next!
Event

September 27 - 28, 2023

Team Yoast is Sponsoring WordPress Accessibility Day 2023, click through to see if we'll be there, who will be there and more!

See where you can find us next »

SEO webinar

26 September 2023

Get expert analysis on the latest SEO and WordPress news with Carolyn Shelby and Alex Moss. Join our upcoming webinar! 📺️

All Yoast SEO webinars »