Using testimonials on your site (the right way) is always beneficial, whether your goal is more sales, or more subscribers, etc. Providing social proof that your product or blog is awesome will help convince people that giving your their money or time is worth their while. While you can certainly use written testimonials, video testimonials are a great way to show that other people, real people, are happy with what you have to offer.
A good testimonial on video should be authentic and to-the-point. You don't want it to look scripted, so it's believable. And if it's too long and too many aspects of a product are covered, viewers will get bored and won't remember the most important takeaways. So, in short, have a nice and relaxed conversation with the person giving the testimonial, but think about what you want highlight in this testimonial beforehand, so the conversation can focus on that. After you invest your time and effort into creating the perfect video testimonial, you'll obviously want to put it to good use. But, how do you do that?
Jessica Martinieri was wondering the same thing:
I'm going to employ video testimonials from my company. Besides adding these videos to my website what more can I do to fully benefit from them and spread the word? Is simply adding them to Facebook and other social media okay?
Watch the video or read the transcript for the answer!
Using video testimonials
"Well, simply adding them is not enough. You have to share them, you have to be proud of them and show why you're proud of them.
You can also ask the people that you've taken the testimonial from to share them as well. Use them in any way that you can. You can also optimize them a bit. If you've done specific things for people that you'd like them to talk about, make sure that they talk about that. Also, add a transcript to those videos. And put them on YouTube, and people will find you on YouTube for the terms mentioned in that video. Sometimes it's that simple. Good luck!"
Read more: Testimonials: Increase your visitor's trust »
Ask Yoast series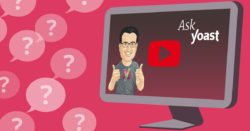 See more from the Ask Yoast series
In the Ask Yoast series, we answered SEO questions from our readers. Check out the other questions!