Ask Yoast:
Changes to your site and the search results
Whenever you make some big changes to your website, for instance to your brand name, you're probably eager for these changes to show in the search results. Unfortunately, it can take a while for Google to crawl your site again and until then, it will show the indexed version of your site in the results, without the changes. Of course, when people click to your site they will see the changes, but you want them to be visible in the results pages too.
So, is there anything you can do to help or speed up this process? And is there anything else to bear in mind when making these changes? Let's get into that in this Ask Yoast!
Jolene Moody emailed us her question on this topic:
"I recently changed the name of my business. We have changed it in the WordPress dashboard too. But I didn't see the change yet in the search results. How long does it take Google to show this change?"
Watch the video or read the transcript for the answer!
Helping Google pick up changes on your site
"It depends on how often Google visits your site and you probably don't know how often that is. Now, what you can do is go to Google search console and go to 'Fetch & render' and then fetch and render your homepage. Then, after it's done, there's an option to submit to index. At that point, Google will have already crawled your site and will use that data to show your site in the index, so when people search for your brand, at least your homepage will have the proper brand name.
But it's very important if you change the name of your business and people are still searching for the old name of your business, that you also have the old name of your business on your site somewhere. That way people can still find you for that when they don't know that you've renamed your business. Good luck!"
Read more: SEO Basics: What is Googlebot? »
Ask Yoast series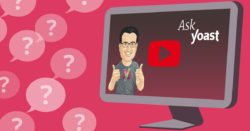 See more from the Ask Yoast series
In the Ask Yoast series, we answered SEO questions from our readers. Check out the other questions!