Doing keyword research is a vital part of your content SEO strategy, but can be a long and difficult process. It's just not easy to get into the heads of your audience: what words and phrases could they be using? What is their intention when searching? Another important aspect to check is whether it's realistic to try to rank for a certain keyword or keyphrase, especially if there's heavy competition.
In this Ask Yoast, I'll get into a specific case of a business aimed at reaching people who want to start a company in Vietnam. What are the most important things to keep in mind?
Brian Ho emailed us his question on keywords:
I'm trying to reach out to people around the world who want to open a company in Vietnam. Does that mean that I need to add the word 'Vietnam' to all my focus keywords?
Watch the video or read the transcript further down the page for my answer to finding the best keyword strategy!
Finding the best keyword strategy
"Well, you don't have to add it to all of them, but 'Vietnam' is probably one of your important keywords at that point. So if you think about 'start business,' then yes, 'start business in Vietnam' is probably the focus keyword that you want to optimize for, not 'start business,' because then your competition will be way, way, way bigger.
At the same time, there are reasons why people would want to move to Vietnam, and they don't know that when they're searching. So you probably also have keywords that relate to starting a business, and that might actually make you want to convince them that they should do that in Vietnam, but they wouldn't use the word 'Vietnam' when searching.
So think about your keyword research. We have a course about that if you into that: our SEO copywriting course has a whole module about all of this. This is not something that you should just add, because just adding 'Vietnam' to your focus keyword is not going to change anything. You really should think about your strategy, like: "Okay, which keywords do I want to be found for, which topic should I write about?". And then, based on that, decide your focus keywords. Good luck."
Read more: Ultimate guide to content SEO »
Ask Yoast series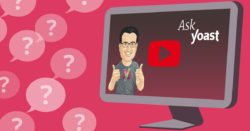 See more from the Ask Yoast series
In the Ask Yoast series, we answered SEO questions from our readers. Check out the other questions!