With so much of our day-to-day communication happening online these days, the use of emojis, to add some flavor to typed messages, has gone through the roof. They don't just express emotions, but depict a range of animals, objects, places and so on, as well. The options to express yourself with them are endless!
If you frequently use emojis in your daily communication, you may also feel like using them on your website. But what's the deal with emojis and SEO? Do they have any impact on your rankings, positive or negative? In this Ask Yoast, I'll get into that :)
Iris Schöberl emailed us her question:
"Do you as an SEO expert recommend to use emojis? Or is it spam to Google?"
Watch the video or read the transcript for the answer!
Emojis and SEO
"I'm thinking that you probably mean in the meta-description and titles etc., where some emojis will actually show up in the search results. If they do show up in the search results, I would use them because they make you stand out. And standing out in the search results means the more people click on you; more clicks are what you want, so yes, I would use them.
Would I use every emoji? No, I probably would not use the poop emoji for pages that I want to sell something on unless it's poop.
So, see if it fits in with your brand. If it fits in with your brand, there's nothing I have inherently against it or in favor of it. Just see what works for your brand and what works for your audience. And do that. Good luck!"
Read more: 5 tips on branding »
Ask Yoast series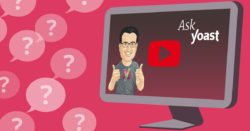 See more from the Ask Yoast series
In the Ask Yoast series, we answered SEO questions from our readers. Check out the other questions!