On-SERP SEO can help you battle zero-click results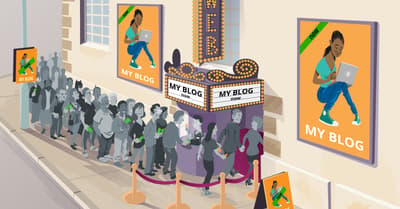 On-SERP SEO is the process of fully optimizing the first page of a search engine to maximize the visibility of your brand. On-SERP SEO is a tool you can use to battle the increase of so-called zero-click searches. Find out all about on-SERP SEO in this article.
Rise of the zero-click search
Rand Fishkin of SparkToro has been tracking developments in Google for a long time. One of his works is researching the changes in how people search and where the clicks go, based on data by an analytics firm. From his recent reports emerges an interesting trend: less than 50% of all the searches lead to a click! These are the so-called zero-click searches.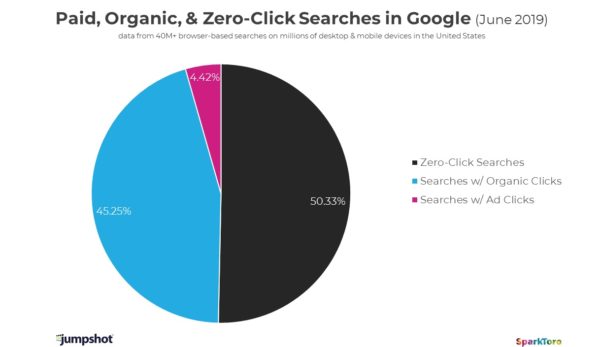 Of course, the decline of the click can partly be attributed to the rise in rich results. For many queries, these results — like featured snippets, answer boxes and knowledge graphs — tend to answer the exact question a searcher has. Often, leaving the searcher without the need to click on to a full article. Since Google is working hard to understand languages, entities, and intents better, it is no surprise that it manages to answer an increasing number and ever harder set of questions right there.
In addition to upping their skills, Google is also expanding its own properties in search. For industries such as travel, you can almost book a complete trip without ever leaving Google. It won't be long before that last hurdle will be gone as well. Of course, end-users love interacting with rich results as they often solve their needs immediately.
These developments are Google helping win an enormous amount of traffic to its own properties, from YouTube to Flights and Jobs to Events, leaving regular companies and individuals struggling to find room to shine in the SERPs. One of the means you could turn to combat this is called on-SERP SEO.
What is on-SERP SEO?
With on-SERP SEO, you try to get as much exposure for a query — or your brand — on Google's front page as possible. That doesn't mean you should write ten articles on your main topic in the hopes of them all showing up on page one of Google because that's a pipe dream. No, it's about owning all the areas where it counts:
A featured snippet
A highly-ranking post
The knowledge graph panel
People Also Ask boxes
Image search
Video search
Local three-pack
And maybe run an ad or two for your brand
Combined, these SERP elements will give you maximum exposure for your brand. In addition, visibility might lead to better CTR. Nevertheless, it might be a good idea to look at sources of traffic/visibility outside of Google's clutches.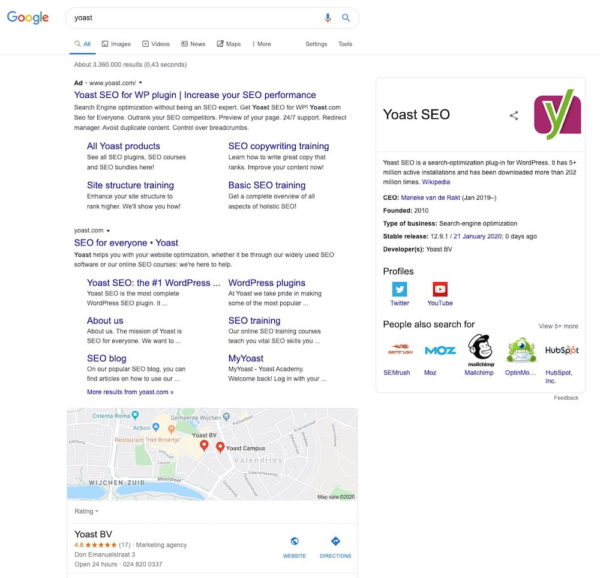 Note: Last week, Google changed how they handle duplicate URLs for posts that have a featured snippet. In the past, the featured snippet was at position 0, but now it is basically number 1. The regular result from that featured snippet is dropped from the results, leaving only the featured snippet. This might impact how you approach your work and it might make it harder to 'own' the SERPs.
How can it benefit your site?
The main reason for working on your on-SERP SEO is enhancing the visibility of your brand. Not everything is about traffic! It does beg to differ if you can make the investment in on-SERP SEO. It doesn't always lead to more traffic, so you must ask yourself if you can live with not getting traffic from that high-profile featured snippet.
For many searches and industries, it is hard to occupy a load of search results page features. So, what you can do depends on who you are — or who you are working for, of course. Non-branded searches make it hard to get into the knowledge graph, for instance. Do investigate and see what you can achieve!
How to start with on-SERP SEO
The process of on-SERP SEO consists of several parts. First, you need to find out how you are doing. Where are people coming from? How are they finding you? What's the CTR for your main keyphrases? Plus, how are all these numbers trending?
When you've painted a picture of your situation, you start looking at the SERPs and try to find opportunities to stand out.
Look at the SERPs
Looking at the SERPs is incredibly rewarding — and an essential task. Not only will it give you an idea of what's going in your industry, for your keyphrases or your brand, but it will also signal opportunities. You also have to look at what's not there. When you finally know your SERPs inside out you see the changes Google makes unfolding before your eyes. What's more, you might be ready to act if needed.
You'll notice rich results — like featured snippets — pop up and disappear, and you'll see different elements move around the page. Plus, you see what your competitors are doing. You'll also notice ranking changes when they appear. Several SEO suites — like Moz Pro and SEMrush — provide tools to track what happens to SERPs and which SERP features appear for certain keyphrases.
If you have a solid understanding of your relevant SERPs you might pick up a chance to shine along the way. Be sure to act if it makes sense!
Find opportunities
There are many answers to be found in the SERPs, but don't be scared to start thinking outside the box. There are several ways to increase your site's visibility in search. Let's go over a couple of ones.
Improve search intent-based content
A very helpful tool in your arsenal is search intent research. Try to find out how and when people end up on your site and map that to your customer journey. Did you miss a couple of spots? Can you appear earlier in the journey? What do the SERPs look like for every step of the journey and does your content match does touchpoints?
Improve your keyphrase-based work
Search engines are getting better at defining what a query is actually about, but they are nowhere near faultless in matching that with a correct response. This means that you should still provide search engines with every detail you can think about. So, it makes sense to look into search intent, but it also makes sense to do old-fashioned keyword research. But now, don't simply look at which words have the highest traffic potential, but also a good chance at a click!
Research featured snippets
A prominent spot at the top of the search results — who doesn't want that? Getting a featured snippet is a good way of getting in the spotlights. It's not always easy to get clicks from a featured snippet, but if you do the results can be interesting to see. It might not even be necessary to do it all for the clicks, because featured snippets can also be used to build trust or increase brand awareness.
Getting a featured snippet takes work and is a lot easier if you already rank on page one with your content. That means you should prioritize getting featured snippets for content that's already doing well. Don't forget to check if your research is pointing you to new chances.
Enhance visual and video search
On-SERP SEO also means improving the findability of your images and video. For your main keyphrases, your visual content needs to come out on top. Don't have visual content pop up on image search for your brand or keyphrases? Don't have videos? Well, you know what to do if you want to fully occupy the SERPs. The Yoast Video SEO add-on helps you get those videos in search.
Manage your social media
Your social media can appear in searches for your brand — tweets in search and links in the knowledge graph panel —, so it's good to put work in those profiles. They don't really push traffic, but people may view these profiles to form an opinion on your business.
Add structured data
Structured data is incredibly important for search engines to truly understand what your site is about. By using structured data correctly for any given topic (recipes, events, jobs et cetera), search engines might even reward you with a rich result listing. This means your search result is highlighted, meaning it will take up more real estate in the SERPs. Yoast SEO automatically adds a lot of Schema structured data to your site for the most important properties. You can also use the Yoast SEO content blocks to build FAQ pages and how-to articles that stand out in the search results.
Improve your local listing
It's important to look at what your site is doing locally. Google My Business is a must-have if you want your business to stand out in the local results. Curate your listing, manage reviews and finetune your photos. Having a lively local profile can really help your visibility and brand awareness.
Take out ads for your brand
Ever since Google is running ads right under the search bar, it is a good idea to take out ads for your own brand — or keywords, if they are affordable. This way, you get an extra spot at the top that Google can't take away from you. In addition, it prevents a competitor from advertising in your name.
Conclusion about on-SERP SEO
In the age of declining clicks, you need all the help you can get to stay visible for the searcher. One of the things you can do is look at the SERPs to try and find ways to occupy a lot of real-estate. On-SERP SEO can help you increase brand awareness. It also helps you gain new insights into what's changing in Google and how you can react to that.
It doesn't make sense to go all-out with on-SERP SEO for all your keyphrases. But, it does make sense to make your brand stand out, which is easier because you have most of the tools available to get that knowledge panel and ad listing.

Coming up next!
Event

October 04, 2023

Team Yoast is at Attending, Organizing Yoast Contributor day 2023 - October edition! Click through to see who will be there, what we will do, and more!

See where you can find us next »

SEO webinar

12 October 2023

Stay ahead of the curve in the fast-evolving world of e-commerce & explore key trends & emerging opportunities. Register for "E-commerce Trends 2023" now!️

All Yoast SEO webinars »