Does social media influence your SEO?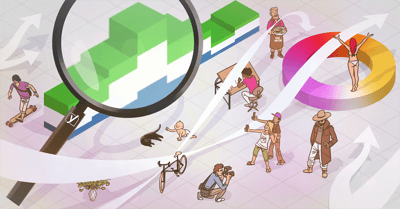 Handling your social media is a necessary part of any marketing strategy, but it's also a vital part of any good SEO strategy. The popularity of social media has risen and probably will keep doing so. That means Google and other search engines can't ignore them, and you probably shouldn't either. You even see recent tweets popping up in search results now! So let's discuss: how does social media influence SEO?
Customers are looking for you
SEO is about being found, so let's start with the basics. If people are looking for you, make sure they find you! Customers that have heard about your brand might look for you on social media, or even through Google. As a professional company or brand, they expect you to be there. You don't want them to come up empty, or worse: stumble on another business with a similar name while thinking it's you. For that reason, it's a good idea to claim your profiles. Even if you're not planning on using the platform right now, you might want to in the future.
If you do register on a social platform and are not planning to actively maintain the profile, let your visitors know. Platforms like Twitter and Facebook have the option to pin a tweet or post right at the top of your profile. In that post, explain that while you are not actively present there, they did find the right brand and yes, they can reach you. Point them to other means of communication, like email, make it easy for them! Another plus of claiming profiles: If in the future you do decide to start using a platform, you're ready to go. Social media is ever-changing, so you never know if you might.
Setting up your social media accounts
When you register with social media platforms, do so seriously. Use a high-quality logo and fill out all the fields offered. If you have physical stores: add them, and their opening hours. A Google My Business account is especially valuable for this! In general, make sure your profiles look professional and up to date. And: be consistent. Use the same brand name across platforms, so people (and search engines!) know it's you.
Social accounts showing in search results
Did you know that your social accounts can show up when people search for your brand name in search engines? For example, in Google's Knowledge Panel. Here's an example of what that looks like: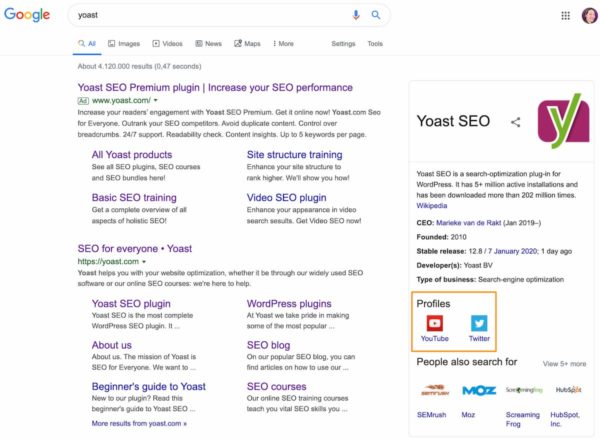 That looks professional, right? It adds trust as well because users have no doubt that if they click the profile buttons there, they'll end up on your social account. Learn more: How to add social profiles to Google's Knowledge Graph.
Latest tweets in search results
What we think is really cool is how Google regularly show an account's latest tweets, right up there between other search results. Here's an example of a so-called tweet carousel that shows when you search Google for [yoast].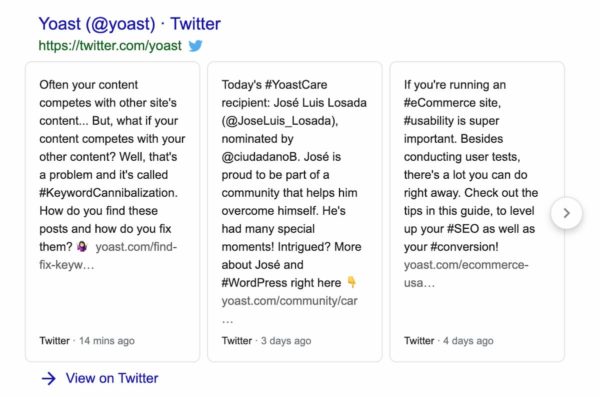 This is a great way to showcase your business and what you're all about, while enticing people to visit your profile and follow you for more.
Claim your space in the search results
What's also important: content like tweet carousels take up (way) more place in the search results! The same goes for your actual social accounts: they show up too. The more space you claim in the top search results, the more you push down other results. It definitely increases the chances of people clicking through to any of your places on the web!
More traffic to your website
Now you understand the actual benefits of claiming (and preferably regularly updating, but more on that in a later blog post) your social media accounts, how does that tie into your SEO strategy? The idea is quite simple: if people are talking about you, online or offline, you're relevant. As you might know by now, that is what search engines are looking for: Google wants to present users with the most relevant results. They love serving up search results that they know others find interesting.
So if you offer awesome content on your website, why not spread it even further by referring to it in other places, like on Facebook? It's your content so it's yours to share. Help people discover you! By convincing people to click to find out more, read on, etc., your social media posts could seriously increase traffic to your website. If you want to post more on social, but often lack the time, Yoast SEO Premium can help you. With our Zapier integration, you can automate your social sharing and stay in control of what your social posts look like.
Brand awareness through social media
Having success in social media also increases brand awareness. If you're sharing great content, people will connect that positive experience to your brand name and experience. They might share your content or even just 'like' it. Either way, they're helping you reach a new audience. Social media algorithms like content that other people like, they'll help spread it further. Now, if these new people see and enjoy your content, they might start following you! They'll get to know you and your products, services, or whatever it is you want them to know about.
Social media and SEO
Wrapping up: we wouldn't say that just the fact that you are on social media has a direct impact on rankings. But, as with many ranking factors, it can help indirectly. An increased brand awareness, more traffic, people enjoying your content, all of those could help your website's success.
So you know that it can pay off to use social media for your brand. But one of the hardest, if not the hardest, things of social media is: what do you 'do' on them? What kind of content are you supposed to share? How do you make a social media plan for your business or blog? How much time will it take? Is it worth it? We'll cover setting up a social media strategy in an upcoming blog post, so stay tuned!
Read more: Social media optimization with Yoast SEO »
Coming up next!
Event

October 04, 2023

Team Yoast is at Attending, Organizing Yoast Contributor day 2023 - October edition! Click through to see who will be there, what we will do, and more!

See where you can find us next »

SEO webinar

03 October 2023

Learn how to start your SEO journey the right way with our free webinar. Get practical tips and answers to all your questions in the live Q&A!

All Yoast SEO webinars »