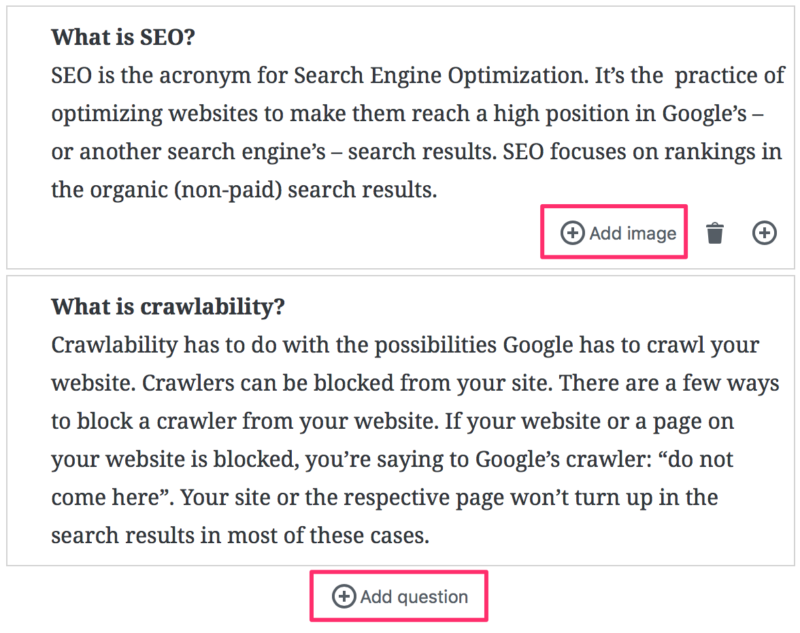 ---
Unlock lots of features with Yoast SEO Premium
Our Schema blocks are available in our free plugin. But if you are serious about your site, Yoast SEO Premium makes your job a lot easier.
---
Why do I need an FAQ block?
Many sites have some sort of FAQ page — this is the place to collect all common questions about a product, service or company. It is often used by customer support teams to help offload some of the common questions that keep popping up. While not every site needs an FAQ, many sites — and users — benefit from having one. The FAQ block in Yoast SEO makes it easy to create FAQ pages that have a chance of getting noticed in the search results!
Are FAQ pages visible in the Google search results?
Yes, they are very visible — and easy to get. Just by using the Yoast SEO FAQ structured data content block you stand a very good chance of getting an FAQ rich result. The FAQ is one of the latest search enhancements in Google. Sites are still scrambling to add this, so using the Yoast SEO FAQ content block gets you a leg up. Imagine what you can do with this!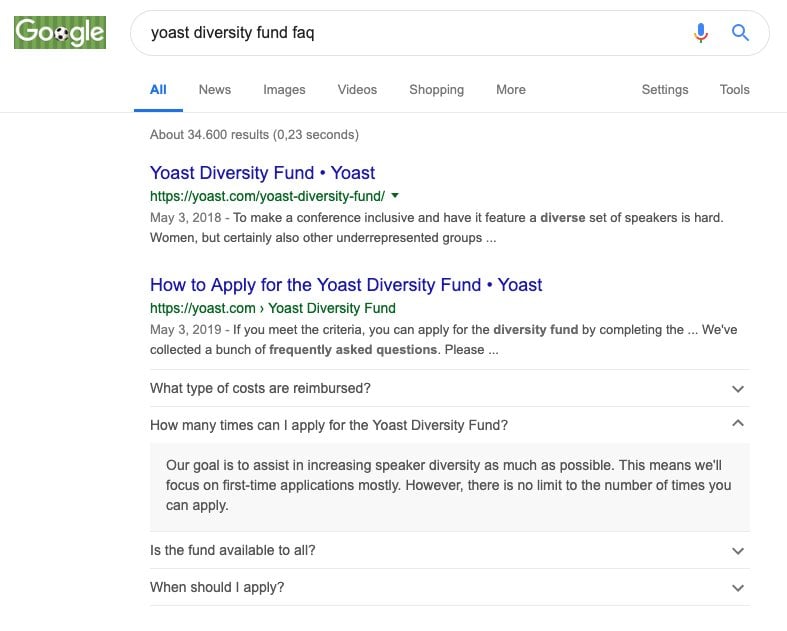 Why do both machines and humans like the FAQ format?
Humans as well as machines love block-based content — it's nicely contained and easy to digest. Working with the new block editor in WordPress lets you quickly build up a beautiful page. Simply pick the type of block you need and fill it in. The Yoast SEO content blocks are easy to use as they speak for themselves!
Is it easy to make an Schema powered FAQ page?
Yes, it's very easy! Collect your questions and answers, add an FAQ to your page and start filling it! It really is that simple. Do think about what you want to achieve with the page, though. An FAQ is not a catch-all for random questions you think your users might have.
Does the FAQ code tie into the graph Yoast SEO builds?
Yes, of course. One of the most impressive features in Yoast SEO is its elaborate Schema implementation. Schema structured data helps search engines make sense of your content. It can help them understand that this web page contains questions and answers about a product, made by a specific brand. Search engines no longer have to figure everything out themselves, by just reading content and following links. Yoast SEO is the first plugin that fully ties all aspects of the site into one big graph. A graph describes how your site is connected to your pages, organization, authors et cetera.
Did you know?
Rich results in search engines are often powered by structured data. Add this to your pages, how-to articles, FAQ pages, and/or products, improves the chance of Google showing your content in a highlighted way. To help you, Yoast SEO automatically adds structured data.
How to add the FAQ block to your WordPress site
It just takes a couple of steps to add a great FAQ page to your WordPress site. We explain them all in the video below!
We have more free structured data content blocks!
The Yoast SEO content blocks make it easy to add specific types of content to your site, like FAQs and how-tos, while also automatically adding structured data. They help you fill in the blocks and place them properly. At the moment, we have two blocks: one for FAQ pages and one for how-to articles. We're currently working on a number of additional content blocks for the block editor!
---
Improve your site with Yoast SEO Premium
A redirect manager, internal linking tool and advanced content analysis are some of the awesome tools you get with Yoast SEO Premium.