Do you wonder how often you link to a certain post? Or how many outgoing links it has? If you don't, you should. Because if you want a post to rank, you should link to it from related content. And, if it's an important post, you should link to it more often. But how do you find out how many links a post has? With Yoast SEO's text link counter, it's easy: it counts the number of internal text links from and to your post.
Why are links important?
Google follows links. The result of Google following links is that the internal linking structure of your site determines how Google crawls your site. Posts and pages that are linked to more often, are crawled more frequently than posts and pages with few (internal) links. The same goes for visitors: pages and posts that have many links referring to them, get more visitors. If you forget to link to a specific blog post, nobody (Google included) will be able to find it.
A well-crafted internal linking structure is therefore crucial for your users and SEO. That's why you'll find some great features in our Yoast SEO plugin that will help you keep your site structure up to scratch, such as the text link counter. This counter helps you keep track of what pages could use some more attention when it comes to internal linking.
Read more: Why you should add links to a new post as soon as possible »
What does Yoast SEO's text link counter do?
The text link counter counts the internal text links concerning your posts. It consists of two different counters. The first counter counts the number of links in your post and the second counter counts the number of links to your post. This might sound like a simple feature, but it's actually very useful and actionable when used right. These counters can help you improve the structure of your site and help users and Google navigate your pages.
Where do I find the text link counter?
You can find the Yoast SEO text link counter in your post overview. In this overview, you'll see the two Yoast bullets telling you how this post scores in terms of SEO and readability. Next to these two bullets, you can find two additional columns. The first column shows the number of internal links in your post – and the second one shows the number of internal links to your post:

Let's have a closer look. If you hover over one of the link counters, you get the following information about what each link counter tells you: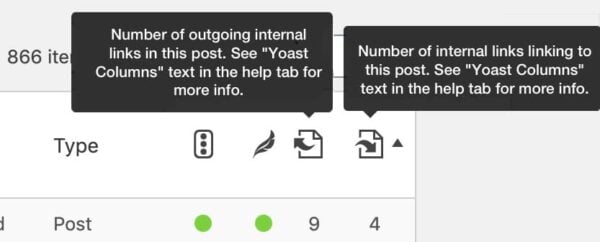 Because it immediately shows you the number of internal links when it comes to every one of your posts, this functionality is very actionable. If you want to improve your site structure and your SEO, the text link counter will help you do that.
What can I do with it?
Improve site structure by adding links from your post
The counter in the first column counts the number of text links from this post to other posts and pages on your site. You'll want your post to link to other posts and pages with similar content, as it helps your readers figure out what other posts or pages might be interesting for them to read. If you link to similar content, the time people spend on your website will go up.
To easily find your posts with few links to other posts, you can order the posts by the number of links by clicking on the icon. The posts with the fewest links will appear at the top of your list. Simply click the post you want to work on and start adding relevant links to work on your site structure. Adding the right links is incredibly easy with our internal linking tool. This tool suggests which post to link to based on similar content on your site. You can add the suggestions, save your post and you're ready to go to the next blog post in your list.
Improve site structure by adding links to your post
The next step is to go through your posts that don't get linked to enough. If you want to check which articles don't receive many links, you can sort the articles by clicking the icon above the second link counter column. Take your time to go through this list post by post. Now, it might feel like this part can be a bit more of a puzzle, but don't worry. The internal linking tool can also help you find pages that can link to the article you're currently editing.
Our internal linking tool shows you what posts are related to the one you're currently editing. As we discussed above, this can help you add internal links to a post, but it can also give you ideas for posts to link to your current post. Simply open the article that's not getting enough links, check the internal linking tool. See what pages or posts our tool suggests so you can link to your current article from those. This way, your linking strategy doesn't require a lot of your time and could very well result in a small boost in your rankings.
Find and resolve your 'orphaned articles'
Some articles don't get any links from other posts; we often refer to them as 'orphaned articles.' These pages are hard to find, both by Google as well as the user. With the help of our text link counter, these articles are easy to detect. Just click on the "orphaned articles" link at the top of your post overview.
Before you start adding links from other posts to your orphaned articles, ask yourself the following question: Is this a post you still find useful? If not, it can be better to delete and redirect it to another relevant page. If you do think it's still a valid page on your site, figure out which other posts could link to it. And, make sure to do so. You can do this following the same method as mentioned above with other articles that don't have many other ones linking to it.
Improve those cornerstone articles
An excellent way to use the text link counter is to use it for the cornerstone content articles. These are your most important articles and you want to show this to your user and Google. You'll need to have your other posts linking to these particular relevant posts.
To check whether you're linking sufficiently to these cornerstones, you should select your cornerstone articles in your post overview. You can indicate which posts are your cornerstones in the Yoast SEO meta box (just beneath your SEO analysis). If one of your cornerstones doesn't have more than a few links, you'll have work to do! Our internal linking tool will help you figure out which articles to start linking to.
Pro tip: With our new SEO workouts in Yoast SEO Premium, you can fix your orphaned content issues and improve internal linking to your cornerstone content articles more easily than ever!
How many (internal) links do you need?
How many links do you need? Can you have too many links? We get these questions a lot. And we always like to answer this question from a user's perspective: Add a link when the content it links to is of interest to the reader. Do you have blog posts on related topics? Link them in your text. Do you sell related products? Link to those. Do you have one exceptionally well-written, complete, and comprehensive article on the topic? Surely link to that!
Joost also talks about this in this video:
Start counting your links!
The text link counter is a beneficial tool to improve your site's structure actively. It shows you which posts need linking from and to other content on your site. If you combine this text link counter with our internal linking tool, you'll be able to easily link to related posts and bring your site's structure to the next level. That will instantly increase the time people spend on your page and eventually result in higher rankings in Google.
Keep reading: Site structure: the ultimate guide »
Become a Yoast SEO pro series
Coming up next!
Event

December 09, 2023

Team Yoast is at Attending, Organizing, Sponsoring WordCamp Ahmedabad 2023! Click through to see who will be there, what we will do, and more!

See where you can find us next »

SEO webinar

12 December 2023

Learn how to start your SEO journey the right way with our free webinar. Get practical tips and answers to all your questions in the live Q&A!

All Yoast SEO webinars »