5 tips to switch from restaurant to food delivery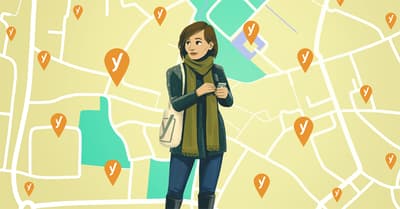 It's a strange time for all of us. A time that calls for creative ideas on a personal and business-related level. That's why a lot of restaurants are now delivering food or promoting takeout. In this article, we'll give you a few tips to get the word out and optimize your website for local deliveries. And although we use restaurants as an example, you can also use these tips if you own a fashion store or any other type of local business. Let's dive straight in!
1. Get the word out about your new food delivery service
After you've made the decision to start with food delivery, you need to notify as many people as possible. A good start is by posting the news on your own Twitter, Instagram and Facebook. Now you might be thinking: "Facebook? Is that old thing still around?" It sure is! In fact, many people seem to have found their way back to Facebook. So don't miss out and bring your old page back to life if you haven't posted anything in a while. But don't stop there! To really get the word out, try to think outside the box. What about partnering up with local influencers? That way, you'll reach a whole new audience with the news that you're delivering delicious food up to 6 feet or 1,5 meters from their doorstep. Finally, don't forget to add your new service to your bio on Twitter and Instagram.
Additionally, remember to contact your local news agencies. Although the current situation rightfully dominates our news, local agencies are probably on the lookout for other (lighter) news as well. Create and share an awesome behind the scenes video for example. Your local news site will probably be happy with the new content provided and promote your restaurant's deliveries for free in the process. Also consider contacting UberEats, Deliveroo, JustEat or other food delivery websites to get your restaurant online on these platforms. Yes, they charge some money for that, but it quickly expands your reach on a local level. Plus, you can include a business card with your order and ask people to order directly at your restaurant next time.
Read more: Social media for small business owners »
2. Make sure they remember you
If you're not doing this yet, include a menu with every delivery for customers to put on their fridge. Make sure people are able to download and print that menu from your website as well. If you have a weekly menu, include the start and end date so your customers know until when they're able to order from this menu. Also, add your preferred way to receive orders by stating your phone number and/or website.
Include branded napkins, coasters, or anything they can put in a kitchen drawer and see every time they take out cutlery. For example, our local pizza place includes small packages of tissues with a simple company sticker on it with every order. It works. We ordered twice already.
Mailchimp allows for easy ways to set up a newsletter. And if you use WordPress it's quite easy to add a newsletter subscription form to your website. Why am I telling you this? Because with this form you can quickly create a possibility for customers to subscribe to your weekly menus. Easy to subscribe, easy to unsubscribe.
If you aren't using WordPress, and you have some spare time now, switching to WordPress is a great way to utilize your time at home. Scary? Not after taking our WordPress for beginners course. Expensive? Not necessarily. If you have a smaller website, you can really do a lot yourself.
Reassure your customers by telling them what you're doing to flatten the curve. A lot of restaurants are open about their COVID19 precautions and what social distancing looks like in their kitchen. Make sure that you are open about your precautions as well. That way, your customers will feel safe when you give them their delivery and wish them a great meal from an appropriate distance.

Another way to remind your audience of your new service is by reposting customer's Instagram posts in your own Instagram stories. We see that a lot. I just love scanning Instagram stories for reposts from restaurants. It's touching to see the enthusiasm of people who ordered from their favorite restaurant. And all the amazing food that's delivered. One of our local bars is delivering beers and snacks and writes a personal "letter" on every paper bag. Instagram is showing me more and more of those bags every day. People really appreciate that!
Keep reading: Tips for your local SEO content strategy »
3. Vouchers FTW
Does your business have vouchers? Promote them! A sale is a sale. Just last week, I ordered food and bought three restaurant vouchers as well. As gift cards. I repacked these and sent them to local family members. And they ordered a restaurant delivery in return.
So make sure to promote these vouchers on your website. Don't hide the fact that they are really helping you out in dire times with these things. And if you don't have a digital version yet, definitely consider making one. That way you're able to send your voucher or gift card to your customer's email address!
4. Is pickup/takeout still possible?
Taking the right measures concerning social distancing, a lot of restaurants still offer takeout. If your restaurant also offers customers this possibility, then it's important to promote this. Not only because you're giving customers the option to save a few bucks on delivery costs, but it also saves you time! Read our post Easy curbside pickup with WooCommerce and Local SEO about the pickup option in our Local SEO for WordPress plugin. You can choose pickup/takeout as a delivery method during checkout.
5. Optimize for your food delivery area
Local optimization is actually pretty hard if you are servicing a broad local area. Local optimization tends to work best if you are able to optimize for a location, your physical address. The Local SEO plugin I mentioned earlier helps you optimize for that address or several addresses if you have them. But even if you are located in a certain town, you might want to deliver in other neighboring towns as well. Optimizing for towns and cities you're not located in, is a different ball game.
A word of warning: there is no quick technical fix for ranking in more than one town from one physical address. There is a AreaServed property defined in schema.org markup, but that is not being taken into account by Google right now. So don't invest a ton of money into getting that working for you. But don't worry, that doesn't mean you can't do anything.
If you are serving more than one area, let your customers in those areas know. This probably means that you have to write a page about your deliveries for every town/city you want to serve. Because your delivery times might vary a bit depending on the area you're writing for, you might have to take extra precautions to make sure the food stays warm. Write about that electrical car or bike that allows you to deliver in town x and use what you know about this town to really focus your page on this area. Town x might not have a Mexican restaurant, so you might be the perfect alternative for them to order Mexican takeout. I'm sure you can fill that page. Simply copy that landing page with the Yoast Duplicate Post plugin and adjust it for other locales.
Read on: What is local SEO? »
That's it, now go deliver!
We at Yoast #supportlocal. It's all the small things that make local shops great. The examples of necessity-driven promotions we've seen so far are amazing and can teach us "experts" a thing or two about creative marketing ideas. So keep it up and think creatively! These are strange times and we hope that the tips and tricks in this article help you optimize your food delivery to keep your business running and profitable.
Keep on reading: The ultimate guide to small business SEO »
Coming up next!
Event

December 09, 2023

Team Yoast is at Attending, Organizing, Sponsoring WordCamp Ahmedabad 2023! Click through to see who will be there, what we will do, and more!

See where you can find us next »

SEO webinar

12 December 2023

Learn how to start your SEO journey the right way with our free webinar. Get practical tips and answers to all your questions in the live Q&A!

All Yoast SEO webinars »