Yoast SEO 14.1 adds French word forms in beta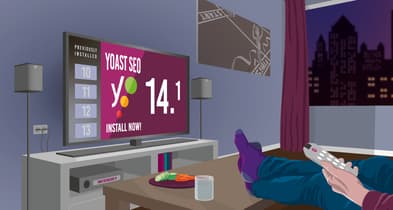 Yoast SEO uses sophisticated language analysis tools to help you optimize your texts. Most checks work for any language, but our Premium analysis relies on word recognition functionality, which we develop custom for every language. It takes a lot of time to get this perfect for every language out there. Starting with French in Yoast SEO 14.1, we decided to try something new and just ship what we have. This way you can already benefit from better keyphrase recognition, and we'll allow you to give us feedback to help improve support for your language faster!
Yoast SEO Premium: Better analysis for French
Over the last couple of releases, we've talked a lot about word form support for different languages. Thanks to the Premium SEO Analysis, the plugin recognizes your focus keyphrase in a text, even if that word is in a different form. In French, that means we will be able to detect all these word forms, which helps you quickly improve your content. Today, we're launching a beta version of the word form feature in French. We'll allow users to help us improve it, more on that below.
The Yoast SEO Premium analysis makes it easier to improve your text. It helps you write a perfect blog post, and it does so in a much more transparent way. Combine this with the synonyms and related keyphrases feature, and you have an excellent tool that is intensely satisfying to work with!
Check out the video, featuring our good friend and renowned SEO expert Jason Barnard!
Now available for five languages
We now support word forms in the following languages:
Of course, we have more language on the way. We collected all the supported languages in our SEO analysis on our features per language page.
Help us improve language support
The launch of French word forms consists of a beta version that we're improving and expanding as we go. We use this first release to get French up and running. Now, we can find and recognize word forms in French much better than before, but not as good as the other languages we've implemented. That might mean that we don't recognize every word correctly or that you're noticing false-positives. If you find things like this, we'd like to know!
To help us collect your insights and experiences, we're working on a special language feedback system inside the plugin. That's not done yet, so until then you can send us your improvements via email.
While sending us your feedback, please include the following:
The focus keyphrase you've used for this specific piece of text.
The sentence in which you've noticed one of the assessments working incorrectly for the focus keyphrase you mentioned above.
Our team of linguists will do the rest.
In Yoast SEO 14.1, we've not only added a new language to our word forms roster but also improved the Dutch language version. Another language-based improvement is an updated list of Hungarian transition words.
Improving on Yoast SEO 14.0
Despite weeks and weeks of testing Yoast SEO 14.0, there were still some people running into issues. In Yoast SEO 14.1, out today, we're improving things to help stabilize the plugin.
Among other things, we're making several changes regarding the indexables. In the backend, we're making it clearer what the process actually does and what you as a user can expect. We've also made it possible to show debug information that gives an idea of what went wrong in the indexing process in case you run into issues.
We've made several improvements to the indexing process itself. For instance, we're preventing duplicate indexables to enter the database table. Plus, we're no longer building indexables from taxonomies that aren't public. We've also added the option te reindex a site's content from the CLI.
In addition, we fixed several bugs regarding the publication and presentation of breadcrumbs, in Schema and elsewhere. In the changelog for Yoast SEO 14.1, you'll find a list of all the fixes and enhancements.
Yoast SEO 14.1: update now
That's Yoast SEO 14.1 for you! In this release, we've fixed a number of bugs and made several improvements concerning the indexable release. In addition, we made several enhancements that'll make the current version of Yoast SEO more stable and easier to use.
That's not all, because we've also added another language to our ever-expanding list: French! Premium users who write in the French language can now enjoy a more flexible and natural writing and optimizing environment thanks to word form support. More languages on the way, so stay tuned. And don't forget you can help add or improve your language!
Coming up next!
Event

December 09, 2023

Team Yoast is at Attending, Organizing, Sponsoring WordCamp Ahmedabad 2023! Click through to see who will be there, what we will do, and more!

See where you can find us next »

SEO webinar

12 December 2023

Learn how to start your SEO journey the right way with our free webinar. Get practical tips and answers to all your questions in the live Q&A!

All Yoast SEO webinars »