Ask Yoast:
Ranking your service business nationwide
Running a local service business is great, but if things are going well, why stop there? While the area you can cover may vary, depending on the kind of service you offer, there's no reason you couldn't broaden your horizon if you're ambitious, right? Well, one thing we often hear is that people find it hard to rank for other locations than their own. They simply don't pop up in the search results for people in neighboring cities, provinces or states, even when they're happy to make the trip.
Take, for example, a wedding photographer, who's ready to hop in the car, travel to a location and take beautiful pictures for a couple that loves his or her photograpic style. It would be a shame if this couple from another area couldn't find this photographer in the search results! So, what can you do if you want your service business to be found in a larger area?
Kelly Cammack and Danny O'Neil were struggling with this problem:
I run a nationwide service business but I'm having trouble ranking well for other cities than my own. My competitors have individual pages on their site, targeting large cities by using the city in the URL. These pages have similar copy and are overall thin. Is that really the best strategy to rank for more locations?
Watch the video or read the transcript for the answer!
How to rank your service business nationwide
"Well no, it's not the best strategy but it's always a hard thing to do this right. The best strategy would be to actually have locations in all those different locations, but nobody's going to do that. So it is probably a way of trying to get there and trying to do it well, but I would make sure that they are not thin pages but bridge ones, pages where you show the references you have from that specific location, that show a bit more location specific content. It's more work but it will end up ranking better in the long run. Good luck!"
Ask Yoast series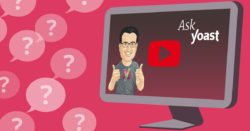 See more from the Ask Yoast series
In the Ask Yoast series, we answered SEO questions from our readers. Check out the other questions!