Ask Yoast:
Moving domain and WordPress clean install
The start of a new year is a great moment to work on cleaning up your site and finally doing the work you've been putting off. Getting rid of old stuff that's floating around your site is a typical example of jobs that tend to get postponed. Similarly, the new year is a great time for a fresh start, if you've been planning a bigger change, like moving to another domain. But, it's always a good idea to give some thought to the best and most efficient way to approach tasks like this.
If you're moving to a new domain, for example, you probably want to continue your website, but with a clean slate. So, if you manage your switch right, could it save you time cleaning up? And, is using the WordPress export – import functionality a good way to approach this? Let's discuss!
Muhammad Asaadi emailed us saying,
"I'm moving my WordPress website to another domain. I want to have a clean install of WordPress and move only my posts and pages using the WordPress built-in export import tool and then manage internal links with 301 redirects using Yoast SEO Premium. Is that a good way to approach this?"
Watch the video or read the transcript for my answer!
Handling a clean install and domain switch
"Well, I don't know which problem you're solving. You've probably got a lot of old stuff hanging around that you think you can get rid of. Importing and exporting using the WordPress import tool can lead to a lot of lost data. It doesn't always import and export everything right.
I don't know whether that's the best way of going about it. Usually it's better to just go through the database and see like, okay, what can I delete, which pits are no longer needed.
That requires a bit of a professional though, so if you can't do that yourself, just hire someone to do that for you. Usually, you're better off doing that than trying to use the import export tool for something that
you really can't do all that well. Good luck!"
Ask Yoast series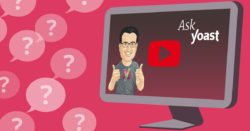 See more from the Ask Yoast series
In the Ask Yoast series, we answered SEO questions from our readers. Check out the other questions!