Ask Yoast:
Which posts to update first: low ranking or low CTR?
Tackling your site improvements with solid data, is always a good idea. And, to find loads of interesting data, all you have to do is go to Google Search Console. It can tell you how often a specific page is shown, or how often people clicked on your website in Google's search results, for example. Valuable information for a site owner!
But, having access to all this data is most useful when you know what everything means. And, you probably can't make all the necessary changes all at once. So, how do you prioritize, to quickly get some returns on your efforts?
Ana emailed us, wondering about the best place to start improving:
To improve our on-site SEO, we want to update our posts based on Google Search Console data. Which should we update first: low ranking posts or low CTR posts?
Watch the video or read the transcript for my answer!
Quick wins when updating your posts with GSC data
"Well, to be honest, the low CTR posts can probably be improved just by improving the title and the description. Because if you have a low click-through rate but it's already ranking, then you should just make sure that people see that they'll get what they want.
For the low ranking posts, you'll need to adapt the copy as well, to make them rank better. So, I would go with the low CTR posts first as that's probably less work for the same gain and then start with the low ranking posts. Good luck!"
Ask Yoast series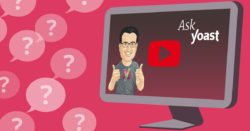 See more from the Ask Yoast series
In the Ask Yoast series, we answered SEO questions from our readers. Check out the other questions!