Ask Yoast:
Moving to a new city and keeping your business's website
Imagine the following situation: you have a local business, like a shop, or service business, and you carefully optimize your website to make sure people can find you, online and in real life. You add your data to Google My Business and work on a great local content SEO strategy. Also, you make sure you get some quality local backlinks and reviews. As a result, your business is thriving, and all is well, right?
But then, life 'gets in the way', and for one reason or another, you end up moving to another state or even a different country. Of course, you don't just want to give up your business! So, how do you make sure your current website will continue to draw in new business? What can you do, besides updating your data in Google My Business, to target a new city?
Ninos Hozaya was in this situation, and emailed us this question:
The website for my business is doing great, but now I'm moving to another country. I want to open the same business and keep the website. What's the best way to target a new city, in terms of SEO?
Watch the video or read the transcript for my answer!
Changing your site after you've moved
"Well, the best way, in all of these things, is to be honest. Change the targeting on your texts, so change where you are located, where you're coming from, etc. But, also tell them that you've moved.
Use the references from your old city for your new city, because that's the only thing you have right now. So keep all that, but just mention the name of your new city in your title and everywhere. Good luck!"
Want to know all about ranking locally? Read our Ranking your local business series!
Ask Yoast series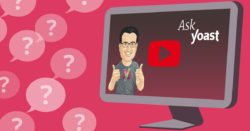 See more from the Ask Yoast series
In the Ask Yoast series, we answered SEO questions from our readers. Check out the other questions!