Links are valuable for search engines. So, how do Google and other search engines use links? To put it simply, they use the number of links pointing to a webpage to determine how important that page is. Not only external links help to rank a page in Google, but internal links as well. That's why site structure is so important!
But is there a limit to the amount of internal links you can have? In this Ask Yoast, we discuss how many links per page you should have and which links should be nofollowed.
We received this anonymous question:
"Internal links: How many links per page should I have? And which one should be nofollowed?"
Check out the video or read the answer below!


Internal links
"Well, how many links per page is always a weird question. As long as your links are useful for your users, it's okay. There used to be a rule of no more than 100 links on a page in the Google Webmaster Guidelines, they've removed that rule though. 100 links might seem like a lot if your site is a content site. But if you look at very long Wikipedia articles, they might have 300-400 URLs in there, linking to other articles and all those links are useful. So, if your links are useful like that, by all means, have them on the page.
Which links should you nofollow? As a general rule, we don't nofollow anything other than links where a bot can't really do anything. So, we normally nofollow login links and links to admin areas where Google can't get into. But other than that, I would not nofollow anything.
Good luck!"
Read more: Internal linking for SEO: why and how? »
Ask Yoast series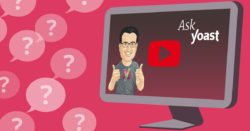 In the Ask Yoast series, we answered SEO questions from our readers. Check out the other questions!
---
---
Check out our must read articles about Content SEO