Geotargeting is when you serve a user content, based on their location. There are several ways to determine where a user is located, for example by checking IP-address, device ID or even using GPS. It can be beneficial to present your user content that's customized for their locale, for instance using familiar imagery.
Still, it pays off to give some thought to the implications for your site's SEO if you start using geotargeting. And of course, make sure you don't go through all this trouble, without properly implementing everything!
Rufino emailed us his question on the subject:
"We're considering using a geotargeting tool on our WordPress site, in which images and content on the landing page will change based on the city the person viewing is located. How will doing this impact SEO?"
Watch the video or read the transcript for the answer!
Changing content based on the location of your visitors
"Well, to be honest, even if a lot of this stuff on the page changes, Google always comes from Mountain View, California. That's what it will report. So, that's the only version that will be in the search results if all those changes are being shown everywhere.
If content really changes then I would suggest changing the URL and doing an hreflang implementation. If it's just images, you don't need to worry as much. But if it's really content that's changing, then you should probably look at our Multilingual SEO Course and look at how Hreflang works and what you can do about that. Good luck."

Read more: hreflang: the ultimate guide »
Ask Yoast series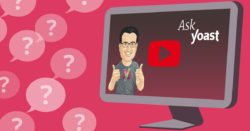 See more from the Ask Yoast series
In the Ask Yoast series, we answered SEO questions from our readers. Check out the other questions!