After creating a redirect, at some point, it might happen that you want to use the exact URL of that post or page again. Or perhaps you decide that you'd like to cancel that redirect after some time. Maybe redirecting that post or page was a mistake, or the post or page contains valuable content again.
In this case, you'll probably ask yourself: is it possible to use this URL again? Even though I created a redirect for it? Let's discuss if that's possible and how to make sure Google finds your page again!
But first: did you know the Yoast SEO redirect manager makes it super easy to create redirects, and cancel them, if the need should arrive. Save yourself a lot of time and trouble and get Yoast SEO premium!
Ahmed M Hassan sent us his question:
"If I want to use a link that had been 301 or 410 redirected before, can I cancel the redirection and use it again?"
Check out the video or read the answer below!

Can I cancel redirects?
"Yes, you can. What I would do, when canceling a redirect, is use the URL Inspection tool [previously known as Fetch and Render] in Google Search Console to check that URL and then request (re)indexing, so Google knows that that URL now has content again.
Otherwise, it can take months or even years for Google to come back to that URL because it assumes you've redirected or deleted it. So use the URL Inspection tool for that and get those old URLs back in if you really need to.
If you need to do this a lot, you should think about your redirection strategy and whether you're redirecting too quickly, though.
Good luck!"
Find out more about the URL Inspection Tool.

Read more: The beginner's guide to Google Search Console »
Ask Yoast series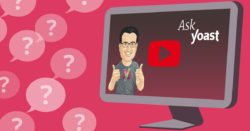 See more from the Ask Yoast series
In the Ask Yoast series, we answered SEO questions from our readers. Check out the other questions!