Video SEO: How to rank your videos in Google
We love to watch videos, don't we? Online video has been booming for years and there is no end in sight. Every second, hundreds of hours of video are uploaded to YouTube alone. Not to mention all the short-form video content that appeared in recent years on apps like Instagram and TikTok. If you produce great videos and also want to use them to drive traffic to your site, you need to reach an audience. But, getting your videos noticed in Google needs some extra work. We're talking about video SEO.
What is video SEO?
Video SEO is the process of optimizing your videos and video content pages to make these appear in the regular search results for the keyphrases you want them to appear for. In general, there are two broad types of optimization with videos — optimizing the visibility of your website in video and universal search (Video SEO), and optimizing the visibility of your videos on social media platforms, including your social presence within Google search (YouTube optimization, Facebook optimization et. cetera).
One of the major concerns and questions we always get on this topic is that people assume having their videos on YouTube will mean they will rank better — both because Google and owns YouTube, and because most videos that rank are YouTube videos. Both of these are false, but understandable errors. You can get any website ranking with a video, with any platform — as long as you provide the right data. Google automatically indexes and ranks YouTube as a default option, but this doesn't mean that YouTube is "preferred".
Video SEO and/or YouTube optimization?
YouTube optimization is a different ballgame. With YouTube optimization, it's all about optimizing the video itself and the surrounding metadata on that specific platform. Your goal is to improve your videos in such a way that you get as much exposure as possible. Or, you want to go viral, build your brand, promote your expertise, or whatever you can think of.
YouTube works differently from regular search engines. It's more of a discovery engine than a search engine. Discovery of content happens through the sidebar, recommended videos, and other elements of the platform infrastructure which aren't directly tied to the search feature.
In a regular search engine, people have a different intent — they want to find help with a particular topic. Some topics are fit for visualizing in a video, while other topics don't have that visual aspect. This is one of the reasons why you see videos appear for some searches in Google, while other searches won't trigger video results.
If you search for your topic, and you don't see videos listed in the main SERPs, there's a good chance that Google won't find video content as valuable as other types of content.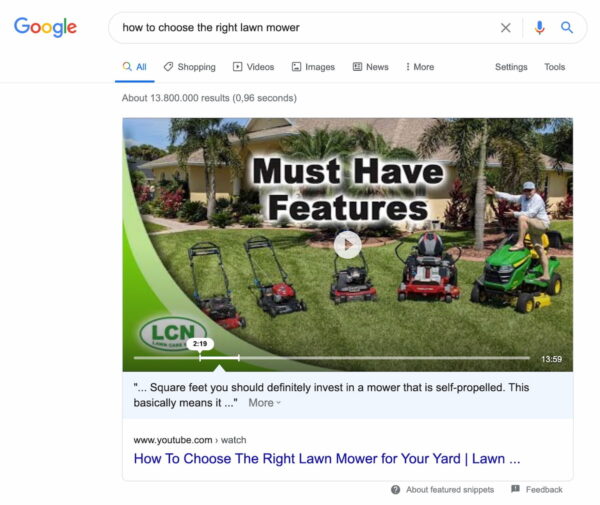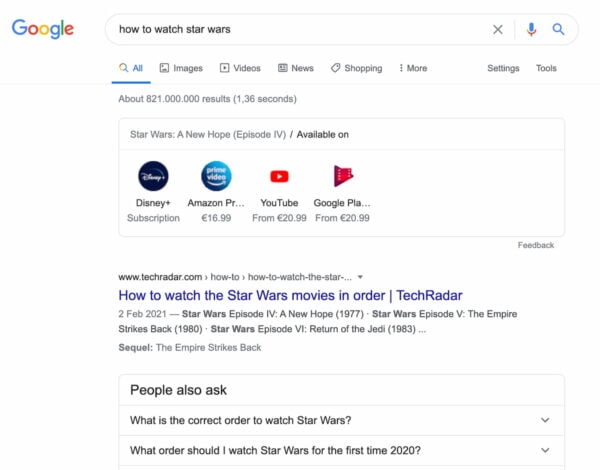 Optimizing for YouTube
YouTube is a strange beast. Even for expert creators, it's not always clear how and why a video does or doesn't do well. Just like in regular SEO there are many factors that determine how a video should be ranked. But, with YouTube, there are additional factors besides making great videos and adding all the metadata needed. Primarily, how appealing the title and thumbnail is for clicks, the performance of the parent channel and the audience retention level of the specific video. The behavior of people plays a large role in how likely YouTube is to recommend your video to others.
This post isn't about optimizing your videos for YouTube as that would take up far too much space. We don't have a specific post detailing YouTube SEO yet, but if you want to learn more about the topic, please listen to Joost de Valk talking to SEO expert Aleyda Solis. She is very knowledgeable on this subject, and she shared a couple of great nuggets on how to do well on YouTube.
Read more: YouTube SEO: How to use analytics for your video strategy »
Video SEO best practices that get traffic to your website
Video SEO is a complex topic. We're not just talking about writing an awesome piece of content and getting that ranked. No, there's also the process of writing, shooting, and editing a video. Plus, getting the subtitles and metadata in order. And, finding out how you can get your video to do well on YouTube, for instance.
If you want traffic to your videos from the search results pages, you need to get your videos ready to rank on Google. We've collected some video SEO best practices that should help you get started.
Keep reading: The 5 most important YouTube metrics for SEO »
Pick the right platform for your videos
One of the common questions regarding video SEO is whether it makes a difference on which platform you host your videos. And, as always in SEO, the answer is: that depends. There are a lot of great video platforms that are not YouTube, like Wistia. All these platforms do everything in their power to make your videos available to anyone, viewers and search engines alike. If we're just talking about a host, in that sense, it wouldn't make a difference where you host it.
Hosting your video on YouTube, on the other hand, has the added benefit of it appearing in the search results on that platform. And, if your content is good, your video might even be recommended or go viral. As we've said before, YouTube is different and your strategy might even be a mix of two different options. YouTube has the disadvantage that it hardly sends traffic to your site, so that's something to keep in mind.
Whatever you pick, Google's John Mueller recently said that it doesn't matter to them where you host your videos. According to Mueller, every embedded video should have the same SEO value as hosted ones.
So, it boils down to something like this: if you care about traffic acquisition and leads, go with specialized video hosts like Wistia. If you care more about building a social following, go with YouTube.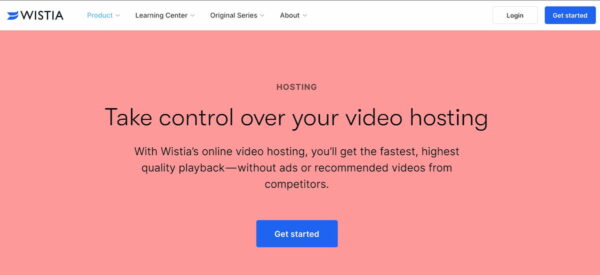 Read on: Beyond YouTube: Other sites to post your videos »
Apply general SEO-tactics to the video page
The video must be great, but the page has to be awesome as well. As always, you need to take general SEO advice to heart. Practice holistic SEO: your page and your content must provide the best possible experience for viewers. We've listed a couple of topics further down this article, but, of course, there is more. You can check out the following article if you want to learn more about on-page video SEO.
Keyword research for ideas and video content
You might have an avalanche of ideas to turn into video content. That's good, but it's also a good idea to start your video strategy with keyword research. Find out what people are talking about in your niche. Answer questions with your content and make sure your videos fully satisfy those questions. When writing content for your video pages include the terminology the viewers use in your content.
Doing keyword research gives you an idea of what to focus on. Also, check if there are currently video results for your target query or a related query. If so, this increases the likelihood that you'll get a rich snippet once you're ranking. Find out which topics prove valuable, and where do you have a good chance of ranking? Just picking a topic because it sounds interesting might prove to be a costly exercise.
Make the video the center of attention
For search engines, trying to rank a video can be hard if it doesn't know what to look for. If you have one video for one topic that you want to rank, make that video the center of attraction. List it first on that page, don't list a million other videos on there. Google only really indexes one video per page — so, give your video a dedicated page, with supporting content.
Also, if this video is important don't let users scroll all the way down for it. Keep everything focused on one topic, keep user experience in mind and get your content quickly under the noses of users and search engines.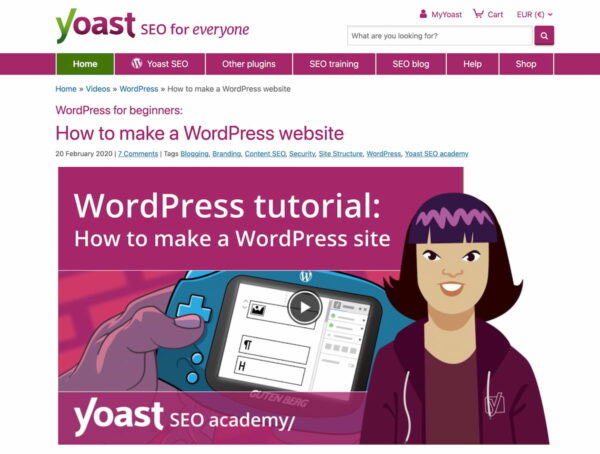 Keep on reading: How to optimize your WordPress video gallery for SEO »
Add subtitles and transcript for your video
A basic rule for anything to do with video is that you need to support the automatic systems that are already working to understand the contents of your video. Text and speech recognition has come a long way, but it is still a good idea to provide your transcript of a video. This goes for both YouTube and the page on your site you want to embed the video on.
A full transcript of the content on the page you want to rank instantly makes everything available to search engines. And, of course, it makes your content available for people who'd rather read what you have to say than watch a video.
The same goes for subtitles and closed captions. Subtitles make your video more accessible to viewers. Not only that, but it also makes the contents of your video more understandable for search engines. Subtitles are a must-have and adding them will kill two birds with one stone. Don't forget, you need to add subtitles within the video hosting platforms themselves, usually as a .srt file.

An awesome preview/thumbnail image
The thumbnail you see in search results is one of the most important parts of video SEO. It is the first thing people see, and it's the main part of what they base their intention to click on — together with the title and description. To get Google to show your video in search, they need a high-quality and attractive thumbnail, correctly formatted in the right aspect ratio. Size can be anything from 160×90 to 1920×1080 pixels.
Make sure you put some effort into this. Produce an image that's appropriate and that makes sense relating to the video. Also, try to stand out from the competition. Many follow the current design trends and that makes for a sea of sameness, so to say.
Be sure that your thumbnail is crawlable for Google, so it can use it in the search results. If you use Yoast Video SEO, you can determine what the thumbnail is — even if it differs from what's on the YouTube video. Then, it automatically adds that thumbnail to the VideoObject structured data it generates for Google to use.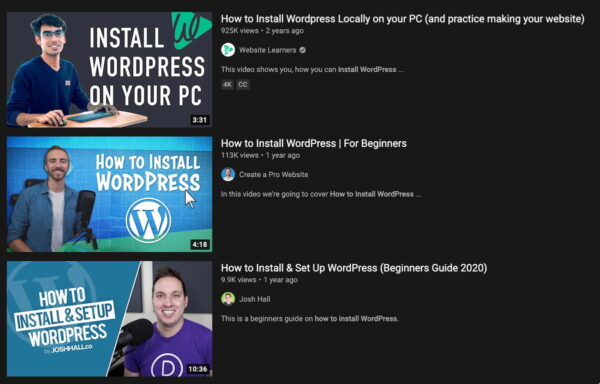 Write great titles and descriptions
Your videos should always have great titles that describe what the video is about. It has to be enticing as well — you need people to click on your search result. Make your titles and descriptions unique, especially if you have several videos that are kind of similar. Be sure to keep the titles in the standard meta-title length, so around 70 characters.
Ideally, you want to make sure that you target only one video on that particular topic. If you have multiple videos on the same subject, you might make it harder for search engines to understand which video to pick.
Read more: How to timestamp YouTube videos and create Key Moments »
Add structured data to your video
Schema.org structured data has been a staple for many years and adding it to your site is more important than ever. Search engines use structured data to get a better understanding of your site, your content, and you as an entity. This also goes for your videos.
While Google tries its best to understand videos as they are, adding VideoObject structured data will help them understand your videos. It's a must if you want the videos to appear in the rich results. By adding the structured data Google requires, you make your videos eligible for inclusion not only in the regular and Video search results but also in Google Images and Google Discover.
The Video SEO add-on for Yoast SEO makes adding structured data to your videos easy as pie, as it does so automatically. You can edit the metadata about a video right from the sidebar in the block editor.
Make sure your videos are crawlable
One of the most important parts of any SEO advice is that the content you want to rank must be crawlable. Of course, the same goes for video content. The pages that have video content must be reachable by search engines and the same goes for the videos themselves. If you host them on your site, don't forget to make them available to the outside world. Watch out with your noindexing and don't block resources in robots.txt!
You can use XML sitemaps especially for videos to announce their availability to search engines. Here's how Google describes that:
"A video sitemap is an XML sitemap that Google uses to find videos on your site, and can also provide information about a video to Google. A video sitemap entry can describe a video the same way as a VideoObject structured data element. The advantage of using a video sitemap is that it also helps Google find new or updated videos, and that it can describe many videos in one file rather than requiring Google to crawl each page and discover changes individually."
Yoast Video SEO automatically adds an XML video sitemap to your site.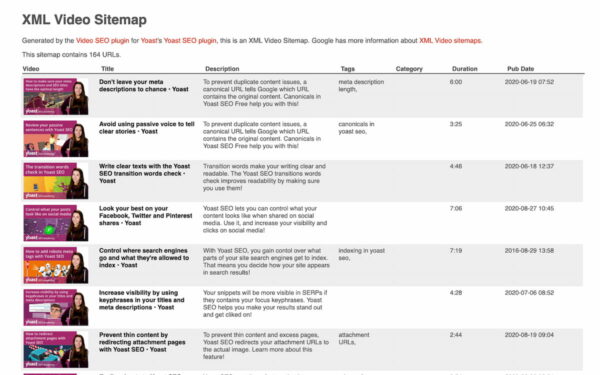 The Yoast Video SEO plugin lets you take a shortcut
There's a powerful WordPress tool that can make your video SEO work a bit more manageable. If you're serious about ranking your video content, you need Yoast Video SEO. This plugin adds essential video SEO capabilities to Yoast SEO, helping you get your content ready for Google.
In short, Yoast Video SEO helps you make video XML sitemaps, automatically generate VideoObject structured data, lets you determine which thumbnail to use in search, and prevents your video content pages from slowing down by smarter loading of external JavaScript scripts.
Read more: Video SEO: FAQ »
Get your videos in the search results!
Get this plugin and make your videos eligible for Google's video carousel and the Google Video search results!
An introduction to video SEO
This article serves as an introductory guide to video SEO. You've been introduced to the most important insights in getting sites ranked in the search engines. The best practices overview explained some of the things you need to take care of in your video SEO efforts. Of course, video SEO is more than the basics, and we intend to elaborate more on this fascinating topic in upcoming posts.
Keep reading: How does video SEO work? »
Coming up next!
Event

September 27 - 28, 2023

Team Yoast is Sponsoring WordPress Accessibility Day 2023, click through to see if we'll be there, who will be there and more!

See where you can find us next »

SEO webinar

21 September 2023

Learn how to start your SEO journey the right way with our free webinar. Get practical tips and answers to all your questions in the live Q&A!

All Yoast SEO webinars »