Which is the best video hosting platform for SEO?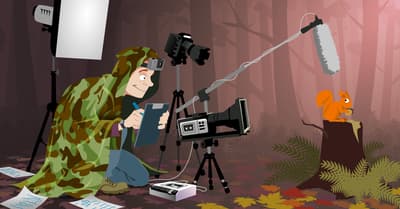 Can you tell me which video hosting platform is best for SEO? This is the question I get asked most frequently on the topic of video SEO, and it's worth stating up-front that the categorical answer, like everything else in SEO, is "it depends." Let's discuss what you need to consider when choosing the video hosting platform that best fits your needs.
It's also the case that no platform is necessarily "better" for video SEO, in the sense that you can get a video indexed and ranking on your website with any video platform – with no ranking preference accorded for using a specific hosting provider.
Google owns YouTube, so will my videos rank better if I use YouTube?
No, this is a prevalent misconception about video SEO. Google doesn't offer ranking benefits for further adopting its product suite (you also don't get preference for using Google servers or pay more on Google ads).
YouTube does have certain advantages as a platform for video SEO, in that videos uploaded to YouTube will be automatically and almost instantly indexed in Google search. However, it does have disadvantages, in that YouTube videos will frequently rank for their instance on YouTube.com, rather than the location of the embedded video on your website.
Read more: How to rank YouTube videos in Google search »
What are the video hosting options for my website?
There are three essential approaches you can take for video hosting on your website:
a social video platform,
self-hosting,
or a third-party host.
Three approaches to video hosting
Social video platform
Self-hosted with free video player
Paid video hosting platform
Examples
YouTube, Facebook, Instagram
VideoPress, VideoJS, Plyr.io
Vimeo, Wistia, Brightcove
Cost
Free
Small hosting & CDN costs, that scale with bandwidth used
From $20 a month, dependent on features, storage and bandwidth
Pros
Free to use and ubiquitous across the web.

Full control over the presentation and delivery of your video content.
Includes additional features not present with the other two options e.g. player customization, gating options and analytics.
Typically faster to load and stream than the other options.
Cons
Often slow to load, as lots of advertising scripts are loaded with the video (Yoast Video SEO fixes this for YouTube).
Sometimes ads and related videos are forced on embedded videos.
Content is usually also indexed on social platforms; this can cannibalize traffic to your site (pro or con, dependent on your use-case).
Can be complicated to set up, with unpredictable costs if you have a lot of video content.
It can also be slow to load if adaptive bitrate streaming is not implemented.
Can be expensive, especially if you have a lot of video content and require a great deal of bandwidth.

For much the same reason that it's generally better to pay for a dedicated web host from a specialist company rather than set up your own server, it's preferable to use a specialist third-party host than to host things yourself. You benefit from a third party maintaining and updating the product as well as economies of scale.
Therefore, most website owners' essential question becomes – paid video hosting platform (e.g., Vimeo, Wistia) vs. social platform (e.g., YouTube, Facebook).
Keep reading: Site speed tips for faster video loading »
Platforms in review
YouTube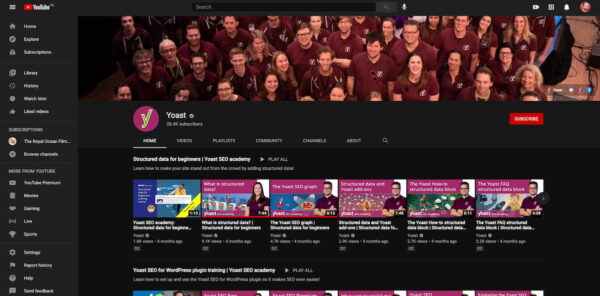 YouTube is (by far) the biggest platform for video hosting and is the platform of choice for over 60% of WordPress users. Since YouTube is free to use, this seems like the obvious default option for most. However, there are several reasons why you might want to choose a different option.
YouTube can hamper your marketing if your goal is traffic or lead acquisition. Firstly, YouTube now forces ads on all videos by default, and you can't turn this off. So, users might see pre-roll ads from other businesses (including competitors) when they click on your video. YouTube also includes embedded "related video" links that pop up once your video has finished playing. If a user clicks on one of them, they leave your website and go to the video on YouTube.com. So, any YouTube embeds essentially act as a link out to YouTube, which means any time someone plays one of your videos, they are at risk of being distracted by another video and exiting your site as a consequence, leaking your traffic.
Ranking with videos on YouTube.com
YouTube videos that are publicly visible will also rank in Google search. But often with the video on YouTube.com, rather than the version of the video embedded on your website. This means that often searchers on Google.com will be sent to YouTube instead. This is fine if you just want people to see your video and don't particularly care about capturing the traffic. But it can be suboptimal because while YouTube will take traffic from your website, it doesn't usually send much in the other direction.
It can be beneficial to have your videos ranking for YouTube.com, particularly if you don't have a powerful domain. YouTube will often rank well, which can be a way to quickly gain a place in search engine results pages without a strong brand or website. However, for more established sites, the potential risk for ranking cannibalization outweighs this benefit.
Additionally, YouTube can be slow to load. Because lots of scripts are required for tracking and delivering advertising, YouTube ends up being a bulky player, which can cause render-blocking issues on some websites and otherwise slow downloading and delivery of content. Luckily, the Yoast Video SEO plugin does fix some of these issues, but YouTube videos on your website can provide a sub-par user experience without it.
Best for:
YouTube is the great default platform if you care more about your message's reach than acquiring customers or users online. In practice, this means – hobbyist/consumer websites, companies in the consumer goods space without a large direct-to-consumer operation, e.g., food brands.
Pros:
Free
Ubiquitous across the web
Easy to use, with simple iframe embed codes
Views of embedded videos on your website will add to the video's overall view count on YouTube, increasing social proof.
Cons:
Slow loading speed (fixed by Yoast Video SEO plugin)
Not natively responsive (fixed by Yoast Video SEO plugin)
Ads appear on embedded videos
Can leak traffic from your website to YouTube website and app
Can cause ranking cannibalization in Google search between your website and youtube.com
Facebook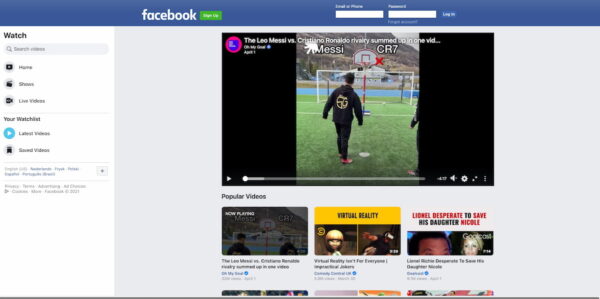 Like YouTube, Facebook offers a simple and free method of hosting your videos and distributing them to your audience – both via the social platform itself and (less prominently) through embedding them on your website. Like YouTube, the price you pay for this free product is through ads appearing before or during your videos. And recommended videos (tailored to the user in question) appearing afterward.
Similar to YouTube, Facebook videos are usually indexed in Google search for a page at Facebook.com/watch?v= but not automatically indexed for the page the videos are embedded on, on your website. Anecdotal, Facebook videos also tend to rank less well than YouTube videos and aren't indexed automatically in the same way.
In most cases, Facebook offers little differentiation or benefit for embedded video vs YouTube, but there may be occasions when you want to use this platform instead.
Best for:
When you want a free video-hosting service but don't want to send traffic to YouTube instead of your website. This may apply to some niche subscription services or content companies.
Alternatively, if you have built a business that monetizes a big audience on Facebook/Instagram but doesn't have such a big following on YouTube, Facebook may be the preferable option.
Pros:
Free
Unlikely to cause ranking cannibalization as much as YouTube
Cons:
Slow loading speed
Not as easy to use as YouTube or paid alternatives
Not natively responsive
Ads can appear on embedded videos
Can leak traffic from your website to Facebook
Vimeo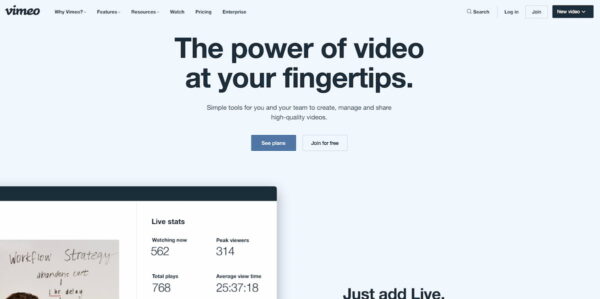 Vimeo is the leading paid video hosting platform on the market. It offers a quality product for users that don't want to use YouTube and wish to have more control over the experience users have with their video content.
Best for:
Businesses looking for a cost-efficient solution without ads that can drive traffic exclusively to your website rather than social media platforms.
Pros:
It starts at $20 a month for the core professional features
Features aimed at business users
Support for live video
Cons:
Fewer integrations than some competing paid options
Requires additional work to get videos indexed in search (can be automated with the Yoast Video SEO plugin).
Wistia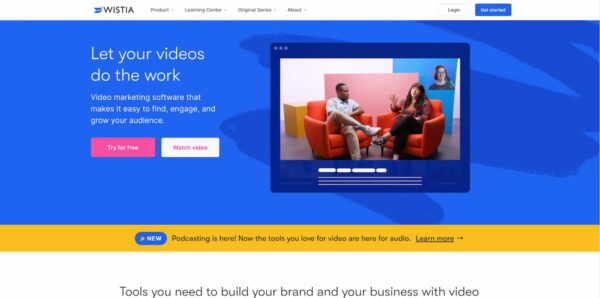 Wistia is a video platform aimed primarily at serving B2B companies. It's the one we use at Yoast. It includes lead generation tools, CRM integrations, and support for podcasting and presenting a streaming-service-like experience with a feature called Channels.
Best for:
Wistia is the best option for B2B companies looking to drive traffic to their websites and generate leads.
Pros:
Very flexible player
Feature set designed specifically for B2B video marketing
Native support for Schema.org data for Video SEO, including transcriptions (and more control provided by the Yoast Video SEO plugin)
Cons:
No live video support (as of April 2021)
Pricing for pro features starts at $100 a month, but can escalate quickly and unpredictably if you want the best features, have a lot of videos or (due to bandwidth limits) get a large number of views.
Analytics data doesn't aggregate with social media platforms (e.g. YouTube and Facebook)
Brightcove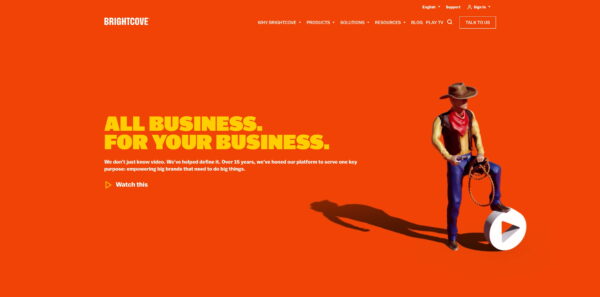 Brightcove is a video platform with an enterprise/media focus. The platform has a rich feature set, including live video and monetization options with ads.
Best for:
Large media companies looking to monetize a large library of video.
Pros:
Options for delivery to apps, and TV as well as websites
Ability to serve ads on content
Cons:
Generic media player without many customization options
Additional work required to include Schema.org data and optimize for search.
Bespoke pricing that can get expensive
In summary
To conclude, the best video hosting platform for SEO really depends on the type of website/business you are running and your goals with video. Remember that you can get videos indexed and ranking with any platform, and the Yoast Video SEO plugin does the heavy lifting for you!
Get your videos in the search results!
Get this plugin and make your videos eligible for Google's video carousel and the Google Video search results!
Read on: Beyond YouTube: Other sites to post your videos »
Coming up next!
Event

December 09, 2023

Team Yoast is at Attending, Organizing, Sponsoring WordCamp Ahmedabad 2023! Click through to see who will be there, what we will do, and more!

See where you can find us next »

SEO webinar

12 December 2023

Learn how to start your SEO journey the right way with our free webinar. Get practical tips and answers to all your questions in the live Q&A!

All Yoast SEO webinars »