In preparing for our first meeting with our new client het Financieele Dagblad today Ramon showed me a few articles he'd found on Newspaper SEO, and while reading through them I thought: kind of ok, but not completely there yet. So I present you with my ideas on Newspaper SEO, based on my experiences with Wegener's 7 newspaper sites and other big sites.
The ideas in this article, by the way, are for a large part very similar as to how I'd SEO large blogs.
Basically, you can divide Newspaper SEO into a few categories:
Template – URL optimization
Content optimization
Improving internal link structure
Google News optimization
Template & URL optimization
This may sound like simple work, but it can reap huge benefits. When we improved the templates & URL's for Wegener's 7 newspaper sites, we increased search engine traffic by 40% in 6 weeks. So what you should do template wise:
Make sure the article title is in the <title> tag too, and include the category. <title> – <category> – <newspaper name> works best in my experience.
Move all javascript and CSS to external files. Better for your regular visitors too as the browser will cache those and not request them on each hit, saving their time, and your bandwidth.
Get rid of as much unrelated content as you can, and nofollow all links in the unrelated content that you can't get rid of.
Make sure the article title is an h1, and that the CMS used automatically uses h2's and h3's for subheadings.
Move the content up as high in the template as you can, and the navigation down.
And with the URL's:
Include those keywords, for instance, the post title and the category. Seriously, it helps too much.
Important: leave some numbers in the URL's. Google news requires that "The URL for each article must contain a unique number consisting of at least three digits." Stupid. I know.
Content optimization
When you're working on big newspaper sites, the first thing you stop worrying about are keywords. In any other SEO project, I'd start by letting someone do what I like to call "the dirty work": the keyword review. However, with newspapers, there's just no use. Sure you could do a small one to consider how you're going to do the navigation, but usually, there's a 100 year history attached as to why a certain category is named that way, and you're better off not even trying to rename it.
So for the most part, there's no use in doing a keyword review upfront. You can't tell what tomorrow's news will be (and if you can, stop reading this article and go save the world), so you shouldn't worry too much about those keywords. But, if you can get the writers, the journalists, to think of keywords when they're writing stuff, and to use them in their titles, you'll have hit the jackpot.
Most big newspaper sites, at least here in the Netherlands, and this goes for more newspaper sites in small and big language area's alike, are amongst the biggest authorities on the web. If you write unique, keyword rich articles within a well optimized template, these articles will rank incredibly well. Well, that is, until they drop out of the first pages of the archives, which is why you need to work on structure.
Improving internal link structure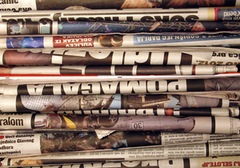 Getting front page articles indexed isn't hard. The hard part about newspapers, is that they publish such huge amounts of articles (1 million articles large archives are actually pretty normal), that the problem lies in getting the complete archives indexed. This is the long tail theory in it's sweetest form: you only have to get another two visitors to each article each month, and you'll get them a pretty big amount of traffic.
Getting those archives indexed and still relevant isn't the easiest job in the world though. There are a few methods, and I'd recommend using more than one:
Tagging
If you can get them to tag each new article going into their database with 3-5 tags, and show them that the tag pages you create with these get actual traffic, you can probably persuade them to tag at least a part of their archives as well (all you need for that is a lot of cheap, intelligent labor capable of speaking your language, aka: students).
Files
Another method is to make files about people, companies and specific subjects. For instance, if you're covering KLM in an article, your first mention of KLM should automatically be linked to a company overview, and all your articles about KLM. Once you create this, not only search engines, but researchers too will love you.
Categorization
Most newspapers have been doing this for ages, and when it's there, I'd advice you to never take it out. You should look at the categorization with your SEO perspective though: sometimes it's too flat, with all categories straight below the root, and sometimes it's way too deep. In my opinion, most newspapers shouldn't be doing more than 3-4 levels deep, and use tags for the extra specific archiving.
All three of the above methods allow you to compile a list of related links to articles on each article, you should really be doing that.
Preventing duplicate content
One important issue with newspapers is removing duplicate content. I understand that people want to track how many visitors came from their RSS feed, but there are better ways to do this than using ?source=rss in your links and not redirecting them out… Another case of duplicate content I often encounter is when articles are placed in multiple categories, and have a URL in each category. You should pick one category as the main one, and redirect all the other entry points to that main URL.
Block your internal search results, as they probably look way too much like your tag pages. Also block sort options, or make sure you're not changing the URL to sort a page the other way around. That's what sessions and cookies were invented for.
Article pagination is evil
Yes, I know most newspapers make money on page views. And yes, I understand that article pagination is a great way of creating more page views. The problem is, that most articles were not written to be paginated. If you know an article is going to be very long, and you want to paginate it, divide it into different sections, with different keyword rich titles, and loosely tie them together.
A note on forced account sign-up
There are still quite a few newspapers out there who force you to sign up to be able to look at their archives. Of course, this is less than ideal. However, you could consider opening up the first one or two paragraphs and the title, and getting those spidered, and I bet you'd get traffic and conversions off of that. This is how Aaron Wall does it, for instance, on his relatively new SEO training site.
Google News
There are some specifics in newspaper SEO that are different from "normal" SEO. Where in normal SEO projects I'll usually count how long it takes to index new content we put up in days, in newspaper SEO projects I will count that in minutes. Why? Because being first is hugely important for Google News.
Now I understand from some of my friends in the US that Google News, as in news.google.com, drives a lot of traffic. Here in the Netherlands it does not, but: normal search results for "hot" items do. And since Google has started incorporating Google News results into it's web results , there's a lot of traffic potential there.
So basically, you should get your content indexed as soon as you can. To do that, you should create a Google News XML sitemap, and continuously update it.
Google News & Images
A news results will look something like this most of the time:

Now where do you think most people will click? I have no hard data lying around to support this, but my guess would be that the image would be the most highly clicked area of the result. And here's the trick: the image actually goes to another article then the first of the three news results! So when working on these articles, you should also really consider optimizing the images. Lisa Barone does a great job of telling more about the how and the why in her article More Signs Google Hearts Image Optimization.
Conclusion
Newspaper SEO is obviously a lot of work, but it has huge benefits, and it's a lot of fun. So if you're working on similar projects, chime in, and add your advice in the comments!
Read more: How to optimize your news site »