SEO News webinar:
SEO news in June 2021: Google updates, WordPress 5.8 beta, and loads more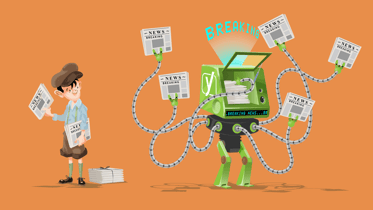 It's been a busy month for SEO news! We've had lots of Google updates and the start of the Page experience rollout. Plus loads of new Google Business and Shopping features — is Google the new high street? Finally, don't miss our first look at WordPress 5.8, and a brand new search engine called Brave.
Watch the June 2021 SEO news webinar
In this post, we'll discuss the highlights of our June SEO news webinar. If you'd rather just (re)watch the webinar, you can find the video below.
Pro tip: Don't forget to register for our webinar about headless CMS on the 20th of July, 2021. We hope to see you there!
The latest Google news
Google makes various kinds of updates. They release hundreds of small updates all the time, quite often several in a day, there's a constant minor flux. Then there are also big named updates, which overhaul the whole ecosystem. These are usually a combination of big improvements to their machine learning capabilities and enhancements in how they're quantifying quality. And they usually don't happen that often — but in June there have been a lot of changes.
Core updates
In the last month, Google rolled out two core updates. The good news? Indications suggest these updates are mainly focused on refining how they detect spam and prevent it from turning up in search engines at scale. So as long as you're not trying to spam people, you don't need to worry.
Danny Sullivan, Public Liaison for Search at Google, recently shared an article explaining how Google updates search to improve your search results. In it, he outlines an analogy: let's say in 2015 you wrote a list of the best 100 movies. You might revisit that list in 2021, and that list will change. Not because any of the movies got worse, but because there are new movies, and our interpretation of older movies has changed, and maybe some that we missed have come to the forefront. And that's exactly how Google's broad core updates work. They're just kind of re-evaluating what makes the best search result, and your ranking can rise or fall. Not because you did anything wrong, but because the stuff around you changes and new possibilities emerge.
The takeaway remains the same: Have a great website. Keep improving it. Help your users and maybe you'll be higher in the next evaluation. The answer to 'how do I rank better' is by being the best result.
Google's Page experience update has started (slowly)
The Page experience will incorporate Core Web Vitals scores into the core ranking algorithm. In case you missed them when they first arrived, Core Web Vitals measure user experience, and they focus on a lot on speed. This update been delayed a few times already, but the Page experience update has now officially started and the rollout should be complete by the end of August 2021.
Although page speed measurements will become a new ranking signal in this update, the resulting ranking changes are expected to be subtle, making the difference only in 'tie-breaker' situations. So if your page is very slow and your competitors' pages are less slow, you might find that's one of the things that contributes to you falling behind. And conversely, if your pages are very, very fast and the rest of your competitors' aren't, you might get a leap ahead, so it's worth looking at that.
While this is a gradual process that they're incorporating, it's it's not going to become any less important. So if you haven't started looking at your Core Web Vitals already, definitely now is the time.
More ways to show what your business offers on Google
Google is now providing more features for businesses to show what they offer. Ultimately this could turn Google into a kind of business directory. Is it a coincidence that Thumbtack — "helping homeowners instantly book the right skilled professionals from plumbers and painters to landscapers and contractors" — was recently valued at a staggering $3.2 billion? Is this a market Google wants to be a part of? It certainly can look that way.
Lots of smart SEO's, including Greg Gifford who is big in local SEO, have been saying for years that you need to start thinking of your Google My Business profile in the same way you think about your homepage. This is the first place where people encounter your business, and maybe make decisions based on images, reviews or opening times.
Google are bringing more and more of that kind of utility content, like reference information, into these profiles. There are new tools here that you can fill out beyond just categories and images. Plus — you'll see very few businesses taking advantage of it, but there's a feature they call 'posts' where you can post mini-updates, like a blog post or a tweet on your Google My Business profile, which turns up in the search content. So you can say things like "we've got a special offer on at the moment" or "sorry we're currently closed because of COVID". That's really topical and engaging and can have a huge impact.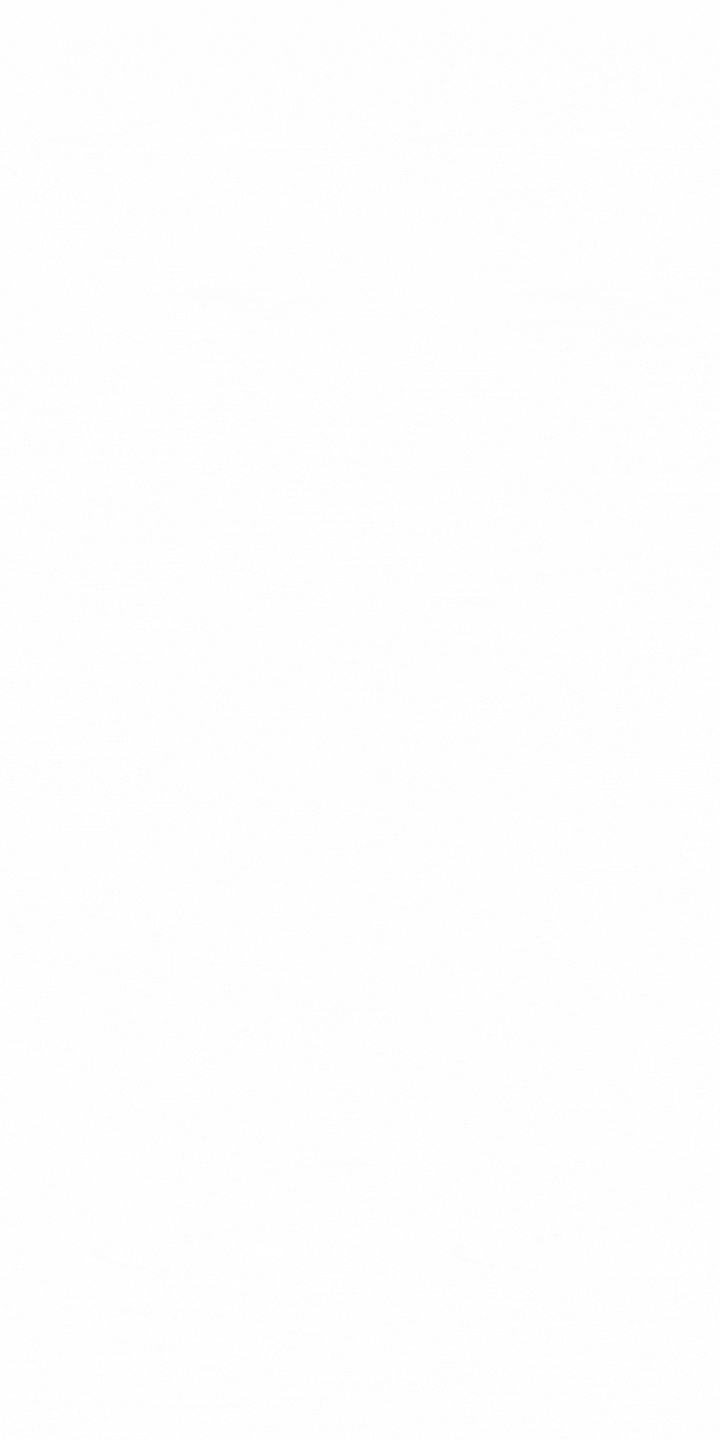 If you're running a local business that has opening hours and products or services, really invest more time in managing this information. It's only going to get richer, only going to get more sophisticated. We talked previously about Google adding more metrics to quantify business impact. There's loads going on here, so if you are a local business then this is definitely the place to start optimizing for everything now.
PageSpeed scores updated in Lighthouse 8.0
Okay, so Google has updated PageSpeed. We've talked about Core Web Vitals metrics and that Google are now using those as a ranking factor. The fact is, the Core Web Vital metrics aren't a fixed thing; they change and evolve over time. They're being constantly improved, so measuring the speed of a page is quite complex, technically. And as an idea, what does speed mean anyway? That's something we've talked about before.
All of these things are a work-in-progress. Version 8.0 of Lighthouse, the kit which powers all of this, has just come out and it changes some of the measures themselves, it changes how some of the things are measured, and it changes the relative importance of some of those things. So everybody's scores have just changed and some will get better and some will get worse.
It's the same situation as Google's broad core algorithm updates. They made a list. Time passed. They've made a new list with some new criteria, and this new list is different. So what do you do about this, as an SEO? You need to think about speed and performance as something you constantly work on all the time and constantly evaluate, and you need processes to do that.
Google expands its shopping integrations
So last time we announced Google Shopping integrations in Shopify and we discussed that they'll probably do this for more payment services. Lo and behold, within a few days they did. This is really big. You can see in the image just how seamless this is: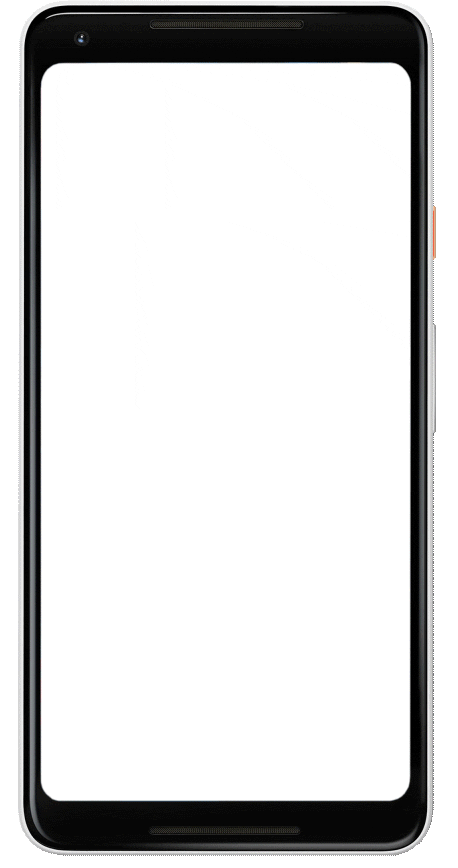 This is somebody searching for a product, finding a product result on Google, selecting it, getting a modal where they choose how and where they buy it from, and then buying it directly through Google via Shop Pay — all without ever visiting the vendor website.
You could see Google as your storefront, and increasingly people will search and convert in Google without ever getting to your site. Your site is still really important: your site is where your marketing and content and storytelling lives. It's your database, our source of truth. It's your central hub. But where people interact with that sort of thing and that content might be somewhere else entirely, like Google or social media.
You have to really be making sure that your websites feed this process, that you're compliant and compatible. Because if your competitors are in this space? Then while you're trying to get these users to get to your website, you probably already missed the boat, and they probably already bought the thing. So it's really important to be on top of these formats. If you're using WooCommerce, it's powered by Google Merchant Center. If you're in retailing, go get an account. It's really, really important to make sure that you're tying into that.
Pro tip: Get the Yoast WooCommerce SEO plugin and easily integrate your data in Google Merchant Center using our Schema output.
While this is all exciting and new, it will probably be some time before shopping in this way becomes normal. But in the long term, maybe we need to stop thinking about SEO as a conversion channel and something with a direct ROI, and think about it more as a brand channel. A channel where we're influencing what people see and how they think, which in turn influences how they buy later down the stream.
Author info featured in search results
Once upon a time, Google gave us new markup and code which we could use to communicate about the author of a given article. For example: this is John Smith who wrote these articles, and here is his image, and here is his biography. The whole SEO industry got very, very excited, because that meant we could do things like quantify expertise and tie together authors across multiple sites.
However, it seemed that Google had changed their minds when they backtracked and took the markup and code away again. But now a form of it is back! Now when you're searching specifically in the news reporting space, they're really prominently shining a spotlight on journalists' info. Who is the author who wrote this article? What other stuff have they written across multiple sources and when?
You might have heard us talk before about how important these concepts of expertise, authority, and trust (EAT) will be. This is more evidence that suggests that Google is seriously looking at this. They really want to understand: was this article written by an expert? Is that expert trustworthy? What's their background? What's their expertise? Where did they go to university? They can take that and use it to surface that and and demonstrate the content is trustworthy. This is really impactful.
New guide to http status codes, network issues and DNS errors
Google published an HTTP status code guide this month, which was surprisingly specific! It's nice, and a bit out of character — usually they're a bit vague about what happens if Googlebot hits a 302 that redirects to a 404, and so on. We know that's bad, but it would be quite helpful to understand specifically what happens behind the scenes so that you can diagnose and debug and understand. And that's what this does. It goes into a huge amount of detail on things like 'we will follow ten 301s, but if they're on your robots.txt we'll only follow five' — that kind of level of detail.
You should never really need to know any of this. But if you do have problems with calling or indexing, or GSC is showing an error, this is a good resource to understand why.
FAQ results limited to 2 per page
If you haven't already played with it, we have an FAQ block in the Yoast plugin which allows you to output a set of FAQs on your page. Behind the scenes we output a whole bunch of structured data and Schema which may make you eligible for Google's FAQ rich results.
Of course the SEO industry went overboard, making every page an FAQ page with '30 questions about buying our products'. It was a little bit spammy. So Google has told everyone to snap out of it and calm down. From now on they will allow a maximum two answers from your FAQ list in the search results. These will be prioritized based on keyword matches.
So it's really worth thinking through: Does this page have questions about it? Are they specific to certain keywords and phrases, and can I phrase them in a way that is quite specific and helpful to users? This hasn't killed FAQs — it's made it more competitive and more important that you really have real answers to questions. It's worth looking at.
If you're interested in structured data and FAQs, check out this post from Brodie Clark. He takes a closer look at when and how Google allows FAQs in the the search results.
WordPress news
WordPress 5.8 beta release
With WordPress 5.8 pencilled in for release on 20 July, we got a first taste of it in the beta version that came out this month. The newest version of WordPress will make Full Site Editing (FSE) a more practical possibility, thanks to the ongoing transition towards a block-based system. A directory of Pattern Blocks is also being developed, which should make it quicker and easier to create reusable block-based layout elements (once we get used to it). WordPress is looking for contributions to the WordPress Pattern Block directory. Want to help? Find out more here.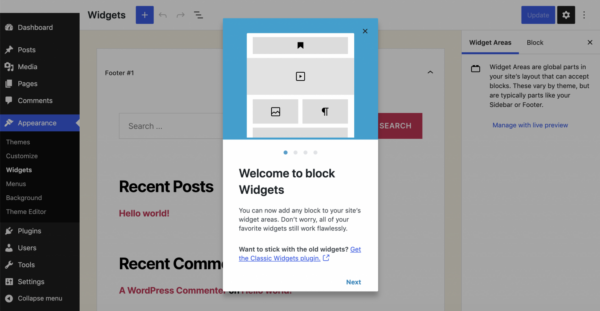 Aside from preparing for a new world of block-based editing, there seem to be lots of nice little tweaks in this release, too. Things like tracking, shopping, image treatments and bug fixes. Plus — and this is quite a big deal — WordPress will now offer WebP image support! More on that below.
WebP image support
WebP is a really nice image format that offers lossless and lossy compression, with file sizes at least 25% smaller than jpeg or png images. It's a better, faster, smaller image format which has been around for a while, but has had some support challenges. It is now landing formally in WordPress, which means you'll be able to replace all of your slow, chunky images with faster WebPs.
Other internet news
A new search engine called Brave
Brave has launched a new search engine. Built by Google alumni and other smart people, the Brave search engine make a statement with its ad-free alternate model search engine. When it comes to Google, privacy is a concern. Google's ad-based monetization model is a concern. Google's geopolitical influence is a concern. There are hugely complicated debates and legal cases happening that are trying to get to the bottom of issues like these. That's likely to take decades, and who knows what the outcome will be?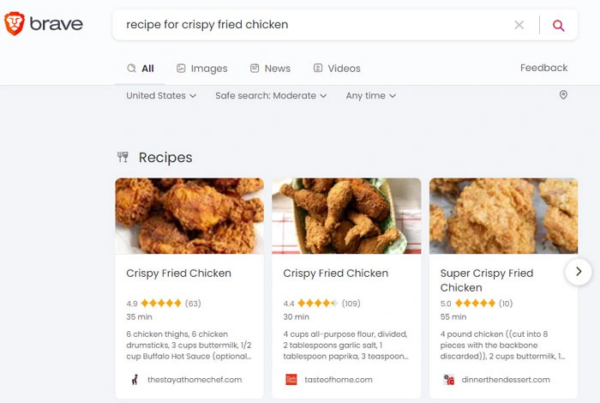 While Brave makes a statement by offering this alternative, they'll probably still struggle to pull any significant number of users away from Google. After all, Bing tried with all the power of Microsoft and hasn't made much progress. And besides, Google has a whole network of products that continually reinforce each other, feeding data and user behavior back to Google. It's almost impossible to see how a new search engine can compete with all of that. Still, competition is healthy and we hope that Brave will be around for a while.
The free HTML editor scam
A (hilarious) linking scam was uncovered this month. Someone put out a free HTML editor to be used in other people's projects, which would then inject links into their website. You can read the original story here if you're interested. After having a good laugh, there are two really interesting tech lessons to be learned. One is to make sure you look at and double-check the tech you're using, and the tools. If you're embedding third party stuff, have some due diligence.
The other lesson is to really remember that in SEO, links are still a form of currency. Every link you give or every link that you take is a form of vote, or has commercial value. And there are a lot of people who are building products and tools, and commenting on blog posts and tweeting and hacking sites, all with the intent of getting links, so just keep that in the back of your mind. Remember that anywhere that you see a link, there's value associated with that.
Yoast news
In June's releases: we added full readability and word form support for Czech in Yoast SEO 16.4, introduced new social appearance templates in Yoast SEO 16.5, and we've just released our brand new Internal linking workout: the cornerstone approach in Yoast SEO 16.6!
Social appearance templates
Now by default we will use just the title of your blog post as the title when sharing your posts to Facebook and Twitter instead of the SEO title, which had your site name attached to it in most cases. If you prefer a different title, you can set your own default template using the social appearance templates. You might want to make your social titles different anyway. You might want the way you share your content in search results to be different to social media. It's a different type of audience, different types of messaging you might want to do. So we've added more options to help you control that.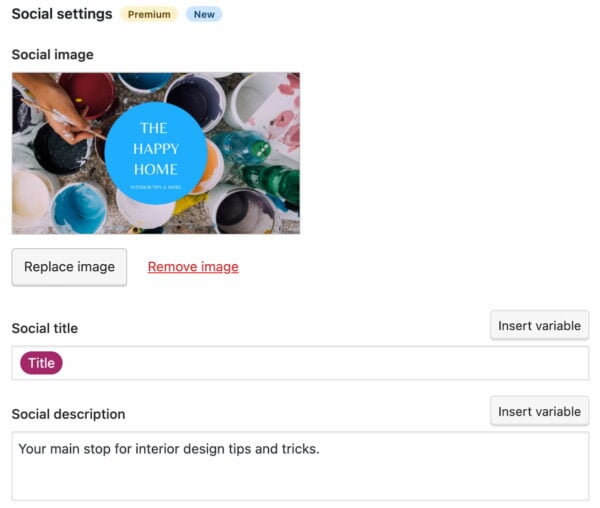 The Internal linking workout — helping you to rank with the content you really want to rank!
We're super proud of this one, and hopefully it's the first of a whole series of workouts we have planned! We've been talking about SEO fitness, the idea doing SEO is something that you can't just do once and then forget. You need to work on this all the time and and this workout will actually help you go through the process. It'll guide you step by step in telling you what to do and how to improve your your site.
This particular workout focuses on improving your cornerstone content and the links towards your cornerstone content. If you have Yoast SEO premium, go check it out. If you don't, go get Yoast SEO premium and then check it out! It's really awesome, and more workouts will be coming over the next releases. We are really happy with this and we'd love to hear your feedback about it too.
Go Premium and get SEO fit!
Unlock the Internal linking SEO workout and our social appearance templates with Yoast SEO Premium:
SEO News webinar series
Coming up next!
Event

December 09, 2023

Team Yoast is at Attending, Organizing, Sponsoring WordCamp Ahmedabad 2023! Click through to see who will be there, what we will do, and more!

See where you can find us next »

SEO webinar

12 December 2023

Learn how to start your SEO journey the right way with our free webinar. Get practical tips and answers to all your questions in the live Q&A!

All Yoast SEO webinars »