How to perform an SEO audit Part 3: Site speed & Engagement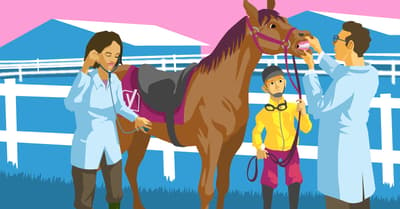 This is the third and final part in our series on how to do an SEO audit on your website. Regularly auditing your site – or your clients' sites – is a great way to get a feel for what you can do to improve its SEO. In part 1, I talked about user experience and content SEO and in part 2, I covered general SEO issues. Now I'm going to round off this series with a look at site speed and engagement.
Perform an SEO audit: Site speed
The speed of your site – as in how fast it loads – is important not only because we all browse the web a lot more on our mobile devices, over not-so-broadband networks, but also because a fast site makes Google happy and, in most cases, boosts your conversion rate.
Combine and minify CSS and JS files
The first and simplest check would be to open your website in a browser, look at the source code and do a search for ".js" or ".css". If the number of these files scares you, then you know you have work to do. I can't give you a recommended exact number for this, but lots of JavaScript files or CSS files usually means there are potentially big speed gains to be had by minifying JS or CSS files and combining them. Google Page Speed Insights will also tell you if this is an area where you can improve things, and guide you in the process a little: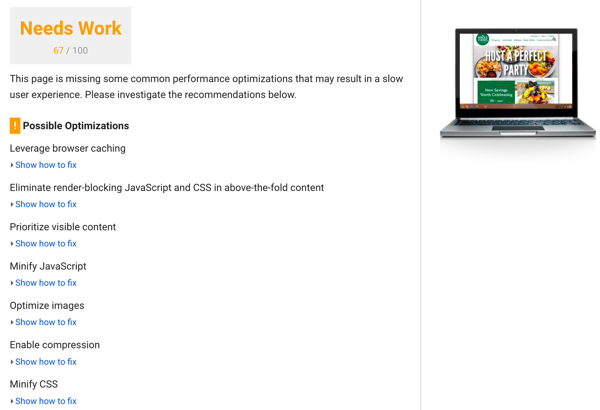 In each case, clicking the links that say "Show how to fix" will give you more information. Another good Google tool to help you check your site speed is Google Lighthouse.
However, if your site uses an HTTP/2 connection, there's no need to combine js and css files though it's ok to minify them – there's more on that below.
Browser caching
Browser caching allows a visitor's browser to remember – or rather store – your website for faster loading the next time they return, and there are plenty of plugins like WP Rocket or WP Super Cache that can help you with it. If you're not sure if you need to optimize your browser caching, simply check how you are doing in Google PageSpeed Insights we demonstrated above, or websites like WebpageTest.org. Each of them can tell you if your browser caching is optimized, and if there is room for improvement with compression.
Enable compression
Compression makes your files as small as possible before sending them to the user's browser (where they should also be cached. As Google says:
Enabling gzip compression can reduce the size of the transferred response by up to 90%, which can significantly reduce the amount of time to download the resource, reduce data usage for the client, and improve the time to first render of your pages.
Compression and browser caching actually use the same tools, but as I strongly believe compression should be on for every website, I thought I should give it a special mention.
Note: If your site is on an HTTP/2 connection, there's no need to compress files. You can find out more about this in our post on performance optimization in an HTTP/2 world.
Read more: How to plan an SEO campaign for higher rankings »
Engagement
Google will bring people to your website, but engagement can help increase return visits and sales promotions, for example.
Social media
Social media is the obvious measure of engagement and it's important to know your audience and which of the social platforms they are most likely to use – whether it's Facebook, Twitter, Instagram or others. If you haven't already created a profile on the appropriate platforms, get onto it without delay and start building your audience.
Of course, you should link to your social profiles from your website, and make sure they are easy to find. You should measure clicks on these buttons because many people will just look for your company on Facebook instead of clicking through from your website. If nobody is using your social media buttons, consider replacing them with something less obvious, like a footer link. How to approach this depends on how popular your social profile is – or if you're starting out, how popular it could become.
Newsletter
We changed our newsletter approach for the better a while back when we switched from two to three newsletters a week. And while that might seem like a lot, it's good for our main goal of delivering something useful in every newsletter. Obviously we want to keep you up-to-date regarding SEO, our latest articles and promotions, and events, but we're also careful not to repeat ourselves.
Once you're ready to start sending out a regular newsletter, don't forget to add the subscription form somewhere obvious on your site where people will see it. Don't ask subscribers for a ton of information about themselves – just keep it as simple as possible and have them fill out their email address.
Keep reading: Increase blog engagement: 8 tips to boost shares and comments »
You've just done your (first) SEO audit
Now you've reached the end of this series of articles, you have just done your (first) SEO audit. Undoubtedly while reading this article, you have at least thought about your site, or actually checked your site as you went along, and you have found a few things you can improve.
If you do an SEO audit every now and then, you make sure your website's up-to-date. We believe an audit should be a regular part of your site maintenance cycle.
If you have any more ideas for quick checks of your site's SEO health, we'd love to hear from you in the comments!
Read on: WordPress SEO: the ultimate guide »
Coming up next!
Event

September 27 - 28, 2023

Team Yoast is at Sponsoring WordPress Accessibility Day 2023! Click through to see who will be there, what we will do, and more!

See where you can find us next »

SEO webinar

03 October 2023

Learn how to start your SEO journey the right way with our free webinar. Get practical tips and answers to all your questions in the live Q&A!

All Yoast SEO webinars »