These are our favorite SEO Tools
|
|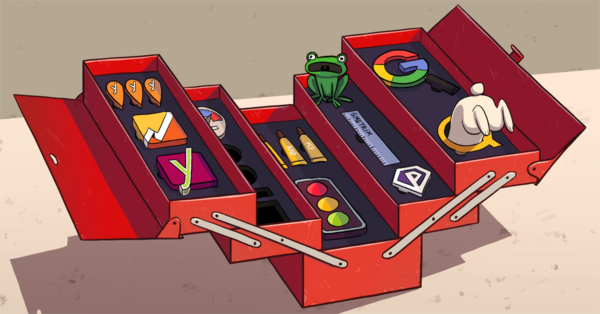 If you want to find out how your website is performing in the search engines, you can use some of the many SEO tools out there to help you get more insights into your site. With these tools, you can see what's going well already and which parts could benefit from some more optimization. Since there are a great number of tools, we've selected the external ones we like to use.
All-in-one SEO suites

SEO tools for specific areas

Speed

Speed is essential for good user experience and SEO. To rank high, you need your site to be up-to-speed. Because site speed can be different from different locations, we recommend using more than one tool. So apart from Google PageSpeed Insights, you could use: Pingdom Tools, Yslow, WebPageTest or GTMetrics.

Read more: Site speed: tools and suggestions »

Backlinks

Valuable backlinks can do a lot for your rankings. Various tools can give you insight into the links that point to your site. One we often use is Majestic.com. It shows which backlinks you have and what the value of those links is. The newer kid on the block that provides you with similar information is Ahrefs.com. Another backlink tool is Linkresearchtools.com. Unlike the other two, this one checks which links are potentially harmful to your site. They can help you clean up your links to prevent or solve a Google Penguin penalty.

Keep reading: Clean up your bad backlinks »

Duplicate content

Duplicate content can harm your rankings. If Google sees more versions of the same content, it gets confused about which content to show in the search results. A tool to check for internal duplicate content is Siteliner.com. Want to check if your content is used on other sites? Then Copyscape.com will help you find it!

Read on: DYI: duplicate content check »

Keyword research

Every SEO strategy should start with keyword research. Multiple tools can help you find out more about the keywords you'd like to rank for. Moz Pro Keyword Explorer will give you valuable information, like the number of searches, related searches, and competitiveness. Google Trends works well if you'd like to compare two different searches with each other. It will only give your relative numbers to compare, though. In addition to that Google Adwords Keyword Planner makes a useful tool to help you come up with ideas for potential keywords.

Keep on reading: Keyword research tools: which ones to use »

Mobile friendliness

We often stress the importance of a flawless mobile site, so checking what your pages look like on mobile should be part of your daily routine. Google's Mobile-Friendly test tests your site on various aspects that matter for the user's mobile experience, like site speed and font size.

Read more: DIY: Test your mobile site! »

Spider tool

Screamingfrog.co.uk will crawl your website to find (mostly technical) SEO flaws on your website. It checks for broken links (404s), it goes through your redirects, checks the length of your page titles and meta descriptions and finds duplicate content on your website. It also looks into your robots.txt file, and the use of canonicals and pagination.

Keep reading: Website maintenance: 404 error pages »

Marketing

A marketing and benchmark tool for SEO is SEMRush. It helps to plan and focus your marketing efforts, by providing lots of information on the keywords and advertising strategies that your competitors use. Apart from that it also helps you analyze your backlinks and lets you compare domains.

Google tools

Apart from the specific Google tests mentioned above, there are two tools from Google that we can't skip:

Google Analytics

This essential and free tool doesn't need a long introduction. Most website owners are more or less familiar with Google Analytics. Basic analysis includes the number of users you get on your site and individual pages, what are your landing pages, what route do users follow on your site, what are the bounce and conversion rate of a page and what device do people use when visiting your site. A bit more advanced GA users will be able to set goals, use it for tracking of social media and newsletter traffic and conversion. The possibilities are substantial, which can make it a bit overwhelming for beginners.

Google Search Console

While Google Analytics is useful to monitor how users behave on your site, Google Search Console focuses more on your site's overall health. With this free tool you can check what your site looks like in the search results, amongst others, it checks your structured data implementation, and for errors on your AMP pages. It also gives you insights into how Google indexes your site. In the crawl section, you can obviously find crawl errors (and if you connect this with our Yoast SEO plugin you can fix those right away!) and tests your robots.txt file. And lastly, in the search traffic section, you'll find interesting info on search analytics, which tells you a lot about how often your site appears in the search results, click through rates and allows you to filter on various devices.

All-in-one SEO suites

Want to use comprehensive tools that bundle multiple features mentioned above? Then you might want to check these:

Ryte

Ryte is one of the primary tools we use to analyze the on-page SEO of a website. It analyzes if a website is indexable, by checking HTTP status codes, robots.txt file, canonicals, redirects, and pagination. It analyzes your site structure, and your link and URL structure and checks for flaws in your XML sitemap. On top of that, it will give you information on your site's performance by checking response time and page speed.

Searchmetrics.com

Another complete SEO suite is Searchmetrics. This tool mainly focuses on visibility. It calculates this with a bunch of metrics like how often your page and on which position it appears for a search term in a certain search engine. You can check your visibility changes over time, so you get an impression if your SEO efforts are effective.

Sistrix

Sistrix is a similar tool as Searchmetrics, it only calculates visibility in a slightly different way. Apart from visibility, both tools will also provide lots of information on on-page SEO factors and backlinks.