These are our favorite SEO tools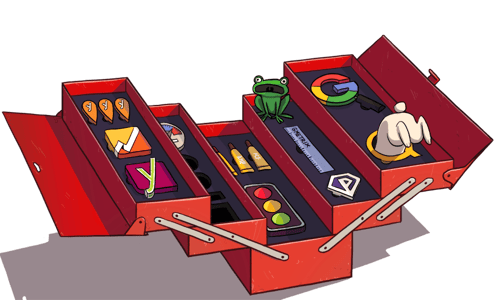 If you want to find out how your website is performing in the search engines, you can use some of the many SEO tools out there. With these tools, you'll get more insight into your site. You'll see what's going well already and which parts of your site could benefit from some more optimization. Since there are a lot of tools out there, we've selected the external tools we like to use.
SEO tools for specific areas
Speed

Speed is essential for good user experience and SEO. To rank high, you need your site to be up-to-speed. Because site speed can be different from different locations, we recommend using more than one tool.
Read more: Site speed: tools and suggestions »
Links

Understanding which websites and pages link to you (or to your competitors) can help you to understand your current performance, and help you find opportunities.
Best for getting a free overview: Majestic
Keep reading: Clean up your bad backlinks »
Duplicate content

Duplicate content can harm your rankings. If Google sees more versions of the same content, it gets confused about which content to show in the search results.
Best for spotting duplicate content on your site: Siteliner.com
Best for spotting duplicate/copied content on the web: Copyscape.com
Read on: DYI: duplicate content check »
Keyword research

Every SEO strategy should start with keyword research. Multiple tools can help you find out more about the keywords you'd like to rank for. Different tools will provide you with different information, like the number of searches, related searches, and competitiveness.
Keep on reading: Keyword research tools: which ones to use »
Mobile-friendliness

We often stress the importance of a flawless mobile site, so checking what your pages look like on mobile should be part of your daily routine. Google's Mobile-Friendly test tests your site on various aspects that matter for the user's mobile experience, like site speed and font size.
Read more: DIY: Test your mobile site! »
Spider tool

Screamingfrog or SiteBulb will crawl your website to find (mostly technical) SEO flaws on your website. They check for broken links (404s), go through your redirects, check the length of your page titles and meta descriptions and find duplicate content on your website. They also evaluate your robots.txt file, your HTML markup, and much more.
Keep reading: Website maintenance: 404 error pages »
Google tools
Apart from the specific Google tests mentioned above, there are two tools from Google that we can't skip:
Google Analytics
This essential and free tool doesn't need a long introduction. Most website owners are more or less familiar with Google Analytics. Basic analysis includes the number of users you get on your site and individual pages, what are your landing pages, what route do users follow on your site, what are the bounce and conversion rate of a page and what device do people use when visiting your site. A bit more advanced GA users will be able to set goals, use it for tracking of social media and newsletter traffic and conversion. The possibilities are substantial, which can make it a bit overwhelming for beginners.
Google Search Console
While Google Analytics is useful to monitor how users behave on your site, Google Search Console focuses more on your site's overall health. With this free tool you can check what your site looks like in the search results, amongst others, it checks your structured data implementation, and for errors on your AMP pages. It also gives you insights into how Google indexes your site. In the crawl section, you can obviously find crawl errors (and if you connect this with our Yoast SEO plugin you can fix those right away!) and tests your robots.txt file. And lastly, in the search traffic section, you'll find interesting info on search analytics, which tells you a lot about how often your site appears in the search results, click through rates and allows you to filter on various devices.
All-in-one SEO suites
Want to use comprehensive tools that bundle multiple features mentioned above? Then you might want to check these:
Semrush
Semrush is one of the most popular SEO suites. Semrush is an all-round internet marketing product that gives you an incredible amount of tools to improve your website and your marketing campaigns. Yoast SEO integrates with Semrush to allow you to get metrics and insights on related keyphrases for your content.
Searchmetrics.com
Another complete SEO suite is Searchmetrics. This tool mainly focuses on visibility. It calculates this with a bunch of metrics like how often your page and on which position it appears for a search term in a certain search engine. You can check your visibility changes over time, so you get an impression if your SEO efforts are effective.
Sistrix
Sistrix is a similar tool as Searchmetrics, it only calculates visibility in a slightly different way. Apart from visibility, both tools will also provide lots of information on on-page SEO factors and backlinks.
Disclosure: this page contains sponsored links.