Today we're officially launching Yoast SEO for Shopify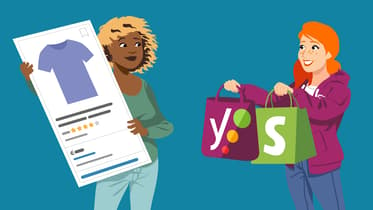 It's finally here, the official release of our newest product: Yoast SEO for Shopify. The app that can help Shopify users with the SEO of their online store. Not only can our Yoast SEO app help you optimize product pages in Shopify, but it also helps you write great blog posts in Shopify. Making you more findable online and attracting new (potential) customers to your online store. So let's find out more about our newest product and the event we're throwing to celebrate this release.
Introducing: Yoast SEO for Shopify
Shopify is a platform that enables its users to create an ecommerce website in a matter of minutes. This means that you can easily set up a store on Shopify to sell your products (or services) online. One of the great things about this platform is that you can install apps to add features or functionalities to your online store. Since today, one of those apps is our very own Yoast SEO for Shopify app.
For people who are familiar with our Yoast SEO plugin for WordPress, this app for Shopify works pretty similarly. It handles some of the technical SEO stuff for you and gives you feedback on your content. Feedback that is focused on creating content that search engines will gladly show in their search results and content that convinces site visitors that you're a reliable store to buy their products. All thanks to the SEO analysis and readability analysis that looks at your pages and gives you personalized feedback points to improve your content where possible.
How Yoast SEO for Shopify works
Yoast SEO app in Shopify gives you actionable feedback by using bullets. There are red bullets (problems), orange bullets (improvements) and green bullets (good results). When you change a feedback point on the page the bullets will update to reflect this change. For example, when you get the feedback that your page doesn't have any images and you add an image, the bullet and its feedback will change right away.
You won't have to bend over backwards to get every single bullet green, but by getting the overall readability and SEO bullet green you'll make sure that your pages are optimized. Optimized for SEO, which means that they're optimized to rank higher in Google. And optimized when it comes to readability, meaning that your content is easy to read and enjoyable for site visitors.
A different analysis for product pages and blog posts
When you own an online store on Shopify, you'll probably have product pages that you want to see performing well. The SEO and readability analysis in Yoast SEO for Shopify help you with that. With feedback that is specifically aimed at optimizing product pages and giving people the information they're looking for before making a purchase. But your product pages might not be the only pages that you want to optimize.
Shopify also gives you the option to have a blog on your online store. And blog posts give you a great opportunity to attract traffic to your site and build a relationship with (potential) customers. That's why you can also use Yoast SEO for Shopify to optimize your blog posts. And to make sure you're making the right improvements, we've created a slightly different SEO and readability analysis specifically focused on your blog posts.
But that's not all…
In addition to this feedback, the app allows you to change and view how your pages will be presented on social media and in the search results. You can find this in the Google preview and social previews. In the settings, we'll also help you to set up the data that Google needs to fully understand your site.
We'll also help you connect your online store to different webmaster tools like Google Search Console so that you can get the insights you need to make improvements — and to see if they work. And, you also get access to reusable templates powered by variables to manage your meta tags like your product titles and meta descriptions easily.
Advanced options
While some of the more visible parts of Yoast SEO for Shopify are the SEO and readability analyses, there's much more happening under the hood. Plus, there are advanced settings that you can use to tailor your online store to your liking. For instance, you can determine which parts of your store should or should not be indexed by search engines with the use of robots meta tags. And, you can determine default output options for all different content types — from collections to blog posts.
The SEO app also outputs the needed SEO metadata, including a full Schema structured data representation for your site — in JSON-LD format, of course. This might not mean that much to you, but it helps search engines understand your pages and products even better. Using this, you can tell search engines that your product pages contain products so they no longer have to guess. We also output this for other parts of your site to give all your details on a silver platter to Google. In the end, this will help you get rich results for your online store.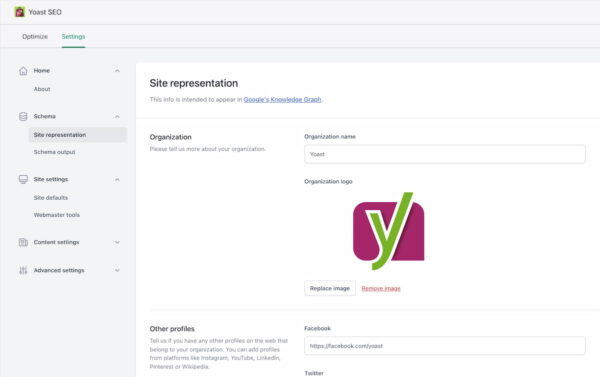 If you want to know more about what else Yoast SEO for Shopify does, go to our Yoast SEO for Shopify product page. Keep in mind that you also get full access to Yoast SEO academy when you sign up for our Shopify SEO app. In our Yoast SEO academy, you'll find a Yoast SEO for Shopify course dedicated to helping you get the most out of the app!
Shopify event on the 20th of January
In celebration of this new release, we hosted a themed YoastCon this year. An online YoastCon – Shopify edition that took place on the 20th of January. During this event, we had lots of interesting SEO talks by experts in this field, like Aleyda Solis, Lily Ray, Mike King, our own Marieke van de Rakt, Willemien Hallebeek, Jono Alderson, Thijs de Valk, and yours truly. Plus, Kevin Indig and Jackson Lo from Shopify joined! Watch the replays of the YoastCon talks to learn all about SEO for online stores and how Yoast SEO in Shopify works.
Read more: Developing Customer Centric Solutions: How Yoast scoped, built and launched their Shopify App »
Coming up next!
Event

December 09, 2023

Team Yoast is at Attending, Organizing, Sponsoring WordCamp Ahmedabad 2023! Click through to see who will be there, what we will do, and more!

See where you can find us next »

SEO webinar

12 December 2023

Learn how to start your SEO journey the right way with our free webinar. Get practical tips and answers to all your questions in the live Q&A!

All Yoast SEO webinars »