Clicky Analytics (getClicky) Review: clean, simple, effective

In my post last week about social buttons, I included code samples for Clicky Analytics. I got some emails asking me why I use Clicky and Google Analytics alongside each other. In this review I want to show you some of the cool features I use from Clicky Analytics (aka getClicky) that make me use it a lot, actually probably just as much if not more than Google Analytics.
Let me go over some of the features of Clicky Analytics:
The Clicky Dashboard
More than any other affordable analytics package, the dashboard for Clicky shows me what's happening on my site now. Nothing really fancy, but it just works and measures what it's supposed to measure. Check out this example: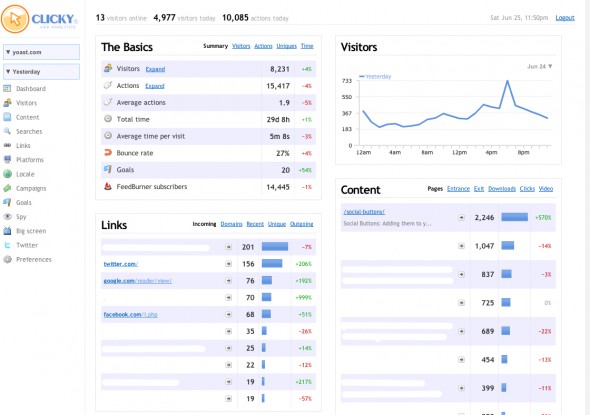 Clicky Analytics Spy
If the dashboard isn't realtime enough for you, the Clicky spy feature gives a very simple but cool AJAXified overview of the traffic coming in to your site: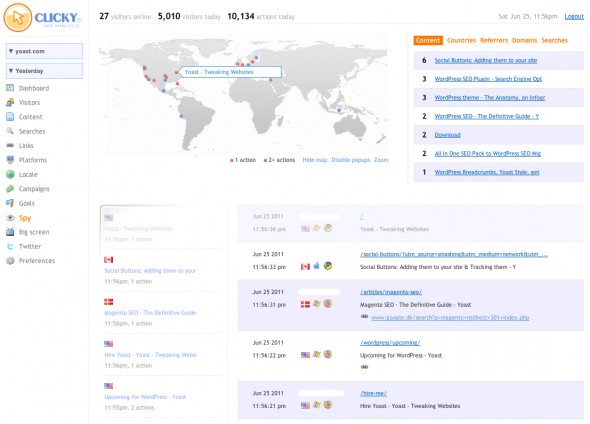 Their API
Clicky allows you to insert data into it by using their internal data logging API. My Clicky WordPress plugin uses this feature to store comments. Instead of having to do the "unreliable" thing I have to do in Google Analytics: adding an onclick handler to the submit comment button, I can just do a request to the Clicky servers when the comment is inserted into the database, which gives cool stuff like this: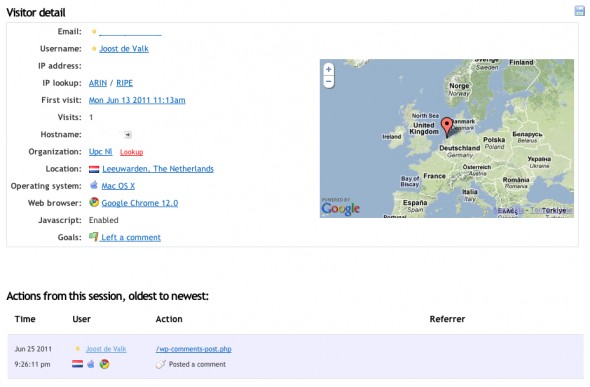 Once someone leaves a comment, the plugin is also able, using the cookie that WordPress sets once you make a comment, to track the visitor by name, so if they come back, you'll know exactly who it is. This feature (the API as well as the goal part) requires a Pro account, which leads me to the next advantage: its pricing (aff link). You can do up to 30k pageviews per day in an account that costs $60 a year. That's serious value for money if you compare it to any other paid analytics package.
How about speed?
In the past, Clicky Analytics had some performance issues from time to time. Recently they've been improving a lot though, with their latest move being to move to a truly global CDN for their tracking scripts. Today I updated the Clicky WP plugin for that which also reminded me I should really write this post.
Is that all?
No, there's more, with a Pro account, Clicky will also pick up data from Google Analytics campaign variables, do video analytics and all sorts of other neat stuff. There really are a lot more features in Clicky Analytics, but to be honest, I don't use them as much as I probably should. All my more hardcore analysis is done in Google Analytics, as I like that interface more for doing such analyses. However, for a quick overview of your site, you can't really go wrong with Clicky. Like it too? Get it now.