Why use segments in Google Analytics?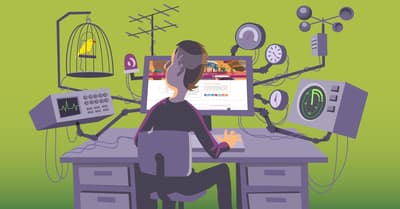 When talking with customers about Google Analytics, you often hear the same thing: "I'm not really using Google Analytics because I don't know what I'm looking at. It's just too much". And that's a pity because you can learn a whole lot about your website and your audience with Google Analytics' data. So, is there a simple way to use Google Analytics without getting lost? There might be, by using segments.
What's a segment?
In Google Analytics a segment is a way to specify the data you're seeing in every standard view. Google Analytics just throws it all in there, on one big pile of data. This means that when you're looking at a standard view in Google Analytics you see: 'all sessions of all visitors', you see: total revenue, all pages, average time on page of all users, the landing pages of all visitors.
You might recognize this: You're in the Acquisition section and you're all happy, because you've created the perfect table. You've used the advanced filter option to include the Medium: "Organic" and you're seeing the data you want to see. Then you think: "I'm curious to see which pages these visitors looked at, let's take these filters to the next section of Google Analytics." You hit the Behavior section and Poof! your filter is gone. Oh, the frustration!!!
If you want to know which pages people coming from organic search visit, you need to find another way. A segment helps you to narrow down the aggregated data Google Analytics shows, into data you want to see and need, to answer a specific question you have. You can use that segment throughout the sections, the segment doesn't get lost when switching between sections. For instance, if we want to know which source customers who bought on of our SEO training courses came from, we can create a segment of people who bought one of the eBooks we used to sell. By applying that segment and looking at the Acquisition – Source/Medium section, we can conclude that most of our eBook customers came from a newsletter. Goodbye frustration!
Why do you need segments?
Without segmentation, all data you see is aggregated. This makes it really hard to draw conclusions. As Avinash Kaushik once said: "All data in aggregate is crap." And I certainly agree with him. If you want to draw a valid conclusion, you need to specify your data.
For example, you can't just say that most of your visitors visit your site around noon. Well okay, you can. But what does it mean? This data is so aggregated that you can't build a strategy on it, it doesn't provide any insight. Based on this data you might conclude that promoting a new product around noon is the way to go. But what if a large amount of your non-paying visitors visit your site around noon, but your high-potential visitors visit your site in the evening? Then you could've made the wrong decision based on non-specific aggregated data. So with a segment, you can zoom in on a specific part of your data. And if you do that right, you can make important business decisions that help your business move forward.
How to create a segment in Google Analytics?
First of all, creating a segment in Google Analytics isn't dangerous. You can edit your segments, you can delete your segments, but you won't delete the actual data you have. For me this was an important realization, because it meant that I could just 'play' with segments without any consequences.
The first step is thinking about what kind of segment you need. Which question do you want answered? What's important for your business? And where can you find the data to create that segment? Do you want to segment on demographics of the user? And/or, the behavior of the user? Or, the technology the user uses to visit your website? And so on. Knowing what it's called what you're looking for in Google Analytics really helps when creating segments.
The second step is adding the actual segment. You can find the segment section at the top of the page in every view from Audience down to Conversions.

This means that if you're in Dashboards, Shortcuts, Intelligence Events or Real-Time section, you can't see the segment section.
System segments
Google Analytics offers 'fixed' segments which you can find in the 'System' section. A lot of these segments are pretty darn useful. For example, there's an Organic Traffic segment that groups all visitors that came from an organic search result to your site. Very useful, if you want to know which landing pages these users visit. Another example: There's a Mobile Traffic segment, that groups users that use a mobile device to visit your site. Very helpful as well, for example to find out if the 'time on page' is what it should be, this might say something about the mobile friendliness of your site.
Custom segments
There are more segments to think of than the system segments Google Analytics offers. For instance, you can create a segment that filters out all visitors that spend less than half a minute on your site. Or you can create a segment that focuses on the organic traffic from all visitors from the Netherlands. Or, as mentioned before, create a segment based on the products visitors bought or a certain amount of revenue a visitor yielded.
I found this video on YouTube that explains adding a system or custom segment pretty well:
For me, a couple of segments are really useful. I have segments for every country that's important for our business, for every product and for every product page. And I have a segment for every medium like Organic, Newsletter and in our case: plugin traffic.
Compare segments
A nifty feature in Google Analytics is the ability to add more than one segment for the same view of data. This means you can compare different segments. For instance, if you created a segment of visitors that stayed longer than 5 minutes on your website and created a segment of visitors that stayed less than 1 minute on your website, you can compare the two and find out more about the behavior of these two groups and in which aspects these two groups differ.
Conclusion
If you want to know what you're looking at, when clicking your way through Google Analytics, segmentation is the way to go. If you have questions like, "how do the visitors from California behave on my site?" Or, "what are my newsletter visitors doing on my site?" "How's my campaign going?" Creating a segment is the easiest way to go. It's a way to dissect your data and actually know what you're looking at, when looking at all the different sections in Google Analytics. Say farewell to your Google Analytics frustration!
Read more: 5 Google Analytics segments for your blog »
Coming up next!
Event

December 09, 2023

Team Yoast is at Attending, Organizing, Sponsoring WordCamp Ahmedabad 2023! Click through to see who will be there, what we will do, and more!

See where you can find us next »

SEO webinar

12 December 2023

Learn how to start your SEO journey the right way with our free webinar. Get practical tips and answers to all your questions in the live Q&A!

All Yoast SEO webinars »