Blog post checklist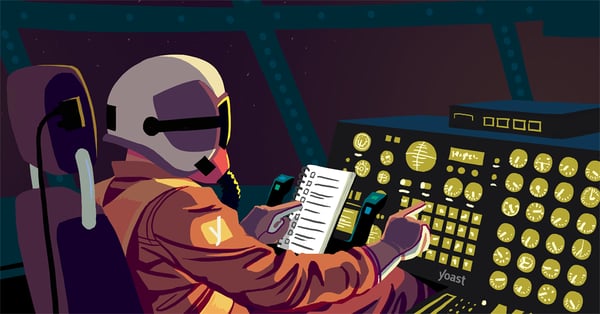 What do you need to write that awesome blog post? What steps do you need to take? Use this blog post checklist to make sure you've got everything covered:
1. Do your keyword research
You want your blog post to rank in the search engines. Make sure you write your blog post on a topic that will help your SEO strategy. So the first step of your blog post checklist is keyword research. Read our ultimate guide on keyword research for more information!
2. Prepare your blog post
The writing process itself begins with preparation. You should think about what you want to say and to whom you want to say it. It is important to realize, that proper writing takes some preparation.
It pays off to think about the structure of your piece before you start writing. The structure is the skeleton of your text: it will help the reader grasp the main idea of your text.
Read more: Preparing your blog post »
3. Start writing
If you carefully prepared your blog post, it's time to start writing. Writing can be hard. Make sure you put your pen to paper (or fingers on the keyboard) and construct those sentences. If you carefully prepared your post, it won't be too hard. Don't mind spelling or typos too much in this phase. That could take you out of the writing flow.
4. Check your readability bullets
Once you have written your first draft, it is time to correct all of those spelling errors and typos. You should carefully read and re-read your blog post and make sure that your sentences are all phrased as beautifully as possible.
Your blog post should be well readable. Use the readability scores Yoast SEO provides. Our content analysis will allow you to detect those long sentences and passive voice if you tend to use those too often.
Keep reading: 5 tips to write readable blogposts »
5. Check your SEO bullets
When you have created a great blog post, you want it to rank in the search engines. If you started with proper keyword research, your blog post would be about a keyword that is beneficial to your SEO strategy. Use the SEO analysis of Yoast SEO to check whether you did all the things you can do to make sure your article is SEO-friendly.
6. Hit publish!
The final step in this blog post checklist is to hit that publish button. Make sure you share your blog post on social media too. Social media are a necessity for the growth and marketing of your website. It depends on your (desired) audience and on your content which social media are best suited for your website.
Read on: SEO copywriting checklist »
Conclusion to the blog post checklist
Every blog post should start by executing keyword research. Make sure you take some time to prepare your blog post carefully. And after you have written the post, use Yoast SEO to check readability and SEO. That'll allow you to publish an awesome blog post. Good luck!