Yoast SEO 9.3: Fixes and enhancements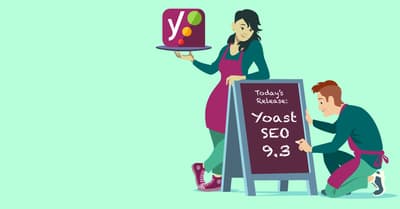 It's an interesting time for WordPress users and plugin developers. Last week, WordPress 5.0 was released, one of the biggest releases of the CMS ever. Because it was such a big release, there were bound to be issues during the roll-out, mostly because of incompatibility issues between plugins and/or themes. Yoast SEO works well in the new block editor, with only some issues due to external factors, mostly plugins in need of an update. Today's release of Yoast SEO 9.3, brings several fixes and enhancements, including a speed boost for our awesome structured data content blocks.
Yoast SEO & WordPress 5.0
First, a little recap of the launch of WordPress 5.0. We shared our concern over this hurried release and we've been asking users to hold off updating until the new year, when the latest version of WordPress will be much more stable and performant. While WordPress 5.0 and its new block editor are awesome, we think they are not ready for primetime yet. We'll keep you posted on this, of course. Looking to see how Yoast SEO works in the new block editor? Read Willemien's visual guide to Yoast SEO in WordPress 5.0.
While Yoast SEO was ready for the editor formerly known as Gutenberg since version 8.0, a lot of other plugins were not. These caused Yoast SEO to crash in the new block editor in some cases. Users reported conflicts with WPML, Pods, and the Gravity Forms Gutenberg add-on. We're also still investigating another specific issue with a disappearing meta box. Except for the Gravity Forms plugin, all these plugins have been updated by their makers. Now, they shouldn't produce any more errors. If you run these plugins, be sure to update to the latest versions.
Performance fixes coming in WordPress 5.0.2
The other reports we've received mainly concern performance issues. Using Yoast SEO in the new block editor leads to less than stellar performance due to issues on WordPress' side. This is not something we have much influence on, but things should improve dramatically in upcoming minor versions of WordPress. You don't have to wait very long for that, because WordPress 5.0.2 — which is due for release tomorrow, December 19 —, features some drastic speed improvements and many other bug fixes. There's a particular focus on vastly improving the typing experience when there are loads of blocks on a page. WordPress project lead Matias Ventura said up the upcoming 5.0.2 release:
"The cumulated performance gains are around 330% faster for a post with 200 blocks. This might be even bigger for certain setups and plugin configurations — seeing the same test post be 540% faster with Yoast, for example."
So, that's looking awesome!
Enhancements in Yoast SEO 9.3
While Yoast SEO 9.3 is mostly about fixes, there are some nice enhancements under the hood. One of the nicest things we added is an improved marker system — you know, the eye icons — for the new block editor that automatically updates itself when you change your content. So, if you've marked sentences that are too long, the highlight will update itself once you shorten that sentence.
In addition, we've refactored our Yoast SEO structured data content blocks. These blocks are now very speedy even when adding many, many fields. Please check out the content blocks for FAQ pages and How-to articles. These content blocks make it incredibly easy to add valid structured data to your content. We're bringing you many more blocks in the near future. We've also changed the output of Schema to prevent unnecessary escaping of forward slashes and this is only available on sites running PHP 5.4 or higher. Last but not least in regards to structured data, we changed the website Schema @id attribute and now include the home URL as a unique identifier.
Fixes in Yoast SEO 9.3
There are quite a bit of fixes in Yoast SEO 9.3, you can find everything in the changelog. Let's go through a few of them. In the previous version, Yoast SEO stripped the numbers from keyphrases, e.g. [Yoast SEO 9.3], which is something we don't want, so we've restored that. We can now recognize keyphrases in the URL when the words in the URL are separated by an underscore instead of hyphens. Moving on, the 'Select primary category' label in the primary taxonomy picker doesn't overlap the 'Add new category' button and the og:description tag doesn't stay empty anymore after setting the author description.
Update Yoast SEO now!
As always, please update your plugins to make sure you're using the latest and greatest. Yoast SEO 9.3 brings a number of fixes that will improve the way the plugin functions. We're always working on improving our plugins to give you the best possible experience. Remember, if you're not ready to push an update — of any plugin or update of WordPress — to your site immediately, please test it thoroughly. We have a guide on how to set up a local WordPress test environment to help you with that.
Coming up next!
Event

December 09, 2023

Team Yoast is at Attending, Organizing, Sponsoring WordCamp Ahmedabad 2023! Click through to see who will be there, what we will do, and more!

See where you can find us next »

SEO webinar

12 December 2023

Learn how to start your SEO journey the right way with our free webinar. Get practical tips and answers to all your questions in the live Q&A!

All Yoast SEO webinars »