Yoast SEO 7.8: Synonyms and keyword distribution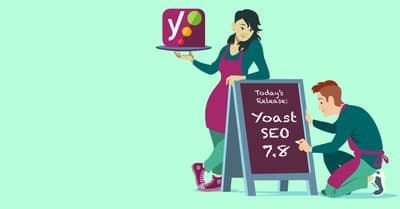 Semantics is hard. What does a certain word mean in a specific situation? Which 'mars' are you talking about? Have you ever tried to discover all definitions of 'run'? In most cases, context is everything. You can help humans and machines understand a text better by adding context. This is one of the reasons Yoast SEO is now adding support for synonyms and related keywords, giving you more flexibility to improve your text! Now available for Premium users of Yoast SEO 7.8.
New Premium feature: Synonyms
Content SEO has long been about finding out what your main keyword was and adding that focus keyword in a couple of places in your text. While that worked pretty well, there's a lot more going on at the moment. Not only is search intent more important than ever, but search engines get smarter and smarter every day. They increasingly 'know' what a text is about by looking at the context in which these focus keywords appear. This context is what makes or breaks a text.
Yoast SEO always worked by a single focus keyword or multiple focus keywords in our Premium plugin. We understand this can be a bit restrictive; we're not even looking at plural instances of the keyword. Luckily, that's about to change!
We're working on some very nice new language-based SEO checks, and we're presenting the first updates today: synonyms and keyword distribution! Yes, you read that right: Premium users can now add synonyms and related terms to check. Writing about bikes? Your synonyms will probably include 'bicycle, cycle, ride, two-wheeler,' and now you can add those terms. The Yoast SEO plugin will check how you use these terms in your article.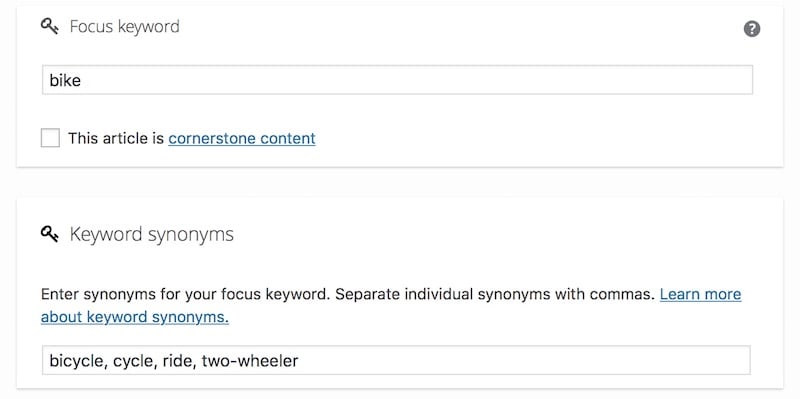 New Premium feature: keyword distribution
The new synonym feature also works in conjunction with another new feature in Yoast SEO Premium: keyword distribution. If you added a couple of synonyms for your focus keyword, Yoast SEO now checks to see if these are distributed well throughout the text. Before you could add your focus keyword in the intro a couple of times and that would be fine by us. That's over. We're taking the complete text in regard and want you to evenly and realistically distribute your focus keyword and synonyms. The gif below shows what the highlighting of keywords and synonyms looks like.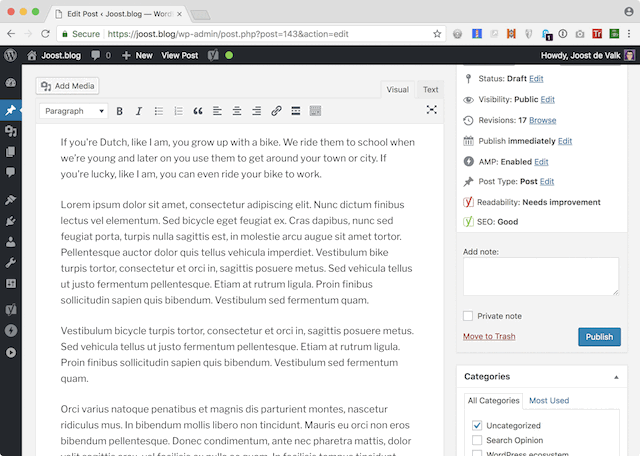 We keep using the focus keyword exclusively to determine keyword density. In our opinion, optimizing your post for the most common keyword — the one that your keyword research uncovered as being most used by your audience — continues to be imperative. 

More on the way
This is just the start. At the moment, we're hard at work to improve the language capabilities of Yoast SEO. Marieke wrote a post describing what you can expect from Yoast SEO in the coming months. Read about morphology, related keywords and the upcoming recalibration of the SEO analyses in Yoast SEO.
Feedback welcome!
We've added these new checks for you to try out. We're very much looking forward to your feedback. How are you using synonyms and related topics in your texts? What do you want Yoast SEO to do with your synonyms? Are there ways to improve how we handle the analyses of your text? As we've said, this is the first step to a Yoast SEO that is far more capable of understanding language and using that knowledge to provide you with the best possible feedback. Help us get there! You can either add an issue to GitHub or comment on this post. We're looking forward to your help!
Language improvements for French, Spanish and Italian
Yoast SEO 7.8 has turned out to be a release focused on language because we've also expanded the language functionality for French, Spanish and Italian. Users writing French and Spanish can now use the Flesch Reading Ease assessment to check the perceived difficulty of their texts. Users writing Italian can now improve their texts using the new passive voice assessment. French, Spanish and Italian now fully support all Yoast SEO features.
Other improvements and fixes
As always, we've fixed loads of bugs and improved various parts of the plugin. For instance, we've improved the way we determine the OpenGraph for front pages, especially in the case of static front pages. We've also fixed several bugs regarding the look and feel of the new snippet variables that we introduced in Yoast SEO 7.7.
Update now to Yoast SEO 7.8
Yoast SEO 7.8 is an exciting new release, one that marks a new direction for us. We're giving you much more flexibility to enhance your articles by using synonyms and providing you with more tools to determine how well you present your keywords. This is the first step to an even more relevant, useful and indispensable Yoast SEO!
Read more: Why every website needs Yoast SEO »
Coming up next!
Event

December 09, 2023

Team Yoast is at Attending, Organizing, Sponsoring WordCamp Ahmedabad 2023! Click through to see who will be there, what we will do, and more!

See where you can find us next »

SEO webinar

12 December 2023

Learn how to start your SEO journey the right way with our free webinar. Get practical tips and answers to all your questions in the live Q&A!

All Yoast SEO webinars »