Yoast SEO 7.5: Привет, Россия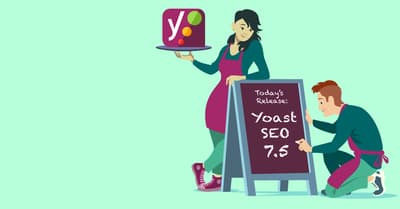 The Russian language is huge; 265 million people have Russian as their first or second language, making it the world's eighth most used language. What's more, according to W3Techs Russian is the second most used language online — following English by a huge margin. As of today, all of the Russian language WordPress users can get their content checked thanks to new language support in Yoast SEO 7.5.
Russian language readability analysis and internal linking
 We've been steadily growing the number of language we support in our readability analysis and internal linking tools. We started out with English, but now support a rapidly expanding roster of some of the world's most used languages, like French, German, Spanish and Italian. The next language to join that club is Russian.
Now, Russian is a complex language that has its own set of rules and needs to be addressed differently. Natalia Shitova, one of our developers, researched, built and tested the Russian language support for Yoast SEO. I asked her how she did it.
Building the Russian language support
"When I joined the Yoast team two months ago I was the first Russian-speaking member. It was immediately clear that my #1 task would be to develop the Russian readability analysis. Our lovely Russian-speaking users could use something more than SEO checks and I could have fun with developing an analysis for my mother tongue," Natalia says.
Working with Russian morphology
"The hardest part was the famous Russian morphology – think different forms of words that you need for different cases, numbers, tenses, voices, and combinations thereof. For instance, the word "mom" in English has two forms – "mom" and "moms". The Russian "мама" has nine. And how many ways are there to use the word "one" in English? I see two again – "one" and "ones". The Russian analog (fasten your seatbelt now!) has 13. Thirteen! Any meaningful content analysis will have to deal with morphology. After all, you need to know that all these 13 forms are the same word. Luckily, the Russian morphology is very well described in books, but we had to think about how to feed that monster to our butterfly plugin, which should work on the fly inside your browser. So this release is our first attempt to build lightweight yet powerful content analysis for a language with a mind-blowing morphology. More improvements are coming soon!"
"This release is our first attempt to build lightweight yet powerful content analysis for a language with a mind-blowing morphology"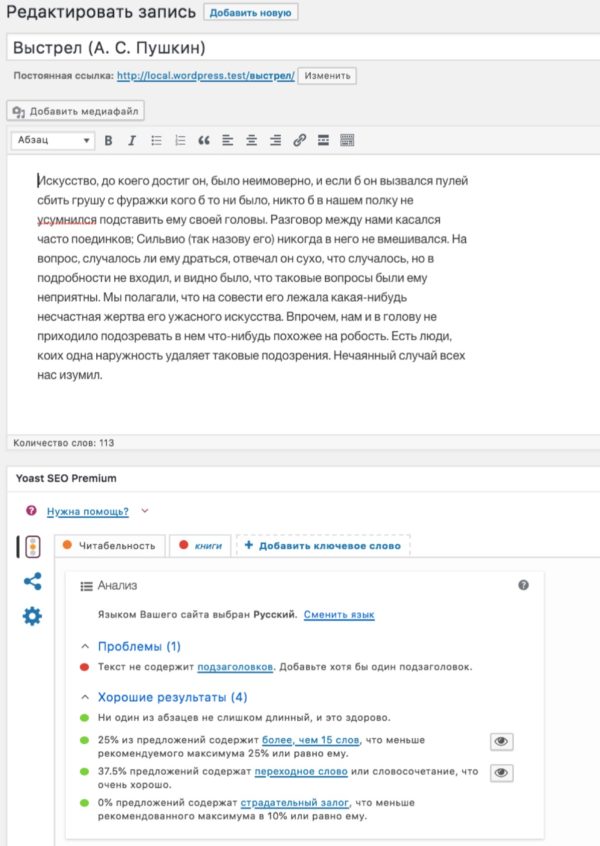 No Russian Flesch Reading Ease check yet
Russian support is almost complete, but you won't find the Flesch Reading Ease score yet. According to Natalia, it's quite a challenge to adopt the well-known Flesch Reading Ease check to produce something that's useful for the Russian language. Natalia explains:
"You might notice that contrary to other supported languages we did not include Flesch Reading Ease check in the Russian readability analysis. Yes, there is a well-established formula for calculating Flesch index for Russian. No, we were not happy with how it worked. We tested the formula using a massive corpus of texts and it was almost impossible to receive a score above 50. This means no green bullet for you unless you write for small kids. "That is not kind," we thought, "not encouraging, and totally not helpful!" I adjusted the formula a little, so that it returns a somewhat more realistic estimate of readability. With that recalibration you can use our Flesch readability check from the next release onwards."
This work is now done and we'll add the results in the next release, Yoast SEO 7.6.
Bug fixes
It's always great to add support for a new language, but that's not all we did. As always, we've fixed a number of bugs. Also, we improved the accessibility of the plugin. For instance, we fixed a bug that treated sentences ending in multiple sentence marks, exclamation marks or ellipses as multiple sentences. We've also fixed a bug where OpenGraph images with specific aspect ratios were causing unexpected results if you wanted to share these on Facebook. For the time being, we've removed the aspect ratio check completely. Of course, you can find all bug fixes and enhancements in the changelog on WordPress.org.
Update now to Yoast SEO 7.5
So there you have it: Yoast SEO 7.5 is another great update. This update brings our readability analysis to millions of Russian language users. As a result, each and every one our users can now improve their online content using the world-famous green bullet system. Here's to better Russian language online content!
Read more: Why every website needs Yoast SEO »
Coming up next!
Event

September 27 - 28, 2023

Team Yoast is Sponsoring WordPress Accessibility Day 2023, click through to see if we'll be there, who will be there and more!

See where you can find us next »

SEO webinar

21 September 2023

Learn how to start your SEO journey the right way with our free webinar. Get practical tips and answers to all your questions in the live Q&A!

All Yoast SEO webinars »