Yoast SEO 6.0 More characters for your meta descriptions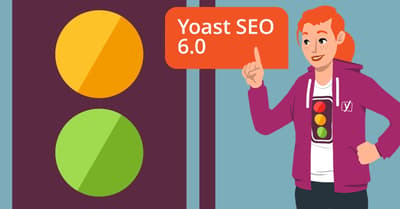 The end of the year is coming up fast. Today is the day we're releasing the last update of Yoast SEO in 2017. It's been a wild ride this year and we're already working on big plans for 2018. But first, Yoast SEO 6.0. And yes, we've heard you loud and clear; we've extended the meta description length to 320 characters.
Update May 2018: Google decided to shorten the length of the meta description again, read what – not – to do.
320 character meta descriptions are here
These past few weeks there has been a lot of talk about Google's decision to change the default meta description length to upto 320 characters. We've been testing how Google uses this, and we've been talking to Google representatives to make sure that we're giving you the right options. With today's release of Yoast SEO 6.0 (including the TYPO3 version, Magento 2 will follow soon), we've changed the meta description length from 156 to 320 characters. It doesn't often happen that we need to change a feature in Yoast SEO following a change by Google.
Please read Joost's post on impact of the new snippet length on SEO in general and Yoast SEO in particular.
Don't panic
Now, having double the characters doesn't mean you should go back to your site and change all the meta descriptions on all of your pages and posts. No, that would take ages if you have many posts and in case you would – and you should – handwrite them all. Your rankings will not drop if you keep your meta descriptions the same. It is, however, a good opportunity to revisit them to make sure your site stands out in search results. While we're still actively determining new best practices, there's no harm in experimenting with this new meta description length.
Pick a couple of posts and pages first. Check if Google picks up your newly written meta descriptions. Do your own testing before you go all in and change everything. These longer meta descriptions give you enough room to show people what you've got, without giving away everything your article contains, of course. You still want people to click your search result, if that's your goal.
Keep in mind that, most of the time, Google will lift a custom meta description from your site. There is not much you can do about it other than writing killer key paragraphs about your focus keyword in your content and try to get Google to use one of those. As I said, we're monitoring what this change means and will report back with more solid data and advice in a couple of weeks.

Read more: We studied long meta descriptions: here are our findings »
Other enhancements
We've made several other enhancements in Yoast SEO 6.0, including some community contributions. For instance, we've added support for custom page titles and meta descriptions on WooCommerce shop pages as suggested by Caleb Burks. Now, you can add custom metadata to your WooCommerce shop.
Raaj Trambadia suggested we should add a link to the Google Knowledge Graph article on Yoast.com, so we did. Finally, the focus keyword box in the Yoast SEO meta box features a link to a new article by Marieke. In it, she explains why it might be a bad idea to use the same focus keyword more than once.
Yoast SEO 6.0: The last release of the year
This makes Yoast SEO the final release of 2017. What a great year it's been. Next week, we'll publish several posts in which we look back upon the year. Of course, Yoast SEO gets its own post. Be sure to read it! Thanks for your support and we hope to see you again in 2018. Happy holidays!
Keep reading: Why every website needs Yoast SEO »
Coming up next!
Event

December 09, 2023

Team Yoast is at Attending, Organizing, Sponsoring WordCamp Ahmedabad 2023! Click through to see who will be there, what we will do, and more!

See where you can find us next »

SEO webinar

12 December 2023

Learn how to start your SEO journey the right way with our free webinar. Get practical tips and answers to all your questions in the live Q&A!

All Yoast SEO webinars »