Yoast SEO 5.6 The orphaned content filter
In these last few releases of Yoast SEO, we've been focusing heavily on internal linking. Linking your posts in a sensible manner helps build a solid site structure, which, in turn, makes your site easier to understand for both humans and machines. Yoast SEO 5.6 brings another new tool to help you find content to link to: the orphaned content filter. Orphaned content is content that doesn't have any links pointing to it. Here, I'll explain why we added it to Yoast SEO 5.6 and how you can use it to improve your SEO.
Yoast SEO Premium: Fix orphaned content
Orphaned content, you say? Yes, orphaned content is content on your site that doesn't get any links from other parts of your site. Content that doesn't get links, will stay undiscovered by visitors and search engines. This happens a lot, even on Yoast.com. It's easy to forget all those articles you wrote. But if a certain article is important to you and you want it to rank for a specific keyword, you need to link it in your site structure. No links? No rankings.
But finding those orphaned articles is not easy. No one knows every link in every article. That's why we've built a new tool for Yoast SEO Premium users that lets you find these posts with the touch of a button. Just go to your posts overview in the backend of WordPress and click 'Orphaned content' in the top bar. Now, every article that hasn't been linked to will appear in the list. You will even receive a notification when Yoast SEO discovers new orphaned content. Go through the list and fix those links!
The orphaned content filter is a new feature in a line of tools that help you to build a great site structure. We all know it is imperative to have a well-thought-out structure to your site so users and search engines can understand it quickly. Improving the way you link your posts and pages together, helps improve your rankings. Use the Yoast SEO text link counter, internal linking suggestions, and cornerstone content features to find relevant posts to link to and to add focus to your internal linking strategy. Want to use all these extremely helpful tools? Buy Yoast SEO Premium now and you'll get access to all of them and much more, like 24/7 support.
To further explain the concept of orphaned content and how to fix this with the help of Yoast SEO, Marieke wrote a post that tells you all about this new feature.

Redesigned Yoast SEO help center
We like to help you do your job and we're always improving how we do that. Today, we'd like to introduce our new and improved help center in Yoast SEO. The help center is available in every page of Yoast SEO. The little 'Need help?' button is easy to find. Click on it to open the revamped help center to find a drop-down screen with three tabs. Sometimes it has extra tabs, like on the Titles and Metas settings page.
The help center always shows a tutorial video relevant for the page. In addition, there's a search bar for our knowledge base and a link to a form to request help. Searching our knowledge base surfaces an incredible amount of answers to many problems people often run into. This new help center makes it easy to find the kind of answer you need. And don't forget, if you have a Yoast SEO Premium license you can contact our awesome support team anytime you wish!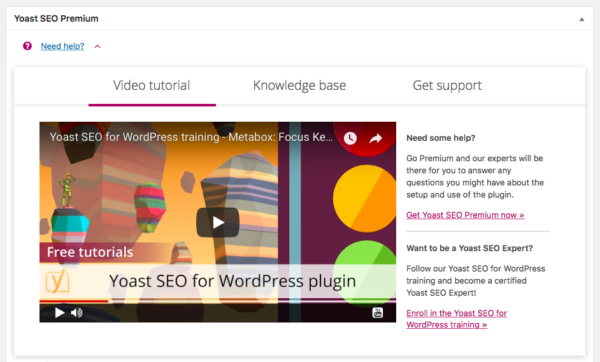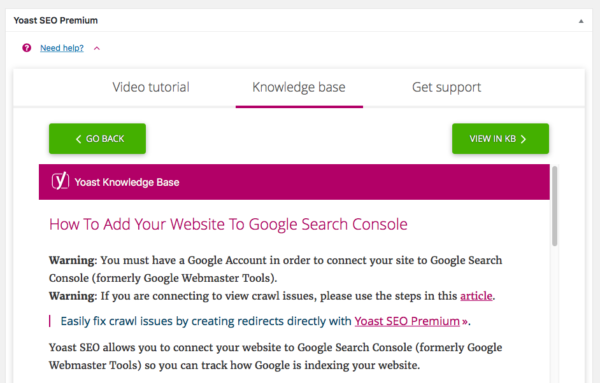 Update now
In Yoast SEO 5.6 we've introduced a great new feature, the orphaned content filter, and a brand-new help center. In addition to that, we've fixed several bugs and improved various parts of the plugin. We hope this version of Yoast SEO will make it even easier to improve your site structure. Now, get to work and start giving those orphaned posts the links they deserve!
Read more: Why every website needs Yoast SEO »
Coming up next!
Event

December 09, 2023

Team Yoast is at Attending, Organizing, Sponsoring WordCamp Ahmedabad 2023! Click through to see who will be there, what we will do, and more!

See where you can find us next »

SEO webinar

12 December 2023

Learn how to start your SEO journey the right way with our free webinar. Get practical tips and answers to all your questions in the live Q&A!

All Yoast SEO webinars »