Yoast SEO 12.1: Snippet preview updated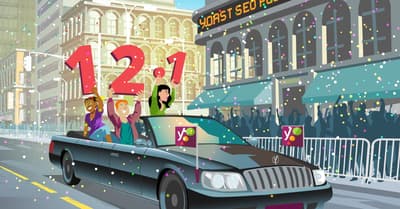 Yoast SEO 12.1 is out today! It features a couple of changes in order to match the design of Google's search results pages, this includes those shiny new favicons. In addition to this, we added a number of new filters for our Schema implementation. See what else is new in the latest release of your favorite SEO plugin.
Updating the snippet preview
Google is always testing different iterations of its search results pages. Sometimes a test sticks and ends up as the new default. In Yoast SEO 12.1, we're adapting our snippet preview to match two of the latest changes: favicon in mobile search and new font sizes in desktop search.
In Yoast SEO 11.5, we added the default favicon Google uses when it can't detect a correct favicon on your site — or you simply don't have one. Now, we pick the one you've added to WordPress and show it right in the mobile snippet preview, just like Google would. You now have a good sense of how your site will appear in the mobile search results.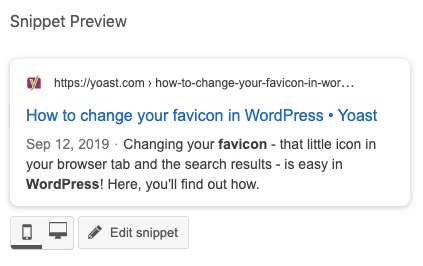 Here's how to add a favicon to your WordPress site in order to get it to show in both search results as well as our mobile snippet preview.
The other new tidbit we have for you is matching Google's new font sizes for the desktop search results. Google now uses slightly larger letters and we've followed suit to make the desktop snippet preview appear exactly right. Go check it out.
New Schema filters
We've added a couple of new filters to allow for a more granular control over a site's Schema output. Julià Mestieri suggested the first one. He made a filter called wpseo_schema_organization_social_profiles to filtering an organization's social profiles in the schema output. You can use this filter to modify social profiles (sameAs attribute) in the Organization schema object.
Andrew Gillingham suggested two other filters. His wpseo_schema_company_name and wpseo_schema_company_logo_idfilters make it possible to filter the company name and company logo from the theme options whenever it hasn't been set in the Yoast SEO settings. This way, both can still be used by the schema output without having to set it manually.
Last but not least, we added a filter called wpseo_enable_structured_data_blocks that makes it possible to turn off Yoast's structured data block editor blocks.
Find out all about our structured data implementation and how you can enhance it by reading our Schema documentation.
Other improvements
The WordPress Gutenberg project keeps chugging along nicely, but sometimes stuff changes or breaks. In one of the latest releases, our structured data content blocks hit a little snafu, which we fixed in this release. The styling of the How-to and FAQ blocks is now compatible with latest version of the WordPress blocks editor.
Our latest community additions are a new method suggested by Brady Williams and a bug fix by David Herrera. Brady's get_robots method retrieves the robot HTML without it being output, while David fixed a bug where the primary term selector would not display HTML entities properly.
As mentioned in the Yoast SEO 12.0 release post, we're actively working on improving input validation in the plugin, among many other things. We've continued that in Yoast SEO 12.1 and improved the validation on the settings page. We've also updated the plugin icons to be more consistent.
Update now to Yoast SEO 12.1
That's it for Yoast SEO 12.1! We've updated our snippet preview to the latest changes by Google, including those shiny favicons in the mobile search results. We've added new Schema filters, fixed several bugs and rolled out several other enhancements. Go test the new version and update whenever you're ready!
Coming up next!
Event

December 09, 2023

Team Yoast is at Attending, Organizing, Sponsoring WordCamp Ahmedabad 2023! Click through to see who will be there, what we will do, and more!

See where you can find us next »

SEO webinar

12 December 2023

Learn how to start your SEO journey the right way with our free webinar. Get practical tips and answers to all your questions in the live Q&A!

All Yoast SEO webinars »