Have you seen that icon in the search results in front of your website's URL? It's been visible for a while now in Google's mobile results. And, as we speak, it's rolling out for desktop search results too. So, no excuses, your site needs a good favicon. Luckily, setting a favicon in WordPress is very easy. Here we'll explain how to change the favicon of your WordPress site!
New to WordPress? Our FREE WordPress for beginners training is here to help. Find out how to set up your own site, learn the ins and outs of creating and maintaining it, and more. This training is part of our free training subscription, take a look at all our online SEO training subscriptions. Buy Yoast SEO Premium and get access to all our SEO and WordPress courses at no extra cost!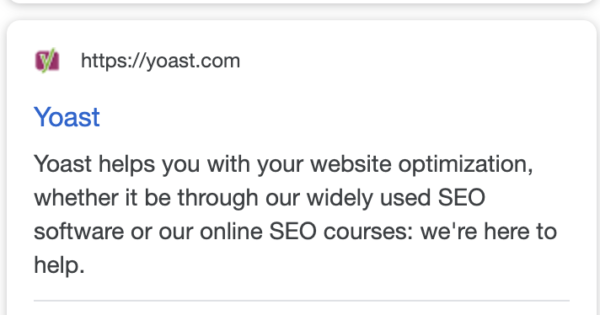 We've been writing about favicons for years. This article about favicons and branding will tell you what you need to think about in that regard. Read it, and make sure your favicon is good and stands out.
Did you know that, as of Yoast SEO 12.1, you're able to see your site's favicon in Yoast SEO's mobile snippet preview too?
Now let's give you a simple step-by-step guide on how to change your favicon in WordPress:
Time needed: 5 minutes.
The favicon is called a site icon in WordPress and can be added in the customize theme section.
Log in to your WordPress website.

When you're logged in, you'll be in your 'Dashboard':

Click on 'Appearance'.

On the left-hand side, you'll see a menu. In that menu, click on 'Appearance'.

Click on 'Customize'.

The 'Appearance' settings will expand providing you additional options. Click on 'Customize'.

Click on 'Site Identity'.

Here you can define your site name, tagline, logo, and icon. The image you set under "Site Icon" will be used as your site's favicon:


That was easy, wasn't it? So, no more excuses, get to it. Change that favicon on your WordPress site!
Read more: Favicons and your online brand »
WordPress for beginners series