Yoast SEO 12.0: UX improvements and new Portuguese checks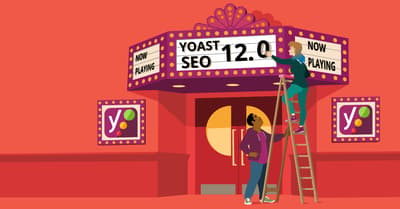 Contrary to what the version number might suggest, Yoast SEO 12.0 isn't a huge release. It's simply the next release in our current release schedule, but after hitting 11.9 a couple of weeks ago we had no choice but to go for 12.0 ;). That's how it goes! But don't worry, there's enough interesting stuff in this release, including two new checks for the Portuguese language.
Continuing UX improvements
Over the past couple of release, we've been steadily improving the way we handle validation. In the past, it wasn't always clear if the stuff you input in fields was formatted the way it should. There wasn't too much feedback from the plugin. We're now actively improving this and looking at each field to see what should go in there. So if something should be a URL, we now verify that what you enter is really formatted as a URL. No longer can you add gibberish in the fields!
In the same vain, we are now updating the document title in the settings whenever we find something wrong with a form. The W3C suggests this technique as a way of improving the accessibility of a page. One of the first things a screen reader encounters on a page is the <title>, so now it can read that to find errors on a page. It can now read these out loud to notify the user. Great, right?
We've also improved the wording in several places to make it more clear what something means. For instance, Emily Leffler Schulman suggested to improve the feedback the plugin shows when you haven't set a focus keyphrase for a post. It used to show a grey Yoast icon with the not very helpful line: SEO: Not available. We've changed that to Focus Keyphrase not set. Much more helpful. Don't forget people: set your focus keyphrase.
The last UX change we'd like to highlight is limiting the width of the meta box. This change, suggested by Louise Ann Apostol, makes sure that the meta box doesn't overstretch on very large screens.
Portuguese language SEO improvements
As you know, most of our content checks work for every language out there. But some parts of our readability checks are tailored for different languages as not every language is interchangable. We currently support a whole slew of languages in some form or another. We have listed the languages and the features each language supports.
In Yoast SEO 12.0, thanks to Dilmar Ames, we've enhanced our support for the Portuguese language. We now support two new checks for Portuguese:
Consecutive sentences check: this is the assessment that checks whether multiple sentences in a row begin with the same word;
Sentence length check: this assessment checks the length of your sentences to warn you if you use too many long sentences.
We are hard at work adding new languages and improving the ones we already support. Don't see your language yet? Hang tight, we might get there soon.
Update now to Yoast SEO 12.0
While Yoast SEO 12.0 is not the huge release you might expect if you see that version number, it's a nice release with quite a few improvements. Please update to the latest version when you are ready.
Thanks for using Yoast SEO!
Coming up next!
Event

December 09, 2023

Team Yoast is at Attending, Organizing, Sponsoring WordCamp Ahmedabad 2023! Click through to see who will be there, what we will do, and more!

See where you can find us next »

SEO webinar

12 December 2023

Learn how to start your SEO journey the right way with our free webinar. Get practical tips and answers to all your questions in the live Q&A!

All Yoast SEO webinars »