Yoast SEO 1.0 to 16.0: An interview with Joost de Valk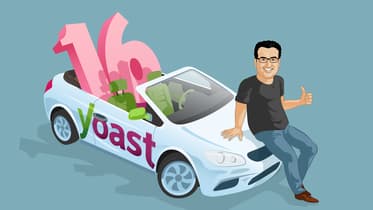 This week marks the 16.0 release of Yoast SEO and we're quite proud of how far we've come. That's why we thought it would be fun to look back at more than 10 years of work on Yoast SEO. And who better to ask than someone who has been there all along: our founder Joost de Valk. Who started on his own, working out of an attic, and now has an international team of around 140 colleagues working on Yoast SEO. Let's look at what has changed through the years and get a sneak peek of what's to come!
Joost, for our first question: what were you like when you were 16?
"When I was 16 years old, I was mostly coding "offline". At that time I was coding in a software development system named Borland Pascal. Admittedly I was also an adolescent doing other things around that time, not all of them smart :)"
The first years of Yoast SEO
How did you end up in the world of SEO and WordPress?
"In 2006 I was looking for a new job, closer to home. I'd been working as a sales and marketing guy at a couple of different companies, but wanted to combine my technical skills with those marketing skills a bit more. Then my wife Marieke found a job advertisement for an SEO job. I applied, got the job, started learning SEO and also started blogging about it in English.
"I did this blogging on a WordPress website and started fiddling with WordPress to make it a bit more SEO friendly. So I started coding these small SEO plugins. At some point, I had like 6 or 7 small plugins that all fixed minor SEO annoyances. That's when I thought ok, I should be combining all of this. That's when I started creating the WordPress SEO plugin, which we later rebranded to Yoast SEO."
Why do you think people like using Yoast SEO?
"I think it's a combination of a couple of things:
We've succeeded at making the technical side of SEO something they hardly need to think about. We just fix it.
We have reliably and rapidly updated every time when Google needed something 'new', allowing people to adapt to changing standards without having to do work themselves.
We've helped people achieve better rankings with our green bullet system of giving them feedback on their content."
What was the very first release of Yoast SEO like?
"The first beta release of the WordPress SEO plugin was received quite well by the SEO community, and it made me very proud. I spent a lot of time coding it and people were really appreciative of that. I wasn't making any money from it at that time, so the 'thank you's' and some donations were all that drove me. But I was really happy with the feedback I got."
How did you go about the first few releases?
"For the first few years, I did all of the coding myself. I came up with a feature, coded it, did the UI work, tested it on a couple of sites, and released it. Over time this evolved as more and more developers and testers and UX designers started working for us. It became a much bigger and somewhat longer process as we needed to improve on it. What we now have in terms of release process is the result of years of refining and tweaking. It's a continuous process: on the day of a release, we create a new release candidate for the next release right away. We're constantly improving, testing, etc."
Yoast SEO right now
What does the release process look like nowadays?
"We have a pretty 'standard' product process that starts with discovery, which is mostly asking a lot of questions: which features do people need? Which new things are search engines doing that we need to play into? Which things are we unhappy with that we want to improve on?

"From that, you get long lists of issues, and our Product team prioritizes those on a roadmap. When it's time for such an issue to be picked up, it goes to a squad. Each of our squads has a product manager, a UX designer, a tester and several developers. This squad talks through and refines the issue, creates designs, sometimes checks implementation decisions with our architectural team, and then implements. Each pull request by a developer is reviewed by another developer, and each change is tested.
"When a squad has implemented a change, the tester in the squad will also have written a test plan for it and most of the time automated tests, both unit tests and so-called end-to-end tests. The change will be merged, we'll create a release candidate with this and other changes and all of that will go through a rigorous testing process again before we release it."
What has been the biggest change in this process, compared to the first few releases?
"There is a lot more testing than there used to be in the past, and a lot more quality control in general. We're putting out code to twelve million websites, so it's a large responsibility that we take very seriously."
What is your favorite feature in Yoast SEO right now?
"I love the work we're doing on Schema. Our current Schema output, and the upcoming Schema blocks that we're currently working on are… Game-changing, I think."
What's the biggest difference between Yoast SEO free and Premium?
"The free version of Yoast SEO gives you lots of tools to help you do well in the search results. Yoast SEO Premium makes many tasks much easier. It saves you time that you can invest in other things. The Premium version of our plugin gives you additional tools, like for instance, suggestions for internal linking and the redirect manager. You can use the premium features to build an impressive site structure and to make optimizing your content even easier. All of this helps make your site a great fit for users and search engines. As such, Yoast SEO Premium is a wise investment."
The future of Yoast SEO
What can we expect from Yoast SEO before it turns 18?
"There are 20 releases between 16.0 and 18.0, which probably comes down to more than a year's worth of development. We have loads and loads of cool things in the pipeline, from new Schema blocks, new internal linking functionality to improved admin UI's and much more."
What can we expect further down the line?
"I think our 'promise' is that Yoast SEO will always give you what you need to rank well in the search engines. We'll give you the technical tools and feedback where you need it to optimize your site and pages."
What do you eventually want to accomplish with our plugins?
"Our mission is SEO for Everyone. We want everyone to be able to compete in the search results whether you're the White House, Disney, or a small bookshop. We want to bring equal opportunity to the search results. I've wanted to do that from the beginning and it hasn't changed throughout the years."
Check out our premium plugin
Thanks for that trip down memory lane, Joost. In addition to this interview, we also wrote a blog post that lists 16 sweet reasons to love Yoast SEO. Or go premium right away and get access to extra features in Yoast SEO and all of our 13 SEO academy courses. Step up your SEO game today with Yoast SEO Premium:
Unlock lots of features in Yoast SEO Premium!
Get access to powerful features and much more for your site with the Yoast SEO Premium plugin:
Read more: Yoast SEO 16.0: Sweet sixteen! »
Coming up next!
Event

October 04, 2023

Team Yoast is at Attending, Organizing Yoast Contributor day 2023 - October edition! Click through to see who will be there, what we will do, and more!

See where you can find us next »

SEO webinar

03 October 2023

Learn how to start your SEO journey the right way with our free webinar. Get practical tips and answers to all your questions in the live Q&A!

All Yoast SEO webinars »