Why we changed so many things in the 7.0 update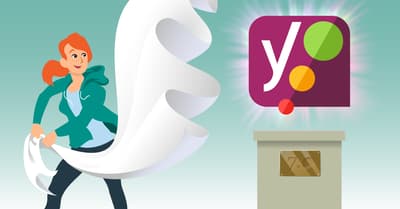 On March 6, we released a major update of our Yoast SEO plugin. This update was aimed at making SEO easier and more understandable for our users. We removed quite a few settings and options. In other cases, we changed the names of settings making them easier to understand for non-technical users. All in all, the reactions on this update were rather positive. We received some questions as well, mostly about why we removed certain settings and options. In this post, I'll explain why we chose to remove those settings.
If there's a button, people want to click it
The main reason why we deleted settings is because in 99% of the cases it should not be altered. But if you give people a toggle or a button, generally they'll think they have to do something with that toggle or button. Totally understandable. If I have a new watch and it has many fancy buttons, I'd also want to know what they'll do. By offering all those settings, we gave the impression that our users needed to do something with these settings.
The things we removed were the things people should not worry about: the things that didn't make much of a difference in their chance of ranking in the search engines. These buttons and toggles were rather useless anyway.
More agreement on proper SEO settings
Working on our new online Yoast SEO plugin training helped us to make the plugin more understandable for a large audience. We had to really make an effort when explaining the settings in videos and text. And we noticed we had a hard time explaining some of the things. It made us question and reassess our decisions. That process lead to a lot of the changes made in the plugin release of March 6.
On top of that, there was another reason why we decided to remove quite a few settings from our plugin. For a long time, the SEO community had strong and opposing opinions about the need of, for example, XML sitemaps. Because of these different opinions, we always offered different options, allowing people to make their own SEO choices. As the profession of SEO matured, SEOs reached more consensus on what things were important to rank high in the search engines. As those influences are rather clear nowadays, we were able to make those changes in the plugin. Important changes, because now, the ease of use of our plugin is improved.
SEO for everyone
 The mission of Yoast is SEO for everyone. We believe the web will benefit from all people having an equal chance in the search results. Not only those big international companies with large marketing budgets, but also that small online shop with handmade toys. We believe every idea should get a fair chance in the search results.
When developing our plugin, we always keep our mission in mind. And that's the reason why we recently decided to make some big changes in our plugin. We really hope that more people will be able to benefit from our plugin. If you really want to know all the ins and outs of Yoast SEO, I would strongly advice you to follow our free online plugin course. It will help you to get the most out of our plugin. Because, although we deleted quite a few settings, we still have a lot of toggles, settings and choices left :-) Good luck!
Coming up next!
Event

December 09, 2023

Team Yoast is at Attending, Organizing, Sponsoring WordCamp Ahmedabad 2023! Click through to see who will be there, what we will do, and more!

See where you can find us next »

SEO webinar

12 December 2023

Learn how to start your SEO journey the right way with our free webinar. Get practical tips and answers to all your questions in the live Q&A!

All Yoast SEO webinars »