SEO for everyone: Yoast's mission explained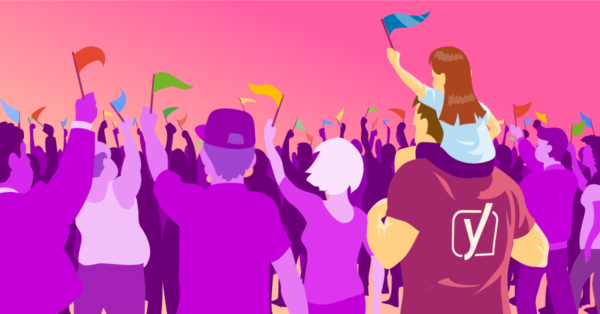 Here at Yoast, our mission is 'SEO for everyone' and we keep that in mind in everything we do. But what does that mean? And why is it our mission? This post explains all.
A little bit of history
To understand why we pursue this mission, we have to go back in time. Let's start in 2006: Joost de Valk began building SEO plugins because he strongly believed that everyone could benefit from the SEO knowledge he had built up in his work for large agencies. As a WordPress fanboy, he could quickly translate his technical SEO skills into a useful plugin for WordPress.
The WordPress SEO plugin, which was rebranded to Yoast SEO later on, built up an enormous user base, but with that came overwhelming demand for support. Joost couldn't keep up with this and continue working for an agency, so he decided to start his own company. Selling premium plugins and doing a little consultancy also let him invest more time and resources into the free version of the Yoast SEO plugin. This allowed us to improve the quality of our products and add more features, which in turn allowed the company to grow. It also meant we could further define our mission.
Read more: 3 reasons Open Source is so very awesome »
WordPress' mission and Yoast's mission
The mission of WordPress is to democratize publishing with open source GPL (General Public License) software. Yoast's mission builds on WordPress' mission, just as Yoast's software is an extension of the WordPress software. Anybody can create a website using WordPress, but not everyone can get their site to rank in search engines. These days, the search results in some niches are dominated by large companies with even larger marketing budgets. The Yoast SEO plugin, together with the SEO knowledge Yoast shares, enables small entrepreneurs to compete with these large companies.
A 'fair' chance in the search results
We believe the web benefits when everyone has an equal chance in search results. We love the idea that great new ideas and innovations can spread around the world. Great ideas don't have to come from large organizations – they can originate from anywhere across the globe. That's why we believe that every idea should have a fair chance in the search results. WordPress and Yoast SEO cover most of a website's technical SEO challenges, but to seriously compete with the big boys, every website owner still faces content SEO challenges. That's why we use our blog posts to help our audience write awesome and SEO-friendly content and to set up a sound site structure. Using the Yoast SEO plugin and reading our blog should help everyone to have a fair chance in search. That's what 'SEO for everyone' is all about.
In May 2018 we took this further, launching a free SEO for beginners course! Like everything else we do, this is closely linked to our mission, because we truly believe that SEO is for everyone!
Keep reading: Why a free online course? »
Maintaining the mission sustainably
Pursuing our mission doesn't mean we're not making any money at the same time. On the contrary: as a company, Yoast is thriving. Our profits enable us to keep on pursuing our mission. We continue to tweak and improve our plugins and we're writing more and more articles about SEO. Making money ensures that our mission of 'SEO for everyone' can continue in the long term. We can have a bigger impact. And, it allows us to contribute more and more to WordPress core.
The premium version of Yoast SEO has some practical features, which make SEO so much easier. However, all the essential features you need for that fair chance in the search engines are in our free plugin – and always will be. Our online courses are a powerful way to quickly learn about any and all aspects of SEO. Plus, all the practical SEO information you need can also be found in our extensive blog archive. It's important to us that everyone – even if you haven't got much money to invest – can benefit from our SEO products.
Read on: Victory of the Commons »