What our website reviews can do for you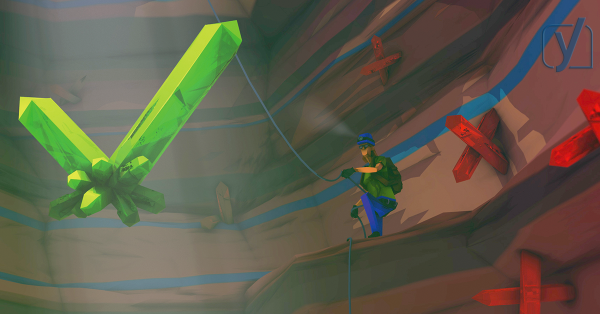 "Can you make us rank #1 for keyword X?" "How much more traffic can you promise us?" "Can you make us rank higher, and if so, what spot?" These are just a few examples of questions we often get from people interested in a website review. Unfortunately, SEO doesn't work this way, at all. We can't guarantee a #1 position, nor more traffic, nor higher rankings. We can make it a lot more likely that you'll rank higher.
Please note that we don't offer the website reviews mentioned here anymore. We do offer SEO courses and plugins to help you optimize your website! If you're interested in more real-life examples of SEO in practice, check out our Ask Yoast Case Studies!
Today, we're going to show you an example of what a website review did for a customer of ours. The customer we're referring to is Lisa League, who's running the website of Qpractice.
Ranking and traffic results
Lisa maintains the aforementioned website called Qpractice, which helps students pass the NCIDQ (National Council for Interior Design Qualification) exam the first time. We delivered Lisa's Gold review in September of 2014. Since then she's been working really hard at improving as much as she could of what we mentioned in the website review.
Before we get to the results of this, we need to explain that Qpractice's business is very cyclical. This means that during January through April it has high peaks of traffic (and sales) and then drops down until July through October, after which it drops down again. And so on. So the drop you see right after our review is a natural one.
Here's what Lisa's optimization based on our website review did for her traffic:

As you can see, her traffic's increased quite a lot. In fact, her traffic increased over 60% compared to the year before. And that's not all that changed: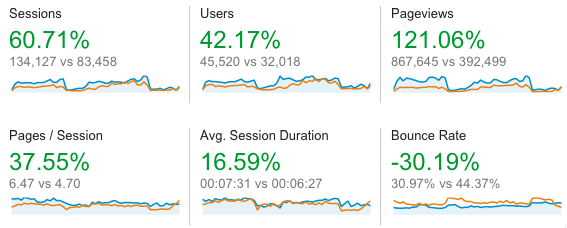 So not only has she had more sessions to her site, but also did the amount of pageviews and pageviews per visit increase a lot. Since the first time we published these results (June 17, 2015), the average session duration actually increased to the whopping 16.6% increase in this overview. Next to that, the bounce rate, which had already decreased by 20% in June, kept dropping to the current 30% decrease now. That's pretty amazing!
At the moment of writing, we can also conclude that rankings for the website are excellent as well. For the main keyword NCIDQ, Lisa ranks #3, right after the official NCIDQ website and Wikipedia. That's simply great! If you are a regular visitor of our blog, you know we always focus on content a lot. Our website review provides tools to set that content up the right way, but after that it's still up to the customer to follow up on our recommendations. Lisa did an awesome job on that.
This is also illustrated by the data Searchmetrics provides. Qpractice ranks for a number of keywords, including long-tail keywords:

This is just the tip of the iceberg. The site ranks for a lot more related keywords. Lisa had this to say about her rankings:
"My rankings have been good, I'm regularly in the top 3 for my head keywords, and regularly 1 or 2 for some important ones."

Lisa League – Owner of Qpractice
Sale results
So that ranking and traffic are looking pretty good, right? However, traffic usually doesn't pay the bills, especially when that traffic doesn't convert. So that's why we were thrilled to get this quote from Lisa this week (January 18, 2016):
"In the past 2 weeks I've done more business than the first several months last season, and the results continue to build."
As you can imagine, Lisa is very happy with the results :) And so are we. It does have to be said: none of these results would've happened if Lisa wasn't so tenacious in implementing any changes we recommended. And that'll be true for you as well: the reviews won't do anything if you don't put in the time to walk through them and implement our recommendations.
Read more: WordPress SEO: The definitive guide to higher rankings for WordPress sites »