If you own an eCommerce site, you might wonder how to optimize your category pages and your product pages. Could you have the same content on your category page and your product pages? If you have the same content on multiple pages of your website, would Google know what to rank first? Or would it cause duplicate content issues? This Ask Yoast is about the optimization of category and product pages of your online shop. Hear what I have to say about this!
Jeroen Custers from Maastricht, the Netherlands, has emailed us, asking:
"My product pages and category pages have 99% the same description, except for the color. Although the category page gets all the links, one product page ranks. Does Google see my pages as duplicate content?"
Check out the video or read the answer below!
Duplicate content in your shop?
The answer is simple: Yes. So what should you do is optimize your category page for the product. And only optimize the subpages, the product pages for the individual product colors, and then make sure that the category page gets all the links for that product. So you should improve your internal linking structure so that when you mention the product, you link to the category page and not to the specific color page underneath that.
If you improve that category structure in the right way, then that should fix it. If it doesn't, then noindex the product pages and "canonical" all of them back to the category, so that Google really knows that the category is the main thing. That's what you want people to land on. Most people want to see that you have more than one option.
If they search for the specific product and you do not noindex it, so if you choose for the first option, then Google should send them to the right page. So try that first. If that doesn't work, noindex as product page and then "canonicalize" them back to the category.
Good luck!
Read more: Crafting the perfect shop category page »
Ask Yoast series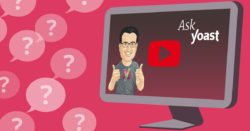 See more from the Ask Yoast series
In the Ask Yoast series, we answered SEO questions from our readers. Check out the other questions!