If you own a blog for a long time, it could be that some of your old blog posts need to be updated or optimized. Every once in a while, you should go through your archive to check that. When you go through your archive pages, you might see posts with low-quality content that you don't want Google to add to the index temporarily. If you don't want Google to show certain posts or pages in the search results, you can use the robots meta tag. That's what this Ask Yoast is about!
Frédérique Lavios emailed us this question:
"We have a lot of old blog posts that need to be optimized. For overall website health, should I set these posts to noindex in the robots.txt file?"
Check out the video or read the answer below!
How to noindex a post or page
I honestly think you're mixing up a couple of things here. Noindex is something that you should do on the page and in the robots.txt file, you forbid the crawler to come to the page entirely (using the Disallow directive).
So what you should probably do, if you really think that something is low-quality content, is noindex the page itself for now. So not in the robots.txt, but with a meta tag that you can set in the advanced tab of Yoast SEO and then, you should rework them. But if it's reasonably quality content and you just want to make it better, I wouldn't add noindex; I would just go through them and optimize them as you go along.
If you set a blog post to noindex, Google will start crawling it slower. So after you've fixed it, it might take a couple of weeks for Google to come back and see the new content. So don't do that, if it's not absolutely necessary and just keep the blog post indexed and rewrite them as you go along.
Good luck!
Read more: Website maintenance: clean up old posts & pages »
Ask Yoast series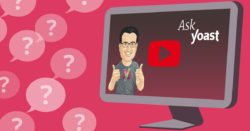 See more from the Ask Yoast series
In the Ask Yoast series, we answered SEO questions from our readers. Check out the other questions!