The latest news in SEO and WordPress: August 2020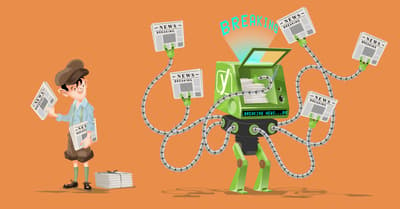 Every month, Jono and I sit down to discuss the latest news in SEO in a live webinar for our Yoast SEO Academy members. It's a fun way for us to provide you some of our insights on what's happening right now. In addition, you get to ask your questions as well, so it's a very interactive experience. Of course, this being August, the month was light on news, but we managed to fill the hour without breaking a sweat. Here, I'll go over some of the things we talked about. Please join us for our next webinar!
Stay on top of the latest changes in SEO by getting a Yoast SEO academy training subscription. This also gives you the opportunity to watch earlier videos of SEO News and develop vital SEO skills by completing a variety of courses.
What's new with Google and Bing
When going over the list, it's easy to see that Google especially has been quite busy at rolling out new stuff. These are mostly new, rich features to help searchers get more tasks done in the search engine itself. Most of the time, these features are born in and targeted at the US market and it might take a while to come to other parts of the world.
New features in Google search
In the past month, Google launched a whole lot of new search features: from tools to help you learn more about mortgages to finding what to watch on live tv. Google also launched virtual business cards in India and new activity cards on mobile for jobs, products and recipes. For some of this stuff, like mortgages (US only, for now), Google will continue to move into markets and push out the traditional players. They did it years ago when they moved into the credit card space and they are now adding other financial products. If you're in that market, it's getting harder to compete. It's one more step to a Google becoming the interface for a large part of the web.
One of the other new features in search is the home activities rich result – powered by structured data, of course. This combination of video and event Schema helps searchers find activities they can do from their home. Again, this shows how much Google is investing in structured data-powered rich results.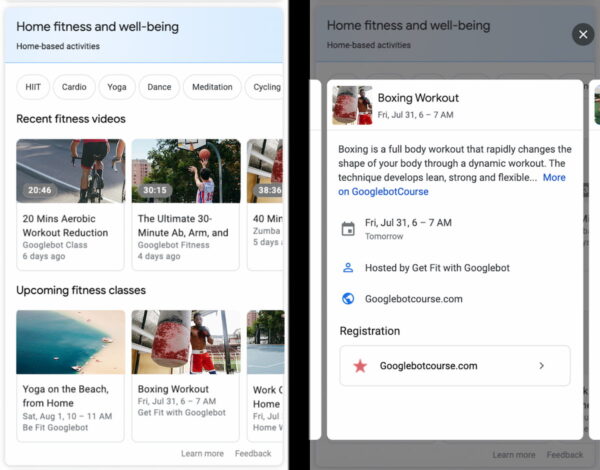 More structured data awesomeness
Structured data has been a hot topic for some time now. At Yoast, we've been working on adding more and more structured data in a way that makes sense for both our users as well as Google. This month, we were excited to hear Google's John Mueller say that it's OK to add structured data outside of what Google supports. Everything you add helps search engines understanding of your content. There's a lot more to Schema than what Google supports, so we're glad that this universe might be expanding.
Site speed on the agenda
One of the most interesting things Google is working on now is site speed. Google is looking for ways to simplify the metrics for measuring speed and making the process of improving that speed more insightful. For this, they've introduced the Core Web Vitals – a set of metrics that anyone can keep an eye on and act on. Google is also trying to get loading speed front and center for the consumer. This month, the Chrome team announced that Chrome 85 will have a speed label that warns the user if the site they are about to visit is fast or not.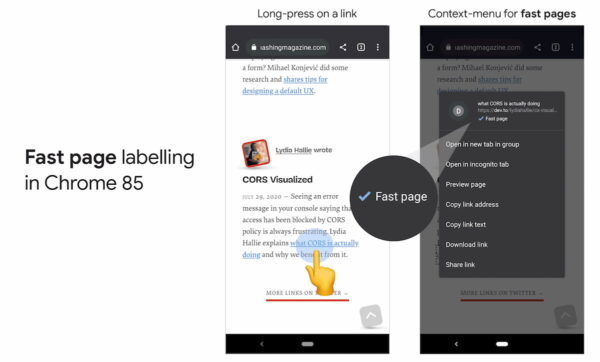 There are many more developments on this front and site speed should really be on your agenda. Run your site through PageSpeed Insights, see how it performs and take the suggested improvements to heart. Always try to aim to be faster than you where yesterday and keep going.
Bing's updated Webmaster Tools are live
Over the last couple of months, we've seen the Bing team working hard on updating their Webmaster Tools. They gave some of their tools a fresh coat of paint, while adding some new ones in the process. Among the new toys, you can find an URL checker, a robot.txt tester and a site scan — a basic SEO audit tool. It's still trying to be a bit like Search Console, but we can't wait to see what Bing comes up with next.
WordPress in the news
There's some news out of the WordPress world as well, most notably the launch of WordPress 5.5.
WordPress 5.5 launch
WordPress 5.5 comes with a ton of new stuff. One of the coolest things in this release, is native lazy loading for images. This means that your browser will only load the images on your site that are visible on the screen. Everything else will only be loaded once you start scrolling down. That's a huge deal as it saves a whole lot of data being loaded unnecessarily. Of course, WordPress 5.5 also comes with native XML sitemaps and, unfortunately, some bugs that broke some stuff. Luckily, these were fixed quickly in WordPress 5.5.1, the bug fix release that came out yesterday.
AMP for WordPress 2.0 is out
The latest update of the official AMP for WordPress plugin came out as well. I kind of lost track of AMP, but according to Jono, the AMP plugin is now starting to be something you can simply install, and it just works. That means that your templates are automatically converted to be AMP compliant. We're getting to a point where this gets close to just working magically out of the box, which makes it a powerful addition to your toolbox.
The latest in Yoast SEO
Since the last webinar in July, we had a couple of very nice releases of Yoast SEO. I'd like to highlight a couple of cool new features of those releases.
Yoast SEO 14.8 and 14.9
Yoast SEO 14.8 came with a new Schema tab that helps you set specific content types for specific pages. For instance, you can now use Schema to tell search engines that your contact page is really a contact page. Very easy, very powerful. We've also added a new internal linking block and we added our first RTL language to Yoast SEO: Arabic. We can now recognize keyphrases in Arabic, helping users optimize their content in that language. In 14.9, we did the same for Hebrew.
In Yoast SEO 14.9, we also worked on several performance improvements, plus word form support for the Polish language in Premium.
Together with Marieke, I've invested in WordProof!
Marieke and I invested in WordProof. This isn't simply another WordPress plugin, but it's a platform for time-stamping content on the Blockchain. With WordProof, we're trying to prove ownership of content on the web. We can prove without a doubt that someone put out a specific piece of content at a certain point in time. In the age of fake news, this is something that can be very valuable to a lot of people.
Other interesting bits
If you've followed our previous webinars, you know that there's quite a bit of high-level discussion that happens as well. In this webinar, for instance, we talked about the chance of GPT-3 taking over the world and what that same world would look like if Apple was to release a search engine competing with Google.
GPT-3 and AI-generated content
GPT-3 is an AI content-generation algorithm that's making waves. You can simply feed it a couple of words and it will write you an entire novel and most of it will actually be pretty good. Of course, this will influence content production, marketing and the internet as a whole. We're going to see more of these developments in the future and it'll be interesting to see where this goes. Google, for instance, already came out saying they don't want machine-generated content in the index, which might be a bit definite. We'll see!
A new search engine battle: Apple vs Google?
There are rumors about Apple launching their own search engine, which could be very interesting! Not just in terms of UI and UX, but also in terms of how they will provide this service as they are moving to a subscription model for everything. Just consider how different their approach to things like the App Store is versus, say, Google or the Android ecosystem. With Apple, everything is heavily regulated, heavily standardized and very contained. It'll probably turn out to be a very different type of search engine.
That's August in SEO news!
Alright, that were some of the highlights of the August SEO news webinar. We really enjoy doing these and hope you can join us for the next one. Simply sign up for Yoast SEO Academy and we'll make sure you get a link once we've announced the next edition. See you there!
Coming up next!
Event

December 09, 2023

Team Yoast is at Attending, Organizing, Sponsoring WordCamp Ahmedabad 2023! Click through to see who will be there, what we will do, and more!

See where you can find us next »

SEO webinar

12 December 2023

Learn how to start your SEO journey the right way with our free webinar. Get practical tips and answers to all your questions in the live Q&A!

All Yoast SEO webinars »