Is Facebook getting less important?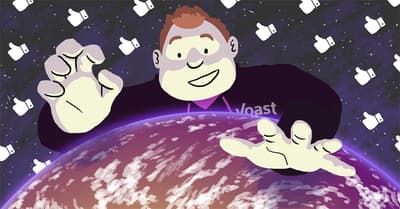 Nowadays, the majority of teens use YouTube and Instagram, instead of Facebook. And, websites are now attracting more traffic from Google – organic search – than from Facebook. Statistics aren't looking that good for Facebook. Is Facebook getting less important for companies, blogs, and websites? And what should you do about it? In this post, I'll bring you up to speed on all the latest Facebook trends and help you to figure out how to act on it.
If you want to learn more about using social media and other essential SEO skills, you should check out our All-Around SEO training! It doesn't just tell you about SEO: it'll help you put these skills into practice!
What do the stats say?
Facebook and teenagers
According to the statistics of Pew Research, teenagers use YouTube, Instagram, and Snapchat, while only half of the U.S. teens have a Facebook account. And only 10 percent of the teenagers say that Facebook is the social medium that they use most often. This in contrast to three years ago, when Facebook was the dominant social media for U.S. teenagers. Social media use of teenagers has changed rapidly, and not in favor of Facebook.
Facebook as a referral
According to Chartbeat, direct mobile traffic and traffic from Google search are now more important than referrals from Facebook on mobile devices. For some time, Facebook was the most important source of traffic. For publishers, bloggers and website owners, it was critical to be active on Facebook.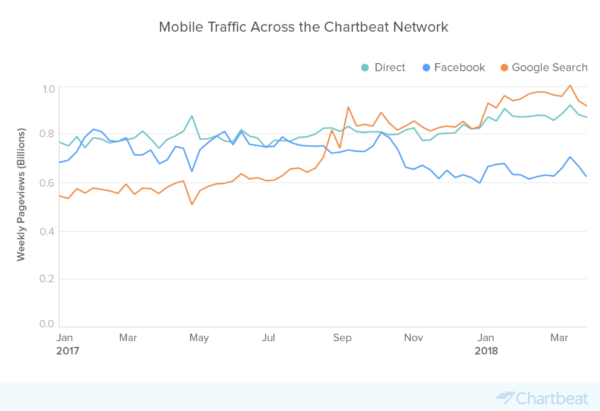 However, nowadays, Google search, a.k.a. organic traffic seems to become even more significant (on mobile devices). Focussing on SEO is (now more than ever) a critical part of your strategy!
How should you deal with these changes?
Facebook is still essential, and nobody knows how these trends will evolve. In a previous post, I wrote about Facebook's algorithm; I already suggested a few ways to increase your traffic from Facebook. I think there are a lot of ways that'll allow you to keep getting traffic from Facebook. That said, you cannot focus solely on Facebook to get that traffic to your website. That's why I will suggest some other alternative strategies you should check out.
Invest in Instagram and Snapchat
Do you already have Instagram and Snapchat accounts? Instagram is rather straightforward: lots of pictures, short movies, and photos. Snapchat is a bit harder and the opportunities for companies are less obvious.
Perhaps you think that Instagram and Snapchat just don't fit your business. And maybe you're right. However, an entire generation is growing up using these tools. So, I think you should at least claim an account and get started. You can always ask your 14-year-old nephew to help you out.
YouTube
My twelve-year-old is almost physically attached to YouTube. He uses it as often as I use Google. He doesn't understand why you would ever read texts when you can also watch videos. To appeal to a younger audience, creating video's will probably be a really wise move. If your content allows for it, making videos and optimizing these for YouTube could be a great way to attract an audience to your site.
Investing in video is hard. It may even be harder than writing content. It can also be slightly awkward to stand in front of a camera at first. Once you get the hang of it, it can also be good fun!
Stories
Last week, Techcrunch reported that stories are about to surpass feed sharing. A lot of social media platforms have incorporated stories in their features. It all began with Snapchat, but now you can share stories on WhatsApp, Facebook, and Instagram too. Even the AMP project now has stories for the web. People are sharing their stories and watching the stories of others, even those of media companies.
Stories require a different approach than standard post for social. And the engagement with posts (for instance comments) is entirely different. But stories also give an excellent opportunity to create new innovative content. I think, focussing on stories and trying to use stories for your business could be a fantastic strategy.
Ads on Facebook
Facebook seems to generate less traffic, but it appears that ads on Facebook are still doing well. According to the latest internet trends report by Mary Meeker, the click-through rate of ads on Facebook has almost tripled since 2016.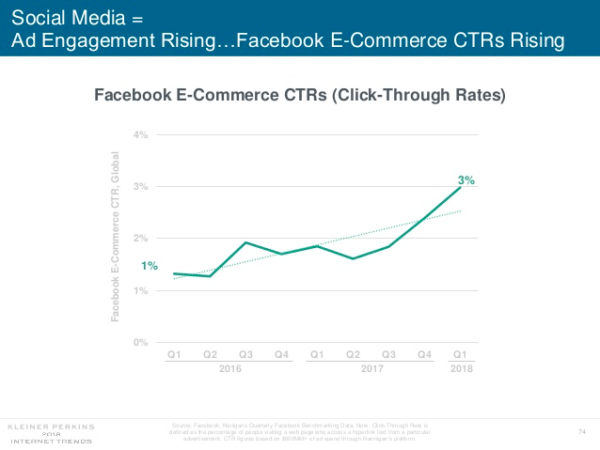 Advertising on Facebook isn't all that expensive, and you can target your audience reasonably well. If you haven't already, this is a strategy you should try out.
Keep your focus on SEO
Social media should always play an important role in your online strategy. But, focusing on your website: make sure that it has original and well-written content, that it's fast and provides the best user experience, should be your priority. If your website has all these features, then you'll attract traffic, from Google and other sources!
Read more: Social media for small business owners »
Coming up next!
Event

December 09, 2023

Team Yoast is at Attending, Organizing, Sponsoring WordCamp Ahmedabad 2023! Click through to see who will be there, what we will do, and more!

See where you can find us next »

SEO webinar

12 December 2023

Learn how to start your SEO journey the right way with our free webinar. Get practical tips and answers to all your questions in the live Q&A!

All Yoast SEO webinars »