What to do if traffic from Facebook is decreasing?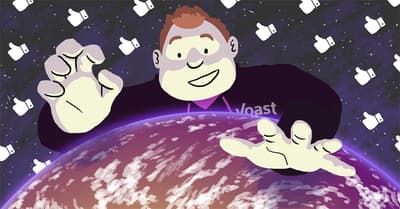 Facebook can be a vital source of traffic for your website. Recently, however, Facebook announced that pages of business, brands, and news outlets would become less important in the news feeds of Facebook users. This could lead to a decrease in your views on Facebook and, therefore, in the traffic from Facebook to your website. What should you do if the traffic from your Facebook page is decreasing? Last week, I already mentioned the importance of SEO. But what else could you do? Here, I'll share another five strategies to deal with decreasing traffic from your Facebook page.
If you want to learn more about using social media and other essential SEO skills, you should check out our All-Around SEO training! It doesn't just tell you about SEO: it'll help you put these skills into practice!
Why would the traffic decrease?
Facebook argues that users want to see the content of their friends and families, rather than news and the content of brands in their news feeds. That's why Facebook is rolling out a big update in which the posts of friends, family and groups become more important and the content of businesses, brands and media will become less important.
Read more: Changes in Facebook make SEO more important »
5 strategies to deal with decreasing Facebook traffic
If you notice a sudden drop in reach of traffic from Facebook to your website, don't panic. Your competitors will probably notice a similar drop. I really think search will become more important, if Facebook will send less traffic to website. People still want to find that present for their mom, or that skirt to wear to a party. If Facebook does not show those in their timelines, they'll start to search for it in Google. So reinforcing your SEO strategy will be very important. But what else should you do?
Engaging content
Facebook wants to show users content they care about. Content their friends care about. If your content gets a lot of engagement, it'll probably do better in the news feeds. You should try and get people to share or comment on your Facebook post. But you shouldn't go overboard; Facebook does not like it when people are pushed to share or comment. Writing high-quality content, content that people want to share with their friends is a good strategy.
Personal accounts
Brands and businesses are not always the most inspiring channels to follow. Lots of people do not want to follow a corporate account. They want to follow real people. Instead of focusing on your corporate Facebook page, you could also focus on spreading the word on the personal Facebook pages of colleagues and employees. Of course, they'll have to be up for that. And, you should make sure that these personal Facebook pages keep their character.
At Yoast, we have lots of colleagues who are enthusiastic about WordPress and SEO. They often share the SEO posts Yoast publishes on the Yoast Facebook page. That's a great way to increase both engagement and a bigger audience.
Influencers
Another way of keeping up the traffic on Facebook is through influencers. Influencers are people who have a lot of followers. They usually post about a specific topic (fashion, celebrities, food). You can reach out to them and ask them to post something about your business on Facebook. For some influencers, you'll need a budget. For others, offering them your product or service could be enough. Reaching out to (influential) people can be a good way of increasing your reach and traffic on Facebook.
Advertising
The changes Facebook is making will affect the organic (that is the non-paid) reach. Advertising on Facebook is of course also a possibility. Advertising isn't that expensive, and you can choose which audience you want to reach (people who like your page, people who do not know your business). I think advertising is a great way to stay visible on Facebook. For a few dollars, you can increase your reach. Make sure you spend your budget on well written, high-quality posts.
Other platforms
If Facebook is giving you a hard time, you could also focus your energy on alternative platforms. Instagram is a good alternative, especially if you're focusing on a young(er) audience. Don't forget to check out snapchat either.
Twitter and Pinterest also remain popular. And what about Reddit? It's hard to say which social media will be most suitable for your business. That depends largely on your business and the preferences of your audience.
Facebook traffic decreasing
Businesses and brands will probably all notice differences in organic reach on Facebook. How significant these differences will be is hard to say. To make it even more complicated, Facebook also changed the way they measure organic engagement. It's a good idea to keep looking for alternatives for your Facebook-marketing. Investing in SEO seems like an excellent idea! But advertising, writing engaging posts, influencer marketing or other platforms could be great options as well.
Keep reading: Social media for small business owners »
Coming up next!
Event

December 09, 2023

Team Yoast is at Attending, Organizing, Sponsoring WordCamp Ahmedabad 2023! Click through to see who will be there, what we will do, and more!

See where you can find us next »

SEO webinar

12 December 2023

Learn how to start your SEO journey the right way with our free webinar. Get practical tips and answers to all your questions in the live Q&A!

All Yoast SEO webinars »