Instagram for your business: a guide to getting started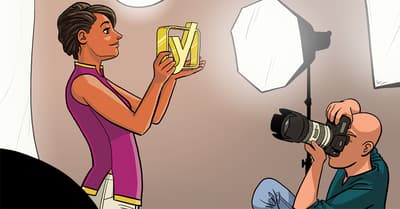 Last month, Instagram celebrated its 10th birthday. During this decade, it has grown from a 'Facebook for teenagers' to an established social media platform used all over the world. And no, these users are not just teenagers anymore. Instagram is a great platform to come into contact and strengthen your relationship with your audience. In this post, we'll explain how you can use Instagram for your business and help you set up your account!
A short introduction to Instagram
"A simple, fun & creative way to capture, edit & share photos, videos & messages with friends & family." This is a short description by Instagram itself. In other words, Instagram is a social media platform with a strong focus on sharing visual content, used by over a billion users worldwide.
Instagram allows you to post and interact with your audience in different ways. By posting a photo/video/message to the feed, but also with other formats such as Stories, IGTV and Shopping. Which features you use, is up to you and allows you to manage how much time Instagram will cost you or your team.
Is Instagram the platform for you?
There are a lot of social media platforms out there. That's why it's important to think about which ones are the best fit for your business. You might not have the time and resources to focus on all of them, so start by setting up a well-thought-out social media strategy. Instagram is a great platform for businesses (among others) that sell physical products, that have great photography as part of their core business, that are community-oriented or that have an informal approach to their audience.
Consider your audience: does a fair amount of them use Instagram? If the answer is yes, think about your business and content. Instagram is quite an informal platform with a strong focus on visual content. Does this match the way you communicate with your audience? Do you have enough visual content (or the possibility to create it)? This will be easy when you're a professional photographer or when you have products that photograph well, but it's easy to underestimate how much time goes into creating fun and visual content when this is not already a part of your business processes. Try to use genuine images where you can and limit your use of stock photos.
Examples of businesses using Instagram
To get an idea of whether Instagram is the platform for you, we'll look at a few businesses that use it: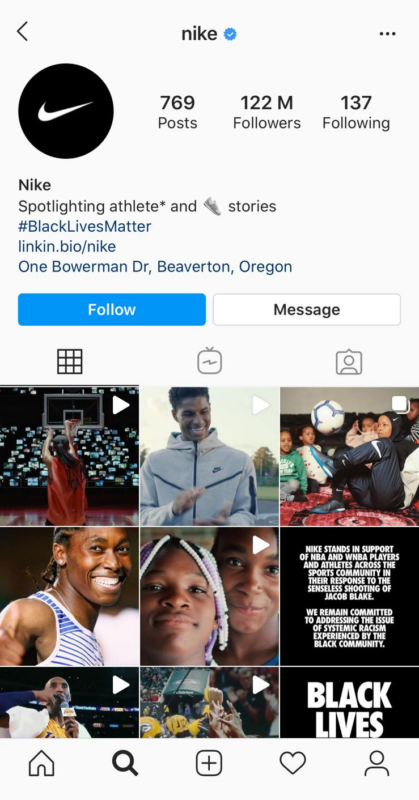 Nike
As you can see in the screenshot, Nike has about 122 million followers on Instagram right now. Which isn't unexpected, because Nike is a world-renowned brand that you can find in shops all over the planet. Because of their reputation, most people will know what Nike sells. That's why they don't just post content focused on showing their products. Instead, they post photos and videos of people exercising and athletes (wearing Nike products) strengthening their image as a brand focused on sports and being active.
But that's not all, as you can see on their account. Nike has also created a community around its brand and chooses to make its political stands known on social media to further strengthen this community. This means that the main goal of Instagram is probably not to sell products but to reinforce the bond they have with their fans. Which will eventually lead to more sales in the long run.
Read more: SEO for sports, fitness and gyms: 5 tips to get you ranking »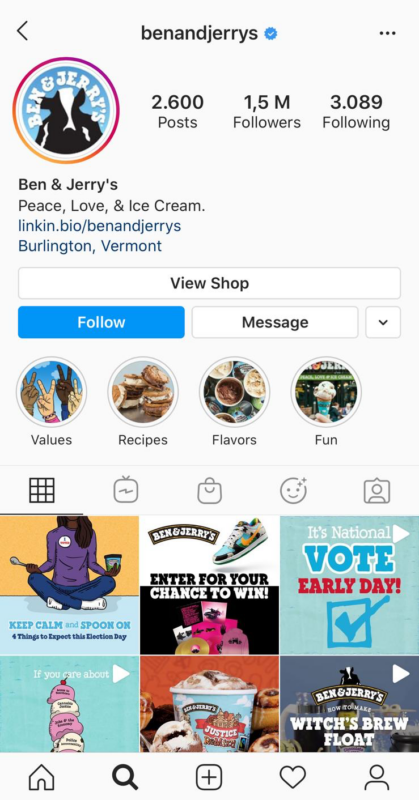 Ben & Jerry's
Another example of a business that uses Instagram is Ben & Jerry's, a manufacturer of ice cream. From their latest posts, you can see that Ben & Jerry's sometimes focuses on their products but also posts other content. With the presidential elections in the U.S., they encourage people to vote and even find a fun way to link election day to their ice cream with 'Keep calm and spoon on'.
This shows us that this brand also focuses on current topics and a feeling of community, as Ben & Jerry's asks their followers to vote. In addition, Ben & Jerry's also uses Instagram Stories, Highlights and a button that takes you to their online shop. So although their Instagram account has some similarities with the way Nike approaches its followers, Ben & Jerry's profile is a bit more product and buy-orientated.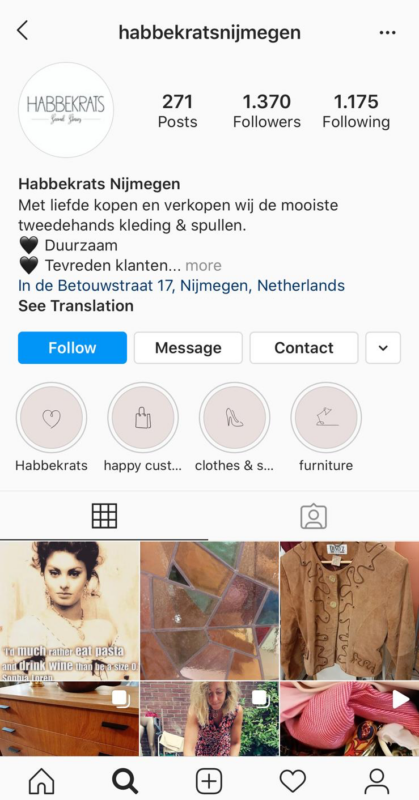 Habbekrats store
Let's take a look at a local business using Instagram. Habbekrats (fun fact: this word means a small amount of money in Dutch) is a second-hand store in the Dutch city Nijmegen. You might notice that the number of followers is a lot lower than the other accounts we discussed. This can be explained by the fact that this is a local store with a smaller reach than the other businesses. But it doesn't mean that this Instagram account is not a success. These 1370 followers might be a very loyal fan base that lives near to the store and comes there often.
As you can see from their latest posts, the people working at Habbekrats post different kinds of content. New finds you can buy, fun quotes and even a post showing one of their colleagues printing new tote bags. It gives their Instagram account a personal vibe and that suits their local business quite well. They also have a Contact button that allows you to call or email them.
Setting up Instagram for your business
Instagram has long outgrown its reputation of being a social media platform for teenagers. And if you feel that Instagram is a great addition to your social media presence, then it's time to set up your business account! Luckily, this can be done in a few minutes:
To set up your account you need to download the app from the App Store or Google Play.
Open the app and click on 'Sign up' to enter your information. The app also gives you the option to log in with your Facebook account (as Instagram is part of Facebook).
To let Instagram know that this account is for your business, go to Settings in the app. You can find Settings under the icon shaped like a person in the bottom right corner of your screen and then clicking on the hamburger menu in the top right corner. In Settings go to Account and click the 'Switch to Professional account' text.
When you've switched to a business account, make sure to add information about your business to your account. Such as your telephone number, email address, physical address and your opening hours.
That's it! You've now created your free business account on Instagram, so it's time to get posting and gather some followers. If you're not sure where to start, have a look at the feed of similar businesses to get an idea of what they're posting! Instagram also offers you other ways to get your content noticed by your audience, such Instagram Shopping or advertising on Instagram. Or check out Instagram's success stories for some more inspiration for your own account.
Be creative
Having a look at similar accounts may give you some ideas for your own Instagram posts, but it can take a while to get your number of followers up. That's why you have to let people know that you have a new account on Instagram, for example by telling them when they're in your store or with a post on your Facebook page. Before you do, try to have a couple of posts on your Instagram (or an Instagram Story) to make sure people don't land on an empty Instagram account.
So, what should you post? This highly depends on your business, your way of communicating with your audience and the amount of time you want to spend on Instagram. Just remember to be creative and not just post a quick picture of your product. Take some time to think about the story you want to tell. Can you photograph people using or wearing your product? Can you use your posts to introduce the people working at your business? Do you go to events that are fun to post about? Make your content unique and personal where you can, allowing them to get to know you and your mission better.
Be consistent
Be consistent in how much you post to your Instagram account. It's no problem if you want to post about a current topic that wasn't part of the initial planning, but just make sure to be wary of posting too much and coming across as annoying. On the other hand, make sure to post on a regular basis to let people know what you're up to and help them not forget you. Our article on content planning can help you with that, as these tips translate to social media as well. To save time, you can choose to post your Instagram content to Facebook as well, but be mindful of this. Something you post on Instagram might not always be the right fit for your Facebook account or the other way around.
Use #Hashtags
Hashtags are very valuable. The more you use, the bigger reach you will have with your post. Now we don't want to encourage you to add 30 hashtags to every image but adding the right ones can help you a lot. So think about which hashtags you can use to reach the right people, or have a look at the hashtags similar businesses are using. Also, if your communication style allows it, use emoticons in your captions as they give a fun and informal element to your post.
See you there!
To conclude, Instagram is a great way to share visual content with your audience. But take the time to decide whether it's a good fit for your business. It's a great platform when your products photograph well, when you have photography as an integral part of your business, when you're part of a community or when you have an informal way of communicating. When you decide to set up an account for your Instagram, don't expect wonders in one day. Slowly build your follower base by posting consistently and being creative in what you post.
Good luck and if you're already well on your way with your business account, we would love to hear how you are using Instagram and what you think about its potential. Let us know in the comments! And if you're wondering what kind of content we at Yoast post, have a look at our Instagram account.
Keep reading: Social media for small businesses: 12 tips to boost your marketing »
Coming up next!
Event

December 09, 2023

Team Yoast is at Attending, Organizing, Sponsoring WordCamp Ahmedabad 2023! Click through to see who will be there, what we will do, and more!

See where you can find us next »

SEO webinar

12 December 2023

Learn how to start your SEO journey the right way with our free webinar. Get practical tips and answers to all your questions in the live Q&A!

All Yoast SEO webinars »